Understanding how to set goals and objectives is key to developing a good marketing plan. Your marketing strategy should reflect the goals you want to achieve as a business. As a small business marketer, if you start with a goal, a marketing strategy, and a reasonable budget for achieving your desired outcome, chances are you'll get where you want to go. Follow these steps:
Conduct market research.
Doing so ensures that you know everything you can about your customer, your product, your competition, and your business environment.
Establish marketing goals and objectives.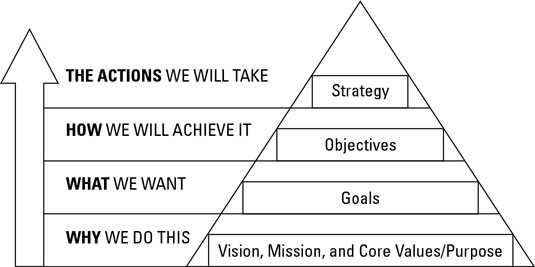 More than just business buzzwords, goals and objectives work together to take your small business from ideas to action. A marketing goal represents the overall sales or professional target that your marketing program seeks to achieve. Your goal is an expression of a realistic and clearly defined target, usually accompanied by a time frame.
A marketing objective is the measurable result that will be necessary to achieve the goal. A marketing plan usually has several objectives that define the major means by which you'll meet the goal. To write an objective, start with a verb, followed by a noun, and finally a description of the desired change. For example, you might write To introduce a new product aimed at young, affluent, urban professionals.
Set marketing strategies and determine the marketing mix that you'll employ to achieve your objectives.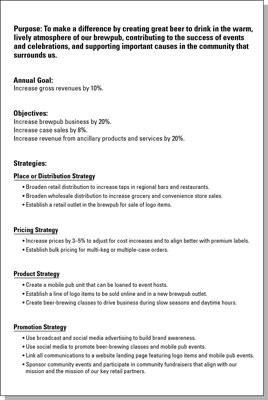 Strategies are the plans for achieving business objectives. They're practical, achievable, and action-oriented. Strategies generally detail changes that a business intends to make to the four marketing functions called the marketing mix (or the four p's): pricing, product, promotion, and place (also known as distribution).
Cast your goals and objectives in cement when you create your marketing plan each year, but keep your strategies flexible so you can adjust them in response to competitive forces, economic realities, or new opportunities. Just remember that the only strategy worth pursuing is one that directly supports your goals and objectives.
Choose your marketing tools and tactics.
Develop effective marketing communications, and then choose the media outlet you want to use to convey it, such as radio, television, print, or online. You might decide to work with an agency, or go it alone. You might put most of your efforts into building a website that sells your brand and your image.
Whether delivered in person, through promotions, or via traditional media, direct mail, or e-mail, all marketing communications need to accomplish the same tasks — to grab attention and impart information the prospect wants to know.
Marketing communications should also present offers that are sensitive to how and when the prospect wants to take action, affirm why the prospect would want to take action, and offer a reason to take action. Finally, marketing communication should launch a relationship, which increasingly means fostering interaction and two-way communication between you and your customer.
Never, ever decide on your marketing tactic until you know your strategies. When you know your strategies, you know your objectives, which means that you know your goals, which means that you know where you want your business to go. After that, all that's left is to establish interim milestones and measure results along the way, fine-tuning your tools and tactics as necessary until you reach your goal.
Tactics follow strategies — not vice versa.
About This Article
This article is from the book:
This article can be found in the category: