You can still identify traffic arriving at your site from social media services simply by looking at All Referrers under Acquisition in your Google Analytics account. However, Google's Social Media Analytics makes it much easier to integrate statistical results from social media services into your reports and to assess the business value of social media. Take advantage of the Social option to pre-filter for social-site referrers only.

Start by clicking Acquisition in the left navigation, as usual. Then click again to expand the Social option and select Network Referrals. As shown, Google Social Analytics compares sessions from social media to all sessions in the graphs and lists traffic from individual social media sources below the graphs.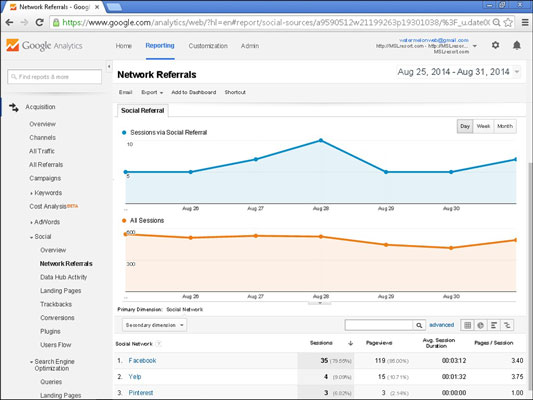 Source: Google.com
The Social section of Google Analytics makes it easy to collect and compare referrals from social networks.
Alternatively, below the Social options in the left navigation, click Users Flow. In the Select Segment drop-down list (at the top of the Social Users Flow page), select Referral Traffic. The resulting display, shown here, appears.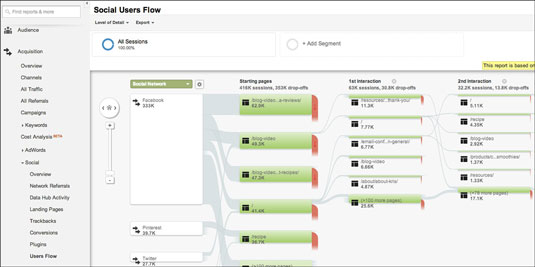 Source: Google Analytics
The Social Users Flow page displays the path taken by visitors who arrive at your site from various social media.
Some social media services, such as Ning, Facebook, and Meetup, make it easy to integrate their data with Google Analytics by enabling you to place Google Analytics tracking code on your social media pages. Of course, the Google-owned Blogger, Google+, and YouTube, as well as the RSS service FeedBurner, are already compatible with Analytics.
Web analytics, from Google or anywhere else, are valuable only if you use them to improve users' experience on your site and your bottom line.
The URLs for funnel and goal pages don't need to have identical domain names, as long as the correct tracking code appears on the pages. The thank-you page for a purchase is sometimes on a third-party storefront, for instance. Or perhaps you want to track how many people go from a particular page on your main website to post a comment on one of your social network sites or blog.
About This Article
This article is from the book:
This article can be found in the category: