Whether you have a business-to-business (B2B) or business-to-consumer (B2C) company, you gain valuable insight by reviewing the comments of influencers (companies or individuals that drive the conversation within your industry sector). For example, to see the most popular posters on Twitter, use Twitaholic to view by number of updates or number of followers, as shown here.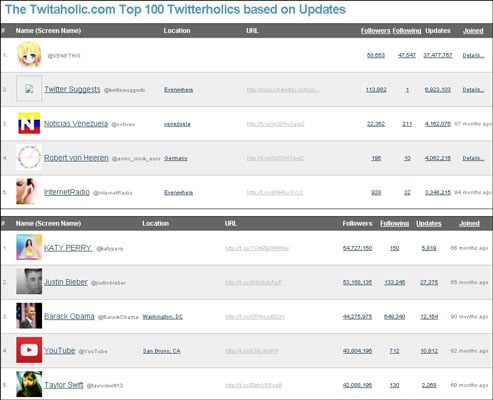 Reproduced with permission of Twitaholic.
Twitaholic ranks the most influential tweeters by number of updates (top) or number of followers (bottom).
You may be surprised to find that the most frequent posters aren't necessarily the ones with the most followers, and vice versa.
For additional tools to identify influencers on various social media channels, check out the lists at Binkd or Ragan.
These sites can help you identify people you might want to follow for research purposes.
About This Article
This article is from the book:
This article can be found in the category: