Clickstream analysis is a fancy name for tracking users' successive mouse clicks (the clickstream) to see how they surf the web. Clickstream analytics are usually monitored on an aggregate basis.

Server-based clickstream analysis provides valuable insight into visitor behavior. For instance, by figuring out which paths users most frequently take on a site and which routes lead to sales, you can make changes in content and calls to action, as well as identify ways to simplify navigation and paths to check out.

On a broader level, clickstream analysis gives you a good idea where your visitors were before they arrived at your website or social media service, and where they went afterward.

Aggregated data about user behavior or industry usage is useful while you design your social media marketing strategy. This analysis may also help explain why a campaign is or isn't working.

In the end, however, the only data that truly matters is the data that shows what's happening with your business, your web presence, your customers, and your bottom line.

You can easily see your upstream analysis (where visitors came from). That's the same as your referrers. What's harder to see is where visitors go when they leave your site. The figure displays a clickstream analysis of where visitors were before arriving at Twitter in 2014. The URLs of the top five upstream sites are available free on the Competitive Intelligence tab for a site on Alexa. To view downstream clicks, you must upgrade to Alexa's paid version.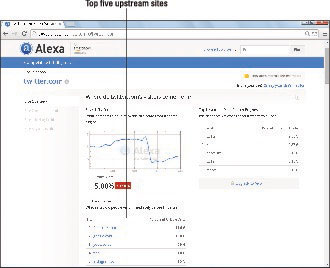 Source: www.alexa.com
Alexa displays the top five upstream sources for visitors before they arrive at a specific site; in this case, Twitter.
Or you can try the Interest Affinity or Site Affinity Index on Quantcast for quantified sites. It doesn't provide specific clickstream data, but it compares the interest in other sites or areas by those who use a specific property to that of average Internet users.
Clickstream data varies over time while users run hot and cold about a particular service, while the user population changes, or while a social media technique evolves.
You can also set up a clickstream analysis for sites in Google Analytics by choosing Audience > Users Flow. For more information, visit Google.com.
About This Article
This article is from the book:
This article can be found in the category: