Data is everywhere, and as such, it's extremely important. While the data may be overwhelming at times, when used correctly, it's a valuable source of information that you can use in your digital marketing efforts.

Keep in mind that data can often be industry and audience agnostic. By agnostic, it's meant that raw data can apply to any or all situations and demographics and isn't necessarily limited by a particular group or scenario.

In the following article, you read about several different types of data that you can use in your marketing efforts.
Raw data in digital marketing
Raw data is information in its purest form. Raw data is data extracted at the source but not yet processed. While raw data can be daunting when you first come across it, it's completely malleable, which makes it one of the most valuable data types. An example of raw data sorted in a Microsoft Excel spreadsheet is shown below.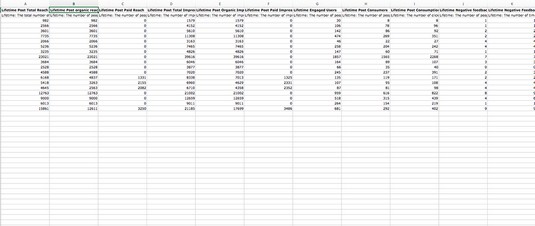 An example of raw data in Microsoft Excel.
Digital marketing and cooked data
The industry reference to cooked data relates directly to raw data. Cooked data is what marketers get when raw data has been manipulated in some way to highlight a particular segment, finding, or aspect of the unadulterated information.

Cooked data is the result of some manipulation of raw information.
Social media user data
When it comes to social media, you can leverage a treasure trove of user information to create your marketing strategy. For example, Millennials may share answers to questions on their social feed that you never thought to ask.

Analyzing your social audience user data can be as simple as reviewing your Facebook Insights data. This data can lead to some significant breakthroughs.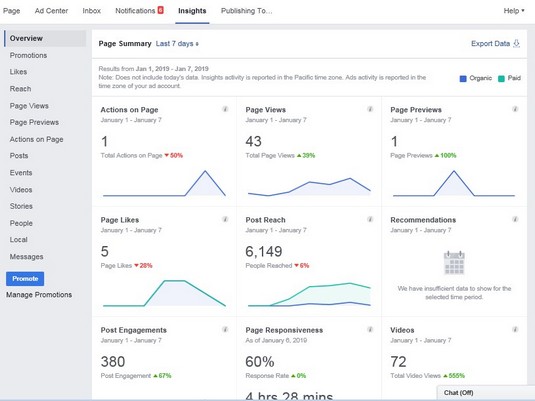 You can find free social user data using Facebook Insights.
Customer lifetime engagement data can drive digital marketing campaigns
When a customer engages with your brand across multiple channels, a story is being told. At every touchpoint, or chapter of the story, data is collected, and you can analyze it to improve your marketing efforts.

Some groups have a preference for a single sign-in, where they have the ability to use a Facebook or Google profile to sign into all accounts, tools, websites, or online stores. With that single sign-in, information about the customer journey is collected at every step of the way, and that data is hugely valuable for improving the customer experience.
Brand profile data shines light on digital marketing efforts
You can usually find the jackpot of user data in the brand profile. This user data relates specifically to your organization. Every bit of information you extract directly informs how you might shift your marketing efforts, your sales tactics, or even some of your internal operations to improve efficiency.

The image below shows you an example of Amazon's recommendations. Tracking user profiles and searches and using advanced algorithms that learn about user tastes and preferences, Amazon can make customized recommendations to its customers. Over time, this robust profile data provides a company like Amazon with the ability to build a well-rounded view of each customer at every stage of the buying process.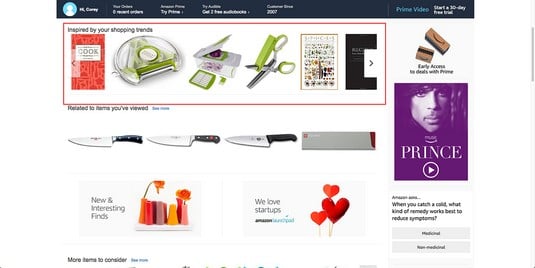 Amazon recommends a series of tailored products to its customers based on their profile.
Visualized data, a helpful digital marketing tool
Just as with cooked data, visualized information is a representation of some sort of manipulated data in a visual framework. Plenty of tools exist to help users analyze and manipulate data to depict it in visual form.

Tableau is one such tool.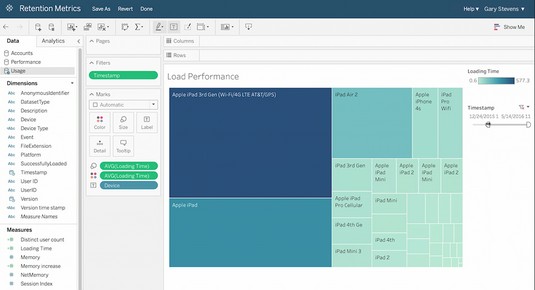 Tableau helps users visualize their data.
Big data in digital marketing
Big data means exactly what you might think it does. It's a large amount of data collected from a variety of sources. You can analyze big data to make predictions, identify trends, improve pricing, optimize customer buying paths, and optimize products. While you can find plenty of other areas where big data may be of use, these are some of the most popular cases.

Showcasing only big data is a disservice to small and medium business marketing teams. The real value for marketers rests on how you can segment and use this data on a smaller scale.
Small data in digital marketing
Small data results when you conduct an in-depth analysis of smaller segments of your complete data sets. When your data is condensed into smaller groups, it becomes significantly easier to analyze and more opportunities can be discovered. Diving into your small data can help improve your digital marketing efforts with such things as
Message targeting: Creating tailored messages for small groups leads to much higher engagement and conversion. Small data presents opportunities for improved targeting.
Content and creative split testing and optimization: When you dive into your small data, you can identify minute details that allow you to optimize your campaign. This again can lead to some pretty dramatic improvements in your results.
Rolling ad budget optimization: Improving the performance of your budget means making your ad dollars go further. When you analyze your small data, you can identify new information that leads you to change small details. These details include such things as maximum bids or placements of your ads, and they impact the performance of your campaign as a whole.
The opportunities with small data extend even further when you consider the fact that data is always full of surprises. Keep an open mind and analyze every possible angle of your small data subsets. Doing so can lead to major improvements in your digital marketing campaigns.

If you have a strategy, a target audience, content, and a series of objectives, the small data you analyze may present findings that would have otherwise gone unnoticed. This can lead to a significant expansion and improvement of your strategies and the overall growth of your business both on and offline.
Competitive data offers digital marketing insight
You can learn quite a bit when you analyze publicly available competitive data. Your competitors are most likely trying to achieve the same objectives you are. Taking cues and learning lessons from both their successes and missteps will serve you well. What you learn from this process will help you achieve your digital marketing digital objectives in a shorter time frame and avoid some pitfalls that were costly for your competitors.

Several tools exist for the purposes of competitive data analysis and tracking. The following three are easy to use:
Alexa (an Amazon company): Alexa pulls data from a competitor's website and digital presence when using the Pro version. The product provides users with insights into the online performance of sites across the web.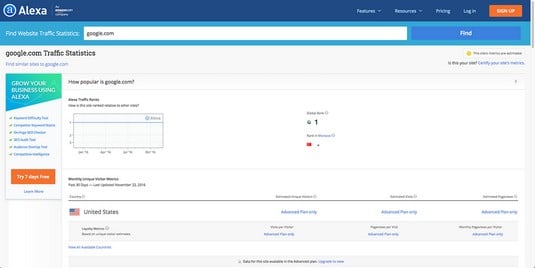 Alexa.
BuzzSumo: When it comes to tracking your competitors' social presence, you have dozens of additional options. BuzzSumo provides insights into the performance of content on social media and assists with the development of effective content strategies.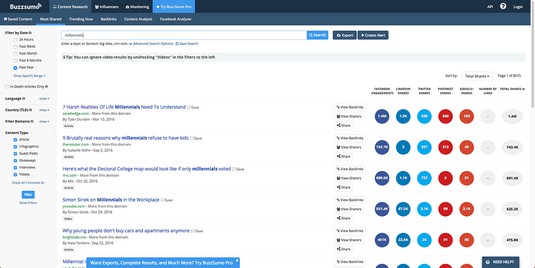 BuzzSumo.
TrackMaven: TrackMaven has some great features like content optimization capabilities, integrated social networks including paid ad optimization, and some pretty extensive insights into the performance of your marketing efforts.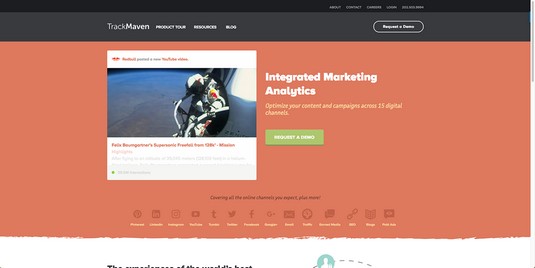 TrackMaven.

Other good products are Similarweb, Rival IQ, and SEM Rush.

All of the preceding tools can help you
Identify responsive audiences: Identify audiences that have been most responsive to your competitors' content on both websites and social channels.
Create effective content strategies: Craft content strategies that have a higher likelihood of driving engagement from your intended audience based on content that has succeeded in your competitors' campaigns.
Discover pain points: Pinpoint missteps and pitfalls that your competitors have suffered or are currently dealing with so that you can avoid facing the same issues.
Uncover industry insights: You can use several tools to discover industry insights. Another, more advanced example of a product that highlights industry insights is Crimson Hexagon. (In 2018, Brandwatch.com merged with Crimson Hexagon. At the time of this writing, they're continuing to operate as separate brands.)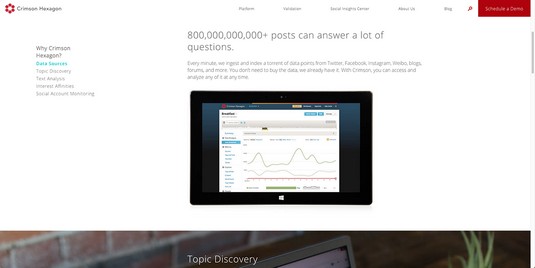 Crimson Hexagon is an advanced, enterprise-grade industry analysis tool.
You can also achieve the following objectives with the strategic use of industry insights:
Development of a new or expanded content strategy
Expansion into new media and new platforms based on engagement from your target audiences
Development of new short- and long-term objectives
Identification of trends that indicate how an additional investment may be beneficial
Digital marketing and transactional data
Transactional data are the insights gleaned from your customer transactions. If your organization has digitized its client records or if you sell products via an e-commerce platform, then transactional data will be very useful to you.

Perhaps the most notable reason why you'll want to leverage transactional data is for the purpose of improving the buyer journey, thereby shortening the path to conversion and decreasing your internal costs that go into the customer experience and marketing timeline.

Transactional data can also be extremely useful to you when allocating your marketing budget. Within a transaction, assuming that your tracking has been properly developed and implemented, you can monitor each touchpoint reached by your customer. Identifying the most valuable touchpoints across hundreds or even thousands of transactions will allow you to optimize the resources to which your budgets are allocated.
About This Article
This article is from the book:
This article can be found in the category: