In today's marketplace, the customer experience is so important for retention. Buyers want to be able to explore information on all their devices from any location. They explore retail stores, the web, print and broadcast outlets, customer events, and so on, and all in a nonlinear process. What you need to do is to anticipate the potential contact points and provide content for each one to improve the customer experience.

But even more important than a focus on touchpoints alone is an understanding of the journey your customers take. You need to walk in their shoes to understand their behavior and what they need. This is where your personas come into play. Of course, mapping the journey using a host of procedures, systems, personas, and touchpoints can be complex. But the payoff is worth it.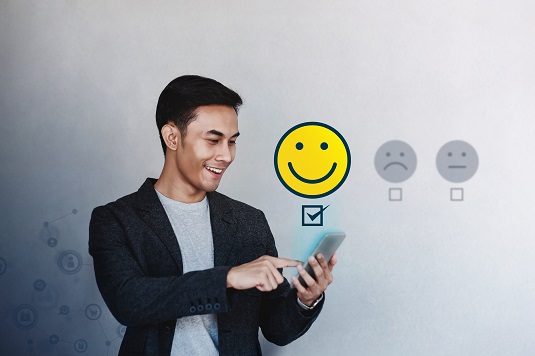 ©Shutterstock/Black Salmon
According to an article called "The Truth About The Customer Experience" in the Harvard Business Review, Alex Rawson, Ewan Duncan, and Conor Jones from McKinsey found that a focus on the buyer journey is "30% to 40% more strongly correlated with customer satisfaction than performance on touchpoints." This is a key finding. If you focus only on individual touchpoints but miss the bigger picture of the buyer journey, you'll find the mistake costly.
Looking at the customer experience from both sides
When you and your team meet to discuss the ways you're going to interact with your audience, you believe that you know where to engage them. Or do you? The Economist Intelligence Unit, sponsored by Panasonic, did an interesting worldwide survey in 2014 called "Creating a Seamless Customer Experience."

The survey's goal was to show how both senior executive and customer groups viewed service delivery to customers.

A customer group was shown a list and asked, "Thinking of the ideal customer experience, which of the following elements are most important to you?" The top five elements chosen were as follows:
Fast response to inquiries and complaints
A simple purchasing process
Ability to track orders in real time
Clarity and simplicity of product information across channels
The ability to interact with the company via multiple channels 24/7
As you can see, the customers wanted fast, simple, always-on interactions. No friction, no delay.

Nothing listed here is an unreasonable request for a twenty-first-century company. If your company were rated on these criteria, how well would it do?

The same survey asked the executive group and the customer group similar questions. It asked executives, "Which of the following channels does your organization currently use to interact with customers (companies)?" It asked the customer group, "Which of the following channels do you use to learn about and compare products?"

The executives focused on a few channels that were popular with customers, but for the most part, the differences between the channels executives thought were important and those that customers chose as important were significant. The five channels that were the most at odds were:
Search engines: Twenty-five percent of executives say their company uses search engines to interact with their customers; 69 percent of the customers say they use this channel.
Missed content opportunity: Search engines are most often used in the early stages of the buyer journey. If customers are searching and your content isn't optimized for search engines, you won't even be on their radar.
Friends and family: Zero percent of executives say their company communicates with customers through their family and friends; 51 percent of customers say they consult family and friends.
Missed content opportunity: Obviously, this is a big misstep. Recommendations from trusted friends and family are a big factor when deciding to make a purchase. These executives have made no attempt to reach the customer's influencers on social networks.
Independent websites: Nineteen percent of executives say they use independent websites to interact with customers; 46 percent of customers say they use these sites.
Missed content opportunity: This mistake is a hard one to understand when you think about all the guest posting and cross promotions available to most marketers.
Email: Sixty-seven percent of executives say they use email to interact with customers; 38 percent of customers say they use this channel.
Missed content opportunity: This one requires some understanding of what kind of emails executives are referring to. If executives use personalized emails to send targeted content to buyers, they have a good chance of getting the buyers' attention. Obviously, buyers would have given their email address with the expectation that they would receive emails. If the executives are sending what you would consider spam, that is, content that was neither requested nor desired, these emails would rank very low among customers.
Phone: Fifty-five percent of executives say they use the phone to interact with customers; 24 percent of customers say they use this channel.
Missed content opportunity: Obviously, this is a tactic that should most often be used in the later stages of a buyer journey and only if the buyer has given permission. Cold calling (that is, without permission) just doesn't fit with marketing tactics.
An omni-channel approach offers a better customer experience
One key benefit of mapping your buyer's journey is that it helps you understand where to put your greatest effort. So how do you go about putting your plan together? Start with an omni-channel mindset. This means that you have to think of all the different customer touchpoints as one integrated journey. No more multi-channel approach; instead, all the channels are connected.

A multi-channel experience is not the same as an omni-channel experience. You likely already have a presence on several channels. But if the customer experience on all these channels is not consistent and integrated, you aren't an omni-channel marketer.

Marketers make the common mistake of thinking about their buyer journey as a discrete set of linear steps. For example, marketers create a content plan for their social media channels and another for their website. They forget that consumers are jumping from one channel to another, from different locations and on different devices. They aren't giving any thought as to how they fit together. That's your job.

According to an article from the readwrite blog (https://readwrite.com/2018/12/12/why-omnichannel-is-important-for-customer-experience) omni-channel strategies allow users to create a personalized experience for themselves. They can access information they need at their own pace and from the channels they frequent.

You need to provide prospects with a frictionless journey that doesn't require an online road map to traverse. If buyers want to look at your Facebook page on their mobile, or look at your website in your bricks and mortar store, you need to make sure they're viewing a consistent message that ties all their activity together.

This idea probably makes sense to you because that's how you buy products, regardless of whether you're making a B2B purchase or buying a sofa for your home. In fact, according to Outerbox more than half of all Internet shopping is conducted on a mobile device. When shoppers decide to buy, where they are or which channel they use doesn't matter.

Here's an example: Imagine that your customers are looking at your website and see something they're considering purchasing. They want to look at it in your store to make sure that it's exactly what they want. When they walk into your store, you can trigger a discount coupon on their smartphone. Then they can buy using that coupon. When they return home, they can check your website to look at the shipping arrangements.

If you don't have a bricks-and-mortar store, your customer will still want to shop where and when it's convenient for them, so you have to create a buyer's journey that supports that path, too.

It's tough to find the downside of a positive customer experience. Make customers the focus of your digital marketing efforts and you will reap the rewards.
About This Article
This article is from the book:
This article can be found in the category: