Affiliate networks bring together thousands of different merchants and affiliate offers into a single marketplace. They are the intermediary between you, the affiliate marketer, and the merchant — the person or company providing the goods or services.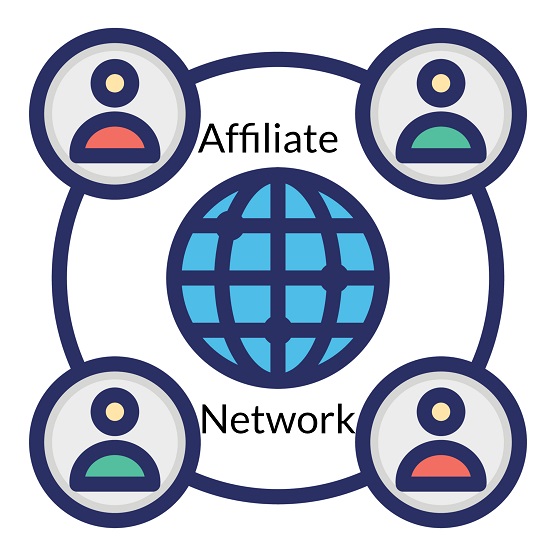 ©Shutterstock/Rank Sol
They often provide the affiliate programs and support for smaller companies that either don't have the technical support staff to develop an affiliate program for their company or would prefer to have someone else develop and support their affiliate program.
The advantages of affiliate networks
One of the great advantages of affiliate networks is that they bring thousands of individual affiliate programs into their marketplace. So the selection of affiliate programs is easier for the new affiliate marketer.

Because they also have thousands of affiliates, these networks usually have a feedback and support rating so a new affiliate marketer can see which products rate higher in terms of sales or profit. You can see which products have the lowest return or complaint rate. You can also see how many affiliates an individual affiliate program has, which gives you an indication of how much competition you will have.

Affiliate networks typically have a more extensive training program to teach you about their network and how to be an effective affiliate. You may get a more complete training of the affiliate process through a network than an individual affiliate program, whose training focuses on its individual products and offerings.

Another advantage of affiliate networks is that their larger size has attracted the development of third-party tools. These third-party tools make your affiliate life a lot easier. Many plug-ins are available, both paid and free. Many affiliate marketers prefer to use paid plug-ins. That often means they have a support staff that updates the plug-in both to remedy any newly discovered security problem and to remain fully compliant with the latest version of your online publishing platform (like WordPress).

Hackers are constantly improving their hacks, requiring publishing platforms, plug-ins, themes, and other software to constantly update to close those security holes. A free plug-in may not have the support staff to close those holes quickly — if ever. The typical view is it's best to stick with paid plug-ins or at least the free version of a plug-in that offers a pro version upgrade for a fee. That way you know that money is coming in to the developer to keep the plug-in updated.

Here are two great third-party tools:
EasyAzon: Makes it easy to add Amazon links in your posts. You simply add a search term in the EasyAzon search box to search for relevant Amazon products. If you know the exact product name or ASIN (Amazon Standard Identification Number), you can use that too and build your Amazon listing using any size Amazon graphics you like. There are free and paid versions; with the paid version you can add your Amazon affiliate code for all of the different country Amazon programs you are a member of and get paid when your international visitors make a purchase, for instance, from Amazon Australia. You can also add a payment button that gives you a 30-day cookie so all the Amazon purchases that purchaser makes for the next 30 days will be coded to you.
WP Robot : An auto blogging plug-in that has up to 32 different modules for almost all the major affiliate networks such as eBay, Etsy, Amazon, and so on. This is a paid plug-in, but to my thinking it's well worth it. You set up campaigns based on your search terms, and it comes back with content that has your affiliate link. Edit the content so you're not just publishing duplicate content, and publish. What could be easier?
Just because your online publishing platform hasn't alerted you that an update for a particular plug-in is available, don't assume all is well. It just means the plug-in developer hasn't released an update. It may be that the developer has abandoned the plug-in or that it isn't in the platform's repository of approved plug-ins. You have to go to the list of installed plug-ins and click on the view details of each one to see whether it's compatible with the current version of the platform. Otherwise, you may get a message like this one:
Warning: This plugin has not been tested with your current version of WordPress.
Finding and evaluating affiliate networks
ClickBank, CJ Affiliate (formerly Commission Junction) and JVZoo are some of the largest affiliate networks out there, but you have dozens to choose from, such as ShareASale and Rakuten.

Since affiliate networks are the intermediary between you and all the individual merchants, it's important to carefully evaluate the affiliate network you're considering. Study their affiliate agreement, and consider the following:
Reputation: Among affiliates that have used them, what is their reputation? Have their payments been on time, and have they received what they were promised? Have there been complaints from affiliates about late payments, poor support, poor communication, or poor reporting?
Vendor vetting: An affiliate network that has a vigorous vetting process for merchants in its network is actually a good thing, even though the process may be more complex and time-consuming for you. You don't want to be promoting products of merchants who don't support their product, whose products have a high return rate, or whose products are poor quality. You don't want to be part of an affiliate network that just lets in anyone and gets a reputation as a source of scams and low-quality offers.
The size of their slice: The affiliate network is an intermediary between you and the merchant. If your promotional efforts as an affiliate result in a sale, the commission from that sale first goes to the affiliate network.
Why? The affiliate network provides you a convenient way to find and sell the products of thousands of merchants. Just think if you had to go around searching for all those individual affiliate programs, evaluating all those separate programs, and filling out and qualifying on all those individual applications. And that's not all. You'd have to fill out all those individual W-9 forms — not to mention filing all of those W-9 forms with your taxes. You'd also need to visit all the individual websites of the affiliate programs to keep track of your commissions.
All of this help and convenience comes at a price. The affiliate network keeps a portion of your affiliate profits for its help. The size of the slice of the profit they keep varies among affiliate networks. Some affiliate networks keep up to 25 percent of their affiliates' profits. It's up to you to determine whether their help is worth the cost. If you don't feel it is, look for affiliate networks that keep a smaller percentage of your profits.
Joining an affiliate network
Affiliate networks have a review and/or application process to join. All the factors that apply to joining an affiliate program also apply to joining affiliate networks. However, the application process for networks usually adds a couple of steps. Affiliate networks give new affiliate marketers access to thousands of affiliate programs once their applications have been accepted, so the extra effort on your part in the application process is worth it.

Affiliate networks usually ask how you have promoted products in the past and how you intend to do so in the future. They want to know about your experience as an affiliate marketer. Affiliate networks may also require you to achieve a minimum number of sales during a particular period to maintain your membership. If you don't maintain that level of sales, they may cancel your membership, and then you have to start the whole application process again.

Some affiliate networks require an additional application process. You may have to apply to the individual merchants in the marketplace for the right to sell their products. The merchants may also have their own set of requirements, such as minimum sales and their own set of affiliate banners and tools for affiliate marketers to use on their website in their promotions.

Some affiliate programs are more rigorous than others in screening new affiliate applicants. and their review times will vary. Some applications are evaluated by computer programs, and those evaluations are relatively quick — one day to a week. However, if the automated evaluator picks up something that was flagged by its algorithm, the application gets kicked out to a human evaluator, and the review process may be a few weeks to a month or more.
About This Article
This article is from the book:
This article can be found in the category: