Sharing is the new currency in social media marketing, including Facebook marketing. There's a tangible value in creating content that people actively share. When a piece of content is shared in this way, it "goes viral" and is considered the Holy Grail for Facebook marketers. You can find many examples of viral hits on Facebook — such as the breast cancer awareness What Color Is Your Bra? campaign, which moved millions of women to publish their bra color via their Facebook status update. Many organizations have realized huge traffic and buzz thanks to the simple gesture of users sharing something of interest with their friends.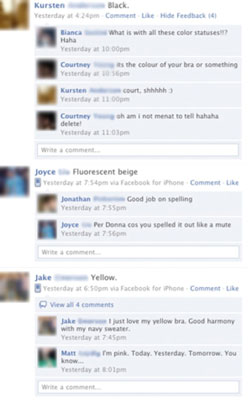 Facebook status updates
The status update box (also known as the What's On Your Mind? box or Publisher) is where you share content, such as text, photos, videos, notes, music, and so on with your Facebook fans.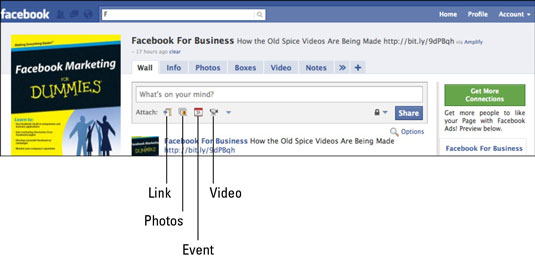 The question What's On Your Mind? appears inside the status update box, and you can address the question directly by sharing text messages up to 420 characters, which then appear in your fans' News Feeds.
You can easily update your status and post your message:
Click in the status update box at the top of your screen.

Type the text that you want to share.

You can also attach a photo, video, or Web link; or schedule an event.

Click the Share button.

Your status update appears at the top of your Page's Wall.
You (and any other Page admins) can engage your fans by posting messages about new content, promotions, upcoming events, and more through status messages. The messages appear as stories on a fan's Wall.
Facebook also gives you the option to send longer messages called Updates. Sending an Update to all of your fans is different from posting a status message, and it doesn't show up on your Wall or in their News Feed. It's an important feature, though, because it allows you to type more than 420 characters and to target a specific demographic of your fans, if you want. You can also record a video or attach a link. Send an Update for your Page:
Click the Edit Your Page link on the left side of your Page, below your profile picture.

Click the Marketing link in the menu on the left.

Click the Send an Update link.

(Optional) Narrow the target by clicking the Target This Update check box, which displays additional options, such as the specific country, gender, and age of the recipients.

The target audience for this update is set to all fans by default.
For your Page, you have to be extra careful when you share messages, photos, links, videos, and so on with others. If your fans find your updates boring and irrelevant, they'll hide you from appearing in their News Feeds. An inappropriate update could result in a drop in fans.
The Facebook News Feed
Facebook uses the News Feed to deliver news and information that relate to a user and the user's friends' activities.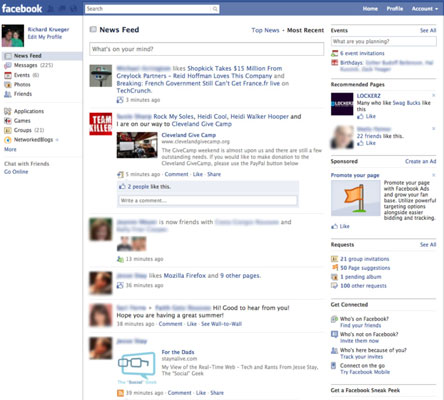 News Feeds offer tremendous opportunities for you to leverage content to drive more news stories for your organization. News stories also include links back to the original posts. So, by delivering a steady stream of stories to fans, as well as friends of fans, you can use News Feeds to gain greater exposure and drive traffic to your Facebook Page.
About This Article
This article can be found in the category: