Does your company have a culture of content (CoC)? Content creation and marketing is front and center in today's businesses, so it's no surprise that it could become part of an organization's DNA.
The term CoC was popularized by the Altimeter Group's authors Rebecca Lieb and Jessica Groopman in their 2014 study.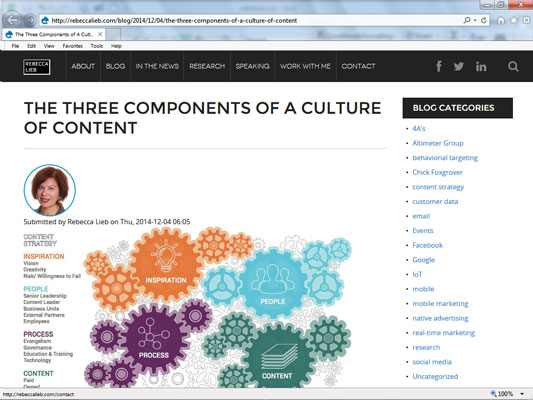 Rebecca Lieb.
So what is a culture of content? It's one in which:
Content is championed.

Content is shared throughout the organization.

People are encouraged to be creative with content.

Staff from every department can contribute content.

The company has a tolerance for risk and failure with content.
Does this sound like your organization? Or a better question might be, "Wouldn't you like your organization to function like this?" Trying to move your organization in this direction would be worthwhile. Your organization can benefit from a CoC in several ways. It can get:
Better quality content (and quantity): People who are encouraged to be creative and become part of a content team create better content and contribute more often.

More content sharing: People who are proud of the content the organization (and they) are creating are more likely to share it.

A competitive edge: A company that champions content and places a high value on its creation stands out from the crowd.

More valuable data to analyze: More and better content provides valuable data.
How can you foster a CoC? Dawn Papandrea details in her article, "How to Create a Culture of Content Marketing from the Top Down" (see the following figure), some of successful entrepreneur Marcus Sheridan's steps for creating a content culture.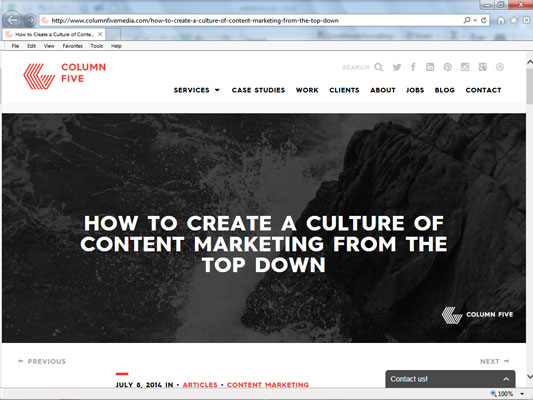 Column Five Media.
Here are a few of those eight tips:
Get buy-in from the top. Make sure to have support from your executives if you are going to undertake a content marketing strategy. No project can survive the disinterest of management.

Share the same vision. All good company cultures thrive because they have a shared vision of what they want to achieve. This is especially crucial for a culture that needs to rely on content contributions from staff.

Appoint a Chief Content Officer. You need a champion to encourage content marketing efforts. Have a person dedicated to the program's success. It's important to show employees that you are investing in the program.

Support and maintain the content culture. Make sure that everyone on the team is convinced of the importance of content and keeps the culture at the forefront.
Most companies that have a content culture agree on one important ingredient: training. They believe that without training their staff to recognize, create, and share content of value, they will not succeed.
About This Article
This article is from the book:
This article can be found in the category: