After you've built your ideal customer profile (ICP), you add a layer that defines your personas. The persona details can be very specific, including demographic information.

Some companies choose to even include specific television shows, celebrities, or other pop culture information that your persona might care about in order to get more creative with the types of marketing activities for these personas. It's fun, but not always necessary for crafting personas.

For account-based marketing, you need to know some important details for your persona:
Who is your persona? Take your ICP with industry, company size, department, responsibilities, and role. For "Nikki," she is a technology operations manager in the marketing department of an SMB company that sells B2B marketing software. She's responsible for managing all the marketing technology (MarTech) tools.
What does your persona care about? Knowing Nikki's role in the marketing department, think about what her pain points might be. She has so many systems that she needs on system of record to store all of her data. She needs a tool for identifying who to target for marketing. Nikki also needs the capability to report the measurements and metrics of what marketing activities are working and what are not.
How does your product or service help? The solution for alleviating Nikki's pain points would be a combined MarTech stack of a CRM (single system of record), marketing automation for reporting activities, and an account-based marketing platform for measuring ROI on all of the marketing activities for the companies that she's targeting with her marketing.
Because this is a business-to-business (B2B) purchase decision, you know Nikki isn't the only persona you'll have to sell to. She reports to a VP or CMO. Nikki may also have someone reporting to her, such as a marketing coordinator. The CMO persona will have different responsibilities than Nikki, and the marketing coordinator also plays a different role.

It's important for you to create different use cases for how each of these personas will benefit from working with your business. This figure shows how you these three different personas would use a new product.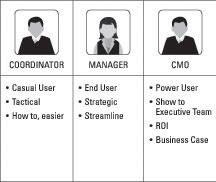 Persona chart of use cases.
About This Article
This article is from the book:
This article can be found in the category: