The bottom line for defining a company's success is revenue. Account-based marketing can help your company focus on revenue as it looks at the amount of money each account has the potential to bring in or currently is paying your company as a customer. Through account-based marketing, you are tracking revenue opportunities at the account level through data in your CRM.

This figure shows an example of an exported report from your CRM; it notes the annual recurring revenue (ARR) for each of your accounts.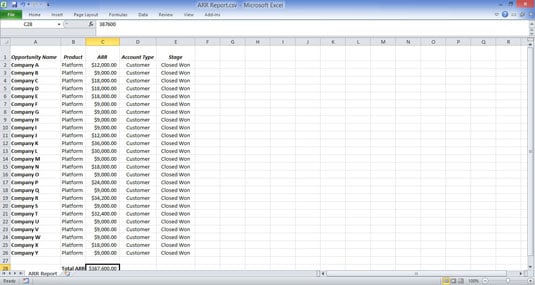 Report showing your company's ARR by account.
If you're an early-stage B2B company with 100 clients or less, you should meet with your department heads each week in sales, marketing, customer success, and product to discuss how each account is doing. Are they happily using the product? Is there any opportunity to cross-sell or upsell? These conversations are essential to driving more revenue with account-based marketing. They help align your teams for the same goal: increasing revenue. How does a company keep or grow revenue? By closing new business to bring new revenue, while retaining the existing customer base.
Generating qualified opportunities
Part of the reason only 0.75 percent of leads ever became closed revenue is because there were no pre-qualification criteria for leads. New leads were gained through marketing activities, such as emailing your entire database of contacts and inviting them to attend your next webinar. Marketing had no idea when these leads would be a good fit. That's why the process of qualifying leads before handing them over to sales took place. It isn't hard to get a new lead in B2B marketing. It was hard to get the right lead.

With account-based marketing, you no longer uses the terms marketing qualified leads (MQLs), sales accepted leads (SALs), or sales qualified leads (SQLs).

Traditional lead generation was all about quantity. Account-based marketing is all about quality. Before account-based marketing, most B2B marketers looked only at finding more leads. Now it's about connecting to the best contacts at accounts that can become opportunities. The ability for account-based marketing to qualify opportunities is a key deliverable to align your company with the same metric: revenue.

When you're looking to find qualified opportunities, you can use your marketing automation system.
Closing more new business
The focus for both sales and marketing must be on closing more new business. You can close more new business when you've created a list of target accounts, then determined which marketing messages need to be tailored for the account. When your team does this, you have much more success in generating new sales, and you further engage those accounts to create more energy and propel them through the pipeline faster.

By using account-based marketing and advertising to reach target sales accounts, marketing is positioning sales for more successful conversations with their buyers down the line. By the time sales reaches out to target accounts, buyers have been exposed to their company's messaging. This speeds up the sales process by cutting down on unnecessary sales introductions, and it sets the stage for a more personalized buying experience (increasing the likelihood that a lead will turn into a closed deal). ABM also ensures that you're focusing on the right leads from the start, so time and money aren't wasted chasing down dead-ends.
Preventing customer churn
According to Gartner Research, by demonstrating value proposition, B2B companies can expect more than two-thirds of their customers to be highly likely to buy more from them. If you aren't continuing to demonstrate your company's value proposition then it's likely your customer will walk away, or churn. If 80 percent of your company's revenue comes from 20 percent of your customers, then it's crucial for your organization to focus on preventing customer churn. If your customers aren't happy, you'll hear about it one way or another.

At the most basic level, account-based marketing is about the customer. In a time when B2B buyers crave more personalized selling experiences, ABM has surged to the forefront of marketing strategies as a way to improve the relevancy of sales and marketing messages. Buyers no longer are looking for a sales call or a marketing email to begin their research process.

What buyers want is relevant outreach that's personalized to meet their needs. That's exactly what ABM offers. Using targeted advertising, marketers can reach their buyers in an unobtrusive way on the channels that their buyers already use. Buyers can choose to engage with marketing messaging on their own terms.
About This Article
This article is from the book:
This article can be found in the category: