You can hold your reader's attention by using good design. So what are some things you can do to help your readers focus their attention? Consider using the following:
Headings and subheadings
You want to make it easy to read your headline. But after your readers' eyes move from the headline, they are going to be skimming your headings and subheadings. If you leave these out, your reader will have to try to pick out words or phrases that have meaning to them. You shouldn't make them have to guess what and where those words are. If you do, you're banking on the fact that your reader has all the time in the world to assess your content. Considering what you know about attention spans, that's not likely.
Short paragraphs
Keeping your paragraphs short really helps readers make progress through your article. When they see a dense article with no breaks, they are inclined to click away. It's not a conscious choice. They make a quick assessment about how long it will take to read an article, and they either commit to give it a try or move on.
Bullet lists
Some people are afraid to use bullets because they have seen too many bad examples. If you thoughtfully organize your material, bullets are a great way to help the reader quickly understand complex topics.
Numbered lists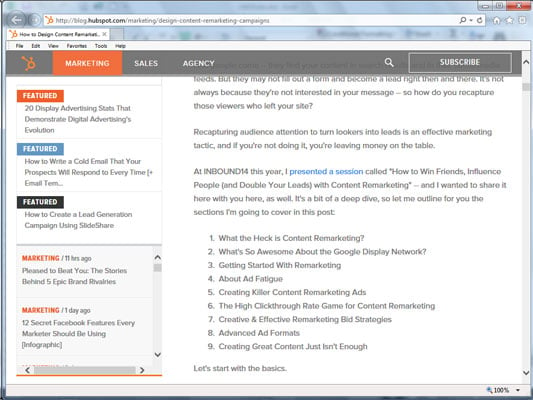 Everyone loves lists. It's one of the most popular formats on the web. Readers can instantly understand how the material is organized and gauge the amount of time they need to spend with it. here, you can see the effective use of a list right in the blog post by Larry Kim. It sets up the content and provides structure to the post.
Type size and font color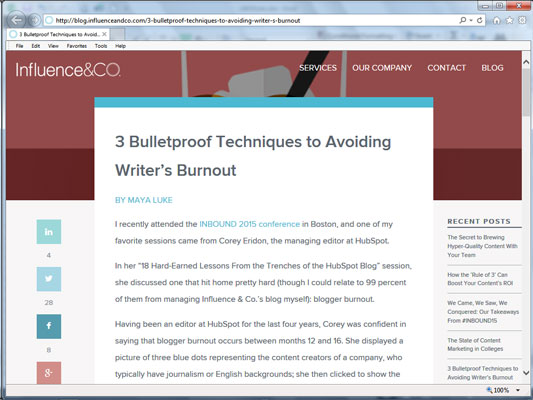 Designers often forget about differences in readers' vision. Some readers can't see tiny type. If the type is in a light color, it compounds the problem. It may look great in the design as a whole, but it can be a turn-off to many readers. The figure shows a great example of an article by Maya Luke in the Influence & Co. blog that doesn't require you to squint or make your text larger.
Visuals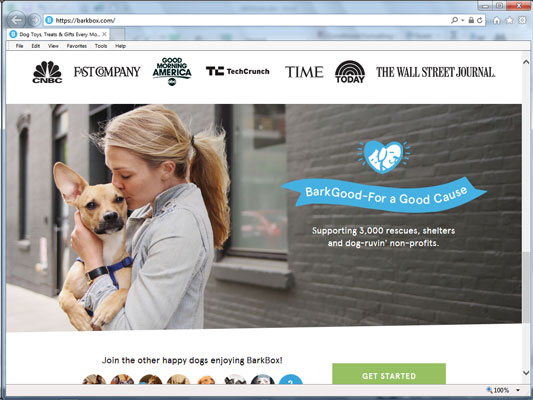 Using visuals is a well-known way to advance understanding. If you can provide a photo, a map, a graph, or some kind of diagram, your reader will more easily connect to it. In the BarkBox blog shown, you can see a wonderful example of a picture that works perfectly with the headline. It demonstrates a love for animals while displaying the "BarkGood For a Good Cause" banner.
White space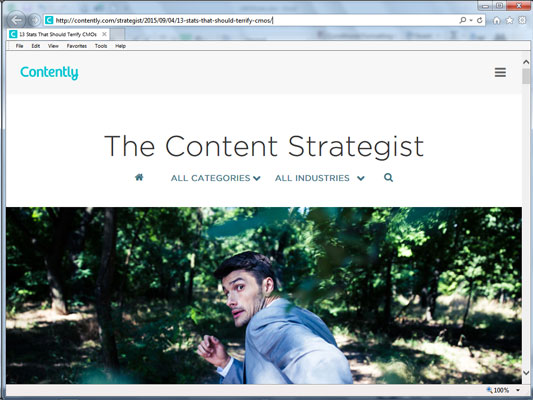 The Contently blog is designed to make great use of white space, as shown.
About This Article
This article is from the book:
This article can be found in the category: