You may want to employ some seasonal keywords as part of your SEO strategy. Some keywords retain their popularity and relevance throughout the year, like [Ford Mustang] or [California]. Others see rises and spikes throughout the year due to seasonal trends. Holidays are a good example. More people buy Christmas tree ornaments in December than in July, and the majority of costume sales happen before Halloween.
The same is true of the actual seasons themselves because people look for things at certain times of the year. More people look for bathing suits in the months before summer and for snowboards in the winter.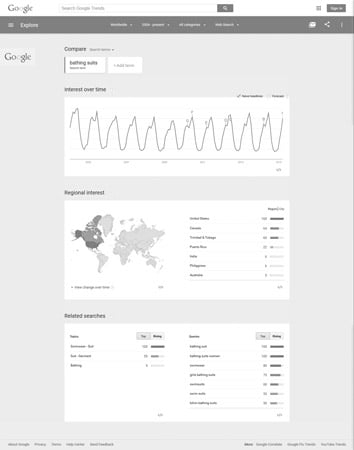 Google Trends showing seasonal keyword trends.
You can use tools provided by the search engines to see keyword spikes and trends. Take advantage of end-of-the-year reports such Google Zeitgeist, along with Google Trends, which measures how often a keyword is used during a given day, providing the most popular examples and measuring when the spikes happen.
You may find it important to note spikes and trends in your keywords: While certain things immediately come to mind during a given holiday (for example, flowers and chocolate for Valentine's Day), other keywords and keyword phrases that are much more loosely connected might spike during that time period as well.
Around February 14, you might notice a rise in searches for engagement rings, vacation listings for second honeymoons, and wedding-related searches. Restaurant searches and hotel listings also probably spike, along with clothing, shoes, and jewelry. One broad high-traffic term can be broken down into specific, small-traffic terms. These more specific terms are every bit as relevant as the broad term, and they generally have less competition. Remember the long tail when considering possible keywords.
Seasonal keywords are important to keep track of because you can use them to tailor your site to draw in that seasonal traffic. Many stores receive the bulk of their revenue from seasonal purchases, so it's a good thing to keep seasonal traffic in mind when building your website.
About This Article
This article is from the book:
This article can be found in the category: