You may have heard that affiliate marketing is a great way to make either a part-time or full-time income. What is affiliate marketing, you ask? You may have noticed all the personalities and stars on the Internet who are making recommendations for products and services they like that lead to links and wondered why. The answer is simple: money!

You know the old adage that preparation is half the battle — they're right! The same is true for affiliate marketing, and in this Cheat Sheet you find out how to lay the groundwork for your affiliate marketing success.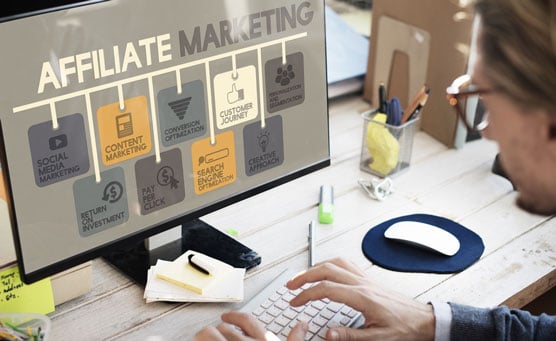 ©Rawpixel.com/Shutterstock.com
After you have prepared for success, what's next? Road maps can point you in the right direction. In this Cheat Sheet you get a ten-step road map to your affiliate success that shows you the way ahead as well as pointers for setting up an affiliate program and marketing your affiliate links.
How to Prepare for Your Affiliate Marketing Success
You've probably heard thousands of times that failing to plan is planning to fail and properly preparing is essential for success. You know what? It's true! You need to lay the groundwork for your affiliate marketing success. Consider the following guidelines:
Eliminate distractions. Shut off your email notifications, silence your phone, limit your email time to once a day, and use time tracking aids.
Write out your Covey quadrant. Prioritize your activities using Steven Covey's time quadrant. Identifying tasks is half the battle. Quadrant 1 lists urgent and important tasks, Quadrant 2 lists important tasks that aren't urgent, Quadrant 3 lists urgent tasks that aren't important, and Quadrant 4 lists unimportant tasks that aren't urgent.
Focus your time, effort, and attention. Focus on the items in Quadrant 2. That is where your most productive tasks lie.
Set up your workplace. Set up your workplace so it's conducive to effectively working. Eliminate any potential distractions, but also make it a place you like to work in, a place that encourages your creativity.
Establish your calendar. Prevent becoming overwhelmed by putting together a work calendar that lays out the tasks you need to accomplish. Refer to your Covey Quadrant 2 items.
Don't procrastinate — just do it. It's easy to get distracted. Don't put off the work you need to do to get your affiliate marketing business going. One hour off can turn into one day; one day can turn into one week. Commit to your success for at least three months. Don't let anything distract you from the success you deserve.
Get up and do it again. Failures are a part of everyone's success. Don't get discouraged. Learn from your setbacks and improve. If a temporary setback knocks you down, get up and try again. The only way failure succeeds is if you let it.
Show perseverance and consistency. Don't quit when success is just around the corner. It takes some time for success to show up. So keep trying and you will succeed.
A 10-Step Road Map to Affiliate Marketing Achievement
Beginning a new venture can sometimes seem overwhelming, and affiliate marketing is no different. Here are ten pointers that can help you navigate the affiliate marketing road ahead:
Set up an affiliate marketing calendar. Don't get overwhelmed. If you schedule your tasks, they will be easier to accomplish and you won't forget steps.
Perform niche and keyword research. Leverage what you already know, your interests, passions, and skills. Put together your lists, and then prioritize and run through the filter of profitability to make sure of the opportunity.
Choose your affiliate products, companies, and networks. Based on your keyword research, choose what you're going to offer and what affiliate programs you're going to work with.
Set up your website or choose a social media platform. Choose one to begin with and incorporate more as you gain experience.
Set up your email capture and email marketing system. Set up an email collection form or widget on your site, and connect to your email service provider (ESP).
Start writing and posting content. Fresh content is the lifeblood of your business. Be consistent. Set up your writing calendar and stick to it.
Review statistics. Review the results after you send your first email or newsletter. What were the open rate, click-through rate, deliverability, and bounces?
Analyze. Which posts are generating the most clicks and views? Which emails are getting the most opens and clicks? Analyze what you think generated that interest, and try to duplicate and enhance that success rate. You don't want to duplicate the content; you want to duplicate the good response.
Add to the basics. After you determine what works for your audience, add more fresh content to keep the interest going.
Test, retest, repeat. Learn from results. What worked? Do more of that. What didn't? Eliminate it! Rinse and repeat, improving all the time.
Considerations for Merchants before Setting Up an Affiliate Program
Plenty of merchants have a successful affiliate marketing program, and it's a great consideration for those who want to ramp up their sales. Done right, it could mean boosting overall sales by five, six, or even seven figures. It may not be as easy as you think, but it can be very worthwhile. Here are points to consider before you make the decision:
Competitors: Are your competitors running an affiliate program? Have you checked out their program's features? Compensation plan? How about the tools, resources, and support they offer affiliates?
Ample profit margin: Is there enough room in your profit margin for compensation that will excite marketers enough to sign up?
Online suitability: Most affiliate programs are primarily run online. Technology makes it easier and less costly, so see whether your product/service affiliate can be performed online. There are offline programs too, but they are rare with affiliate marketing.
In-house software versus platform: Check with your technical assistance person (this may be your web designer) to find out whether it's better to run the program in-house with affiliate marketing software or to run it on a major platform (such as JVZoo or ClickBank). For most beginning online merchants, a major platform is best. You can always switch to in-house later, when you have more experience with affiliate marketing.
Existing customers/partners: To start building your affiliate sales force, start recruiting those who are familiar with your product/service such as customers, employees, vendors, suppliers, business associates, and other contacts. You can continue online with social media venues, affiliate platforms, and other places like-minded folks congregate.
Maintenance: A good affiliate program can work well, but it isn't "set it and forget it." You need to provide sales support regarding the product, provide customer service, measure affiliate performance, issue payments, provide 1099s, and so on.
Monitor results: When you've addressed everything else in this list, then it is time to monitor: Monitor the financial results to ensure profitability, and monitor the market for changes in consumer moods, trends, and so on.
Shortcuts for Marketing Your Affiliate Link
The essence of affiliate marketing is getting paid when someone clicks on your affiliate link and that results in a sale made by the merchant. Being in an affiliate program and sending your affiliate link to someone who just happens to be shopping for a product you're introducing them to is the whole point. It's easy to find a good product/service and the niche it is in, and it's easy to find a suitable affiliate program to fill that need. But finding someone suitable for referring to that program? That takes legwork. Here are some shortcuts:
Facebook: Get active on Facebook groups and on your pages and start posting about problems and issues that are tied to your product's solutions. Then start introducing your affiliate link.
LinkedIn: Find out who would benefit from your product (whose affiliate link you're trying to market), and join those groups and start posting. Also make connections with those who would benefit from your product.
Instagram: Sharing videos and images is easy here! Feature your affiliate link prominently in your activities.
YouTube: It's easier than ever to create interesting and shareable videos with a free YouTube channel. Consider videos on issues/ problems that are solved by the product/service that you're an affiliate for. Put your affiliate links in the description.
Pinterest: This is a great venue for sharing images and infographics. Make sure these images are about the issues that are solved by the product/service you're an affiliate for. Embed your affiliate link into those shareable images.
Email: Email is communication that can be efficient, cheap, and instant. If the product you're an affiliate for can benefit your contacts, consider emailing your contacts with a friendly sales message coupled with your affiliate link. Just be judicious and courteous about it, and of course, disclose your intent here.
About This Article
This article is from the book:
This article can be found in the category: