With account-based marketing, there is an ongoing process of expansion, but it's about quality, not quantity. You targeted your best-fit accounts with your ICP to determine whether they're Tier A, B, or C accounts. Next, you will continue to expand your reach within an account by adding more contacts and their information.

It's important to use your personas to identify the contacts you need to add to an account. These personas are the people you determined are the users of your product or service.
Appending more contact data to accounts
Appending data means adding more information. This additional data for your contacts should append to your targeted accounts in your CRM. It's about gathering more quality data for your best-fit accounts, not every company listed in your CRM. It's about focusing on quality instead of quantity for appending data. This data includes
Contact information: First/last name, phone number, email, social media.
Role profile: Job title, department.
These contacts should be the stakeholders for the purchase decision. You don't need to add a contact for every person you encounter who works for the company you're targeting.
Writing out your organizational chart
Your target accounts have specific departments that make up the company. These departments are called buying centers. When you wrote out your personas, you listed which department or responsibilities they have in those buying centers. If you were selling a product to a marketing department, your personas have different roles and reasons for how they would use your product. This is called a use case.

This figure shows an example of an organizational chart.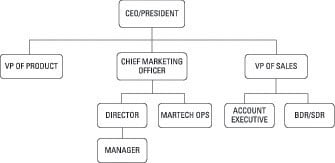 Example of an organizational chart.
Working with new contacts during the sales process
Additional people will raise their hand during the purchase decision. You need to qualify them the same way that you qualified the original contact in the account during the first stage, Identify. You used a set of qualification criteria (commonly referred to as BANT questions, for Budget, Authority, Need, and Timeline). This is important, because you want to understand whether these new contacts have authority. The new contact can actually be the power sponsor or the ultimate decision-maker for your opportunity.

When you get into the BANT conversation, you shouldn't be asking these contacts information for you already know. Because you've already built out the account, you should know such information as company size, industry, and the type of technology they're using.

Research the new contacts on LinkedIn before engaging with them. Find out how long your contact has been with the company so you can ask them specific questions about their roles and responsibilities. These conversations should be valuable. Start the conversation with, "Hi (name), I saw you've been (role) at (company) for (length of time). Can you tell me a bit about what you've been working on?" This is a good way to start the conversation with your new contact.
Identifying buying centers
You may discover that your product or service is used by additional departments in your target account. These additional departments are called buying centers. A buying center has the same stakeholder structure with a primary user or "champion" who can also become a customer.

Using your personas, you can know from the start of the account's journey that there are opportunities to sell your product or service to other buying centers. This is more common for B2B "smarketing" teams that target enterprise companies.

Knowing all of the potential buying centers is important for the account-based marketing model. After you close your first deal with your target account, you invest more resources in training for adoption to create your customer advocate. Turning your customers into fans helps generate potential new opportunities to grow revenue. You can cross-sell to another buying center within the account.
About This Article
This article is from the book:
This article can be found in the category: