Forged in a world of constant innovation, evolving platforms, and cutting-edge strategies, digital marketing has the unique luxury of endurance in the job market. Maybe you're looking for a new career path that's not in danger of becoming obsolete. Maybe you're already working in digital marketing and wondering how your job will stand the test of time, or what your growth opportunity looks like over your career.

Arguably, careers in digital marketing, more than any other industry, are more concerned with your skill set than your job title. If you have skills (or at the very least, a major drive to learn), you'll never run short of assets to include on your resume. In this list, the focus is on digital marketing skills and the possible jobs and salaries that go along with them.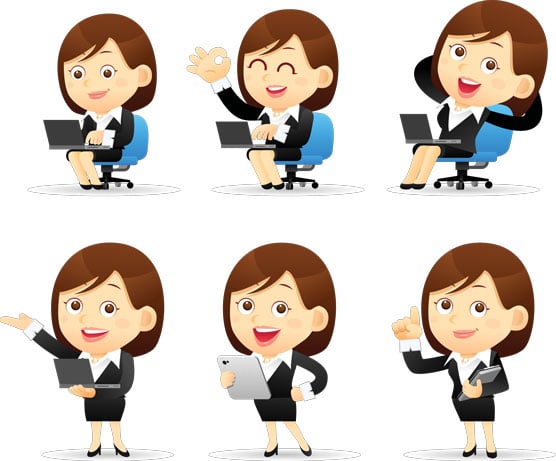 © En min Shen/Shutterstock.com
Content Marketing Positions
Using content as a digital marketing strategy is a deep well of career development. Not only are skills needed to create and distribute engaging content across a variety of platforms, but that content must be designed to attract a specific target audience and drive people to take a measurable action (like buying a tractor, for example).

The digital marketing space hosts a wide variety of content types: blog posts that serve to segment potential audiences; podcasts that educate and create brand awareness; social media updates; infographics; and even e-books that introduce people to your company and offers. It doesn't stop there, either. Content creators also create educational resources, surveys, and webinars that help prospects evaluate their choices. Content creators identify and broadcast customer stories and put together spec sheets that push prospects over the edge and help them decide to purchase.

Now imagine all those different pieces of content working together to guide someone from introduction to sale. These efforts all fall within the realm of content marketing, which amounts to strategically creating stellar resources that turn someone who has never heard of your company or products into a buyer and brand evangelist. If you can grab hold of content marketing as a skill set, you have a growing opportunity to apply yourself in any number of opportunities in the digital marketing space:
Brand journalist. Brand journalists, sometimes referred to as corporate reporters, specialize in producing a variety of multimedia that communicates brand value to a company's customers. A typical brand journalist salary ranges from $40,000 to $90,000 per year, but average around $58,000 a year.
Managing editor. Managing editor is another trending career option for the aspiring content marketer. They handle the day-to-day storytelling of a company. Projects, people, and deadlines: A managing editor has to juggle all three. A managing editor can expect to make between $41,000 and $98,000 annually, but average around $63,000 a year.
Content marketing manager. Content marketing managers serve as leaders of a company's content team and make sure that all of the content assets are in line with the overall marketing strategy. They are responsible for content management, design approval, developing resources, and audience development. Content marketing managers typically earn from $45,000 to $98,000 a year, but average around $67,000 a year.
Paid Media Manager
Buying traffic is a vital part of a marketing strategy because paid traffic is a reliable and plentiful traffic source for your offers. Pretty important stuff. If you know how to make a business profitable, your skill set is highly desirable. Paid media managers, in short, negotiate, purchase, and monitor advertisements, and in the digital marketing space, that means knowing how to generate the most leads and sales at the best possible price.

The skilled media manager understands that paid traffic is a system that builds relationships before it sells. Familiarity with in-depth marketing research techniques assures that media buyers can place their ads on the right platform for the desired audience. These marketing professionals are also skilled with the following types of advertising: search, display, native, mobile, video, and third-party. They know how and when to use pixels in advertising campaigns and are adept at taking a variety of raw data and turning it into valuable metrics such as Average Customer Value, Cost per Acquisition, and more. Media buyers also know how to design ad campaigns that work in conjunction with a company's content marketing efforts.

Media buying is an important part of any traffic strategy, so companies invest a lot in this area of their business. A successful paid advertising strategy is the key to making the wheels of e-commerce turn.

The job of acquiring media can go by many names, including media buyer or digital media planner, but the job description is the same: develop a paid advertising strategy and successfully implement it across a variety of digital channels. Media buyers plan campaigns from start to finish and handle things like budgets and clients. They constantly look for new and better ways to get the most out of their campaign efforts to use content in ads to drive traffic to your content.

Successful traffic acquisition specialists understand the nuances of changing digital advertising platforms, so they constantly keep up to date on the latest advertising channels and terms of service. Data drives their decisions — data pertaining to budget, ROI (return on investment), CPC (cost per click) and PPC (pay per click) — and a media buyer keeps an eye on them all. There is a definite strategy behind purchasing traffic, and acquisition specialists are intimately familiar with the structure and implementation of ad campaigns that align with specific business goals. Traffic acquisition specialists can expect an annual salary range of $41,000 to $98,000, but average around $66,000 a year.
Search Engine Optimization (SEO) Manager
Search engine optimization (SEO) isn't dead, but it has changed. Thanks to Google's constant algorithm updates, the old rules of SEO no longer apply. Today, to get ranked (and stay ranked), site owners need to emphasize user experience over traditional variables such as links and keyword density.

Marketers who specialize in SEO know how to create and implement search marketing campaigns that move the needle for their company. They understand that search should be optimized for mobile use, and they know how to optimize content for a wide variety of search engines, from Google and Bing to YouTube and Google Maps. They embrace the technical side of marketing and employ techniques that stay within the search engines' terms of service to increase return on investment through search strategies.

Your job title in this position might be SEO (sometimes also referred to as SEO Specialist). SEOs are responsible for driving global organic search strategy and improving visibility of web properties, increasing website traffic from target audiences, and driving qualified leads and sales. They know how to get eyes on content from blog posts to podcasts to YouTube videos, using methods that are consistent with SEO best practices. They troubleshoot and track site performance, including in the areas of social sharing, page load speed, and other technical issues related to search marketing.

Successful marketers in this role possess a detail-oriented mind that they put to work identifying search traffic growth opportunities for content and products based on analytics. They are also researchers and constantly look into the latest in search engine compliance and guidelines so that they can adjust strategy as necessary. Data drives their decisions; SEOs also monitor and report on search metrics and demonstrate continuous improvement of the SEO strategy. SEOs can expect to make a yearly income between $57,000 and $113,000, but average around $77,000 a year.
Social Media Marketing
Social media marketing is one of the most in-demand skill sets for organizations seeking to implement digital marketing strategies. Since skyrocketing to popularity in the early 2000s, social media has evolved into an unstoppable force that companies have harnessed to drive brand awareness and website traffic, generate leads and sales, and connect directly with their audience and community. Although social media powerhouses can rise and fall (sorry, Myspace), you'll be hard pressed to find any reasonable person who doesn't think that social media is here to stay, which means that social media marketing strategies are here to stay, too.

Competent social media marketers know the best way to position content, no matter the platform; that is, they know the right piece to put in front of the right audience. They are also typically in charge of curating short lists and using social media channels to network with other industry leaders who can move the needle for the company. As skilled listeners, social media managers route customer needs and pain points to the people who can create relevant content and products that meet those needs. They often create offer awareness, taking care that it doesn't feel intrusive or too much like a hyped sales pitch. Working to create a strong presence on the social web, social media managers dynamically connect with their audience and work to build a tribe around the brand.

Social media marketing is all about listening, networking, influencing, and yes, selling. It's about taking a company's content assets and making sure that the message is accessible, engaging, and translates across different social media channels.

Social media manager is a likely job title in this area, and people who fill this job are data-driven content curators who serve as a voice of the company on sites like Facebook, Twitter, LinkedIn, or wherever else the business has an online presence. They keep channels running smoothly by creating and scheduling content such as photos, videos, and graphics. They measure ROI by likes and follows, reach, engagement, leads gathered, and sales made.

Personal attributes of a great social media manager include an imaginative approach to content. A social media marketer creates a lot of content for multiple platforms, so the ability to adapt the same information to different content types is essential. The ability to write conversationally is equally important. You don't want all your messages to sound like advertising. Social media managers know how to mix it up. Their creative side is balanced by a healthy dose of analytics know-how. Successful social media marketers can look at raw data and calculate their next move. They can expect an annual salary between $40,000 and $86,000, but average around $64,000 a year.
Community Management
Many companies are embracing community management as a way to make the customer relationship ascend beyond the level of buyer and seller. Online communities are places where people build relationships with each other around a strong common interest — namely, your brand, products, people, or mission. Thanks to the Internet, you can easily locate and connect with others who share similar interests, and community management is a growing skill set to create a healthy environment for those passionate people to connect with each other and facilitate, strengthen, and encourage those relationships.

Community management skills have deep roots in behavioral and social psychology, with emphasis on guiding and influencing group behavior and initiating relationship development. Professionals in this area of digital marketing understand that building community is a long game and return on investment can take months, if not years, of consistent hard work. The name of the game here is relationships — not only between customer and company but also customer and customer. Relationships take time to develop, and they need a safe space to do so. Online communities serve many different purposes, from increasing retention rates to reducing customer support tickets to identifying product and content gaps, but the end result is the same: increased brand loyalty and advocacy, higher customer satisfaction, and a direct line to the experiences of your customers.

A position in this area is community manager, a job that entails bridging the gap between company and customer. Whereas social media marketers work to make the brand attractive and engagement-worthy on various platforms, community managers build and nurture the human relationships hidden in social media communication. Social listening and moderating online "tribes" centered on the company and products are common responsibilities for this position. Community managers excel at advocating on behalf of the customer while also advocating for the brand.

So, what personal attributes should you possess to be successful in this position? A community manager's first super power is empathy. The importance of being able to communicate empathy to the brand's community can't be emphasized enough. Social media can also be time consuming, so the community manager must effectively manage time and prioritize tasks. The community manager also needs to establish meaningful connections with community members and various members of the company's internal team to effectively advocate for customers. Community managers bring in $37,000 to $80,000 annually, but average around $53,000 a year.
Video Marketing and Production Positions
Video marketing is a niche of content marketing strategy, but make no mistake — nothing tells a story quite like a video, and companies know it. That's why video marketing is a specialized skill that will never go out of style, because nothing tells a story quite like showing a story. New features like YouTube Cards and Facebook Video make video more engaging and accessible than ever. Understanding the strategies around video marketing is a must for digital marketing efforts.

Video marketers know how to leverage interviews, testimonials, demos, and other storytelling styles to fit the needs of the target audience. They strategically examine available platforms and apps to ensure that the content is on the right channel. In addition, they know how to optimize video for search engines using keyword-enriched descriptions and tags, as well as possess a deep knowledge of video editing, production, and animation that enables them to tell stories in the most engaging way.

Video marketing is one of the most powerful digital marketing strategies that exist, and the technical, analytical, and creative know-how is in demand. Being able to leverage visual storytelling to strengthen emotional connections, engagement levels, and understand how all these aspects fit into a content marketing funnel is a valuable skill that companies actively seek.
Video production specialist. Production specialists direct, organize, and facilitate a company's video initiatives. Tasks include planning the content, filming, editing, mixing, compressing, and all other aspects of physically preparing the content and getting it out to the masses. Video production specialists tend to earn $35,000 to $70,000, but average around $50,000 a year.
Video marketing manager. Video marketing managers often handle the technical side of content creation, with the added responsibility of communicating the content's unique value to the target audience. They concern themselves with things like publishing frequency, analytics, and determining exactly where the video content falls in the content marketing funnel. Video marketing managers have an annual salary range of $39,000 to $87,000, but average around $60,000 a year.
Web Design and Development Positions
The website is often the first impression a prospect has of a business. The company website is, increasingly, where that important first impression of a brand occurs. A well-built, professionally designed website can generate leads and sales at a greater rate than a poorly designed website. With the ever-growing number of people accessing the web from mobile devices and tablets, a greater need exists for well-trained professional web designers and developers who understand how mobile technology has impacted web browsing.
Front-end developer. Front-end developers create, maintain, and troubleshoot user-facing web pages so that your customers and clients have a great experience with your brand. Front-end developers can make between $48,000 and $109,000 annually, but average around $72,000 a year.
Back-end developer. Back-end developers program and maintain the structure of a company website and other digital assets; they are the behind-the-scenes builders of a company's website. These developers coordinate pages, forms, functions, and databases, and make sure that everything is running smoothly. A back-end developer's salary range falls between $49,000 and $99,000 per year, but average around $72,000 a year.
Direct-response copywriter. Direct-response copywriters understand the methodology in getting prospects to take immediate action when they read through a marketing email, and they know how to create the irresistible headline that gets the email opened in the first place. Direct-response copywriters earn between $39,000 and $88,000 a year, but average around $58,000 a year.
Email marketing analyst. Responsible for email marketing campaigns from start to finish, marketing analysts (sometimes called email marketing specialists) do much of the day-to-day coordinating of campaigns, including promotion schedules, planning and implementation, and troubleshooting any roadblocks that arise along the way. As an email marketing analyst, you can expect to make between $41,000 and $74,000 per year, but average around $55,000 a year.
Data Analysis Positions
These marketers specialize in making data-driven decisions. They aren't big fans of making decisions based on hunches. The ability to determine the key metrics that a brand needs to track, as well as collect and analyze them, are part of this indispensable skill set in an industry that makes changes and adjustments based on what the numbers indicate.

Many marketers shy away from data analysis because the numbers can be daunting; so much needs to be reviewed and understood. Analysts specialize in not only diving into the metrics but also knowing what questions to ask in order to interpret the information correctly. They create accurate reports that are easy for employers, stakeholders, and clients to understand. These days, just knowing where to look for numbers isn't enough; you need to know what they mean. Interpreting data correctly increases your company's ability to scale, gives detailed insights, and ensures that you're not relying on your "best guess."
Data analyst. Data analysts are responsible for aggregating and interpreting a variety of analytics for a company. They research new ways to collect data, analyze the information, and draw conclusions from the data. They identify new sources of data and develop or improve on methods of data collection, analysis, and reporting. A data analyst earns between $41,000 and $84,000 per year, but average around $60,000 a year.
Testing and optimization specialist. Marketers are social scientists. They are masters at trying something, looking at the results, deciding what those results mean, and then making changes as necessary. Savvy digital businesses focus on getting more out of what they already have, a discipline called conversion rate optimization (CRO). This fact explains why specializing in testing and optimization is an upward-trending career path for the industry. A mid-level website optimization specialist will earn between $71,000 and $95,000 a year, but average around $75,000 a year.
About This Article
This article is from the book:
This article can be found in the category: