Before you can launch an employer branding strategy, you need an employer value proposition (EVP). EVPs appear in a number of different formats, and the language used to describe the different parts of the proposition varies. However, the EVP format most commonly favored by leading employers comprises a clear and concise brand statement supported by three to five supporting qualities, often referred to as pillars.

The brand statement serves as an umbrella, summarizing the overall employment deal or focusing on one predominant aspect of the employment deal. This statement conveys the brand essence or core positioning — the one thing you most want to be famous for as an employer. The pillars support and delineate the brand statement or employment deal.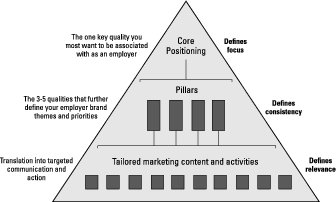 Structuring your EVP.
For example, the EVP for Adidas is defined as follows:
Brand essence/core positioning: Shape the future of sport
Pillars:
Through sport, we have the power to change lives:

Sport matters. It gets people off the couch and into the gym. It fights disease, deepens friendships, and improves lives. It strengthens muscles, increases self-confidence, and teaches lessons that last a lifetime. Through sport, we have the power to change lives.

The future runs on diverse and fresh perspectives:

Adi Dassler looked at factory workers and saw athletes. He picked up army surplus canvas and saw track spikes. It's the people who see the world a little differently than the rest who create the breakthroughs that inspire us all. The more diverse perspectives and life experiences we support and encourage, the more often those breakthroughs will happen. At adidas Group, we seek people with different perspectives and life experiences and allow them to bring their true self to work every day. This isn't just a nicety. It's a business necessity.

Careers without borders:

Exposing your talents to as many different cultures, languages, life experiences, and points of view as possible is the fastest way to grow.

Pioneering the future of work:

Imagination, teamwork, and the courage to share your ideas all need the right environment to thrive. Which is why we're focused on being at the epicenter of global culture and pioneering a future workplace that facilitates faster decision-making, creative solutions, and more opportunities for spontaneous collaboration.

Sport needs a space:

Sport needs a healthier, stronger, more sustainable, and more socially responsible world. Changing the way an industry does business isn't quick or easy. It's a marathon, not a sprint. Which is why we've made this a core priority for the entire adidas Group.

Collaborating with those that inspire us:

We invite anyone and everyone whose curiosity and creativity inspires us to be part of our brands. we open our doors to collaborators from all walks of life, open our ears to their points of view, and are generous with our own insights and experience, so that we can all co-create the future together.
Likewise, the EVP for SUEZ reads as follows:

Brand essence/core positioning: Join the resource revolution

Pillars:
By working at SUEZ, you can contribute to the sustainable development of our societies. By working at SUEZ, you can contribute to the resource revolution.
By working at SUEZ, you will help to create new jobs for the future, ensuring the transition from a linear economy (extract, build, consume, throw away) to a circular economy (save, reuse, recycle).
By working at SUEZ, you will benefit from working closely with others to solve major resources challenges.
By working at SUEZ, you can have a career that is full of variety.
Working at SUEZ means joining a group of dedicated people who are encouraged to be themselves in a safe, caring, and respectful environment.
About This Article
This article is from the book:
This article can be found in the category: