You can't buy a data governance program off-the-shelf. That's actually good news. Organizations must implement a program relative to its level of interest, as well as its needs, budget, and capabilities.

Even a modest effort can produce meaningful results. Glancing at all the areas in the figure below may seem overwhelming, but not all of these elements need to be addressed (certainly not at first), and there are different degrees in which each can be pursued. As you read and learn about them in this book, you can decide what makes most sense for your organization.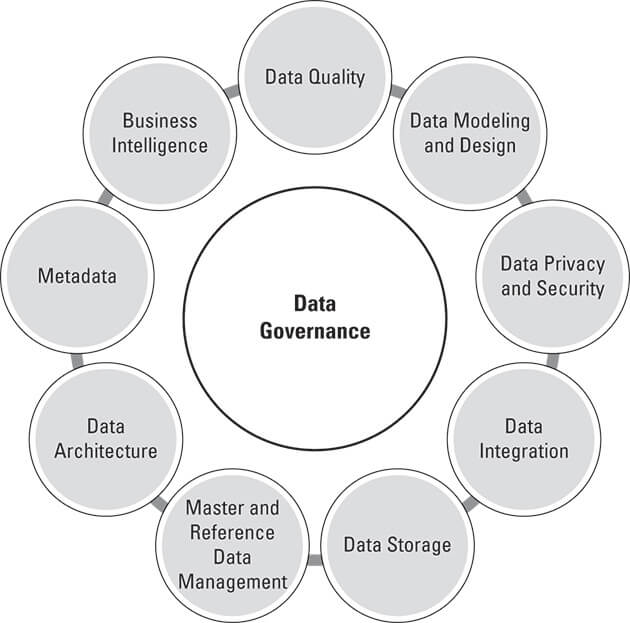 ©John Wiley & Sons, Inc.

The most common elements of a data governance program

Regardless of how and to what degree you implement the elements of a data governance program, you'll need a basic set of guiding concepts and a structure in which to apply them. This is called the data governance framework.

While there are many framework variations to choose from, including ISACA's Control Objectives for Information and Related Technologies (COBIT) IT governance framework, they share some common components that address people, process, and technology.

I've done the hard work of distilling down the most important qualities of a data governance framework and captured them in the figure below. These components are explored in detail in the book Data Governance For Dummies. It covers everything you need to know about how to implement a basic data governance framework.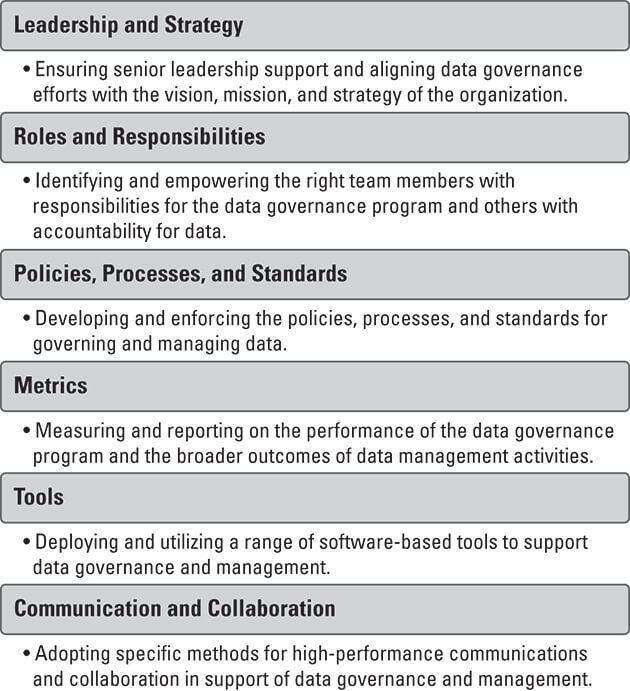 ©John Wiley & Sons, Inc.
Common components of a data governance framework
The data governance components in this figure are not in a specific order, with the exception of leadership and strategy, which is a prerequisite for the rest of the framework.
Leadership and strategy
Your data governance program must be aligned with the strategy of the organization. For example, how can data governance support the role that data plays in enabling growth in specific markets? Data plays a role in many aspects of organizational strategy, including risk management, innovation, and operational efficiencies, so you must ensure there's a clear alignment between these aspects and the goals of data governance.

The disconnect between business goals and data governance is the number one reason that data governance programs fail. When mapping organizational strategy to data governance, you need the support, agreement, and sponsorship of senior leadership. I'll be blunt about this: Without full support from your organization's leaders, your data governance efforts won't succeed.
Roles and responsibilities
Your data governance program will only be possible with the right people doing the right things at the right time. Every data governance framework includes the identification and assignment of specific roles and responsibilities, which range from the information technology (IT) team to data stewards.

While specific roles do exist, your organization must understand that data governance requires responsibilities from nearly everyone.
Policies, processes, and standards
At the heart of every data governance program are the policies, processes, and standards that guide responsibilities and support uniformity across the organization. Each of these must be designed, developed, and deployed. Depending on the size and complexity of the organization, this can take significant effort.

Policies, processes, and standards must include accountability and enforcement components; otherwise it's possible they will be dead on arrival.
Metrics
The data governance program must have a mechanism to measure whether it is delivering the expected results. Capturing metrics and delivering them to a variety of stakeholders is important for maintaining support, which includes funding.

You'll want to know if your efforts are delivering on the promise of the program. Based on the metrics, you and your team can make continuous improvements (or make radical changes) to ensure that the program is producing value.
Tools
Fortunately, a large marketplace now exists for tools in support of data governance and management. These include tools for master data management, data catalogs, search, security, integration, analytics, and compliance.

In recent years, many data science-related tools have made leaps in terms of incorporating ease-of-use and automation. What used to be complex has been democratized and empowered more team members to better manage and derive value from data.
Communications and collaboration
With the introduction of data governance and the ongoing, sometimes evolving, requirements, high-quality communications are key. This takes many forms, including in-person meetings, emails, newsletters, and workshops.

Change management, in particular, requires careful attention to ensure that impacted team members understand how the changes brought about by the data governance program affect them and their obligations.

A large number of disparate stakeholders need to work together in order to effectively govern data. Collaboration is essential and can be the difference between success and failure. Good collaboration requires a positive culture that rewards teamwork. It also requires clear channels between teams, such as regular meetings. Online collaboration platforms are increasingly being used too.
About This Article
This article is from the book:
This article can be found in the category: