Touchpoint. What does it mean? Simply put, touchpoints are all the ways in which your customer interacts with your organization. Each of these interactions takes place at a particular point in time, in a certain context, and with the goal of meeting a specific customer need or want.
Customer experience begins to be manifested in one place, and one place only: at each of your touchpoints.
Of course, part of understanding what something is is identifying what it is not. In the case of a touchpoint, it is not an internal process, visible only to your company. That is, touchpoints are not your marketing processes, your IT processes, your sales processes, your operating processes, your finance processes, your customer research processes, and so on. Touchpoints are not what happens behind the scenes.
Nor are touchpoints activities undertaken by customers before they interact with your company, activities that are visible only to them. That is, touchpoints are not in play when the customer is understanding his needs, identifying alternatives, and so on. Yes, your advertising and marketing messages, which are touchpoints, may influence your customer's thinking, but the thinking itself is not a touchpoint.
Essentially, touchpoints are those processes and activities that are visible both to your company and to the customer. Examples of touchpoints include the following:
Advertisements

Websites

Emails

Direct mail

Phone calls

Text messages

Point-of-purchase displays

Signage

Physical storefronts

Vehicles

Contracts
There's a lot going on at these touchpoints — more than you may think. At almost every touchpoint, one or more of the following may occur:
Some task, transaction, or process is executed.

Some customer need, want, or desire is uncovered.

Customer expectations are set.

Promises are made, met, or broken.

Customer emotions — be they good, bad, or ugly — are created, cemented, or ignored.

Employees behave or misbehave.

Customer data is used (remembered) or abused (forgotten).

Additional customer information is gathered, stored, and passed on (or not) to the next point of customer interaction.

Marketing collateral is distributed and (hopefully) used.

Performance measures are recorded and captured.

Standard operating procedures are ignored, executed brilliantly, or perhaps rammed down customers' throats. ("Sorry, that's the policy.")

The cash register rings.
The figure illustrates what are — and aren't — touchpoints. As you can see, it shows three different views: activities visible only to the company (along the top), activities visible only to the customer (along the bottom), and activities visible to both (in the middle). Those activities in the middle should be your focus.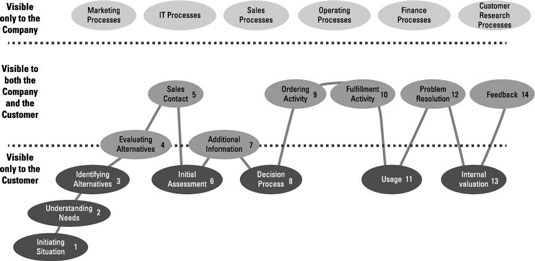 Credit: Illustration courtesy of Roy Barnes.
Not sure what you're looking at here? Maybe an example will help. Imagine you're driving down the highway and you run over a piece of debris, shredding your tire. That's your "initiating situation" (labeled "1" in the bottom group of activities).
After you've removed the damaged tire, mounted your spare, and gotten back on the road, you ruminate about what you need to do next — namely, replace the shredded tire (2). Having pinpointed your need, you begin to identify your options. For example, you could buy a new tire or a used one. You could purchase a tire from Michelin, Firestone, Goodyear, or some other manufacturer (3).
At this point, however, no tire manufacturer, seller, or supplier is aware of your need. Your thoughts and actions are thus far unknowable. In other words, there have been no touchpoints.
But as soon as you begin evaluating your alternatives — for example, by visiting a tire store or looking online, both of which are touchpoints (4) — you become visible. Your actions can be seen. From here on, you will likely alternate between being visible and invisible to various tire suppliers (in other words, you'll alternate between being at a touchpoint and not being at a touchpoint).
This process may involve talking to a sales representative (5), retreating to assess your budget and your options (6), seeking additional information (7), and making your decision (8).
As you embark on mapping your customer's journey, only the touchpoints are what you want to chart — not all the rest of the activity that you can't directly affect.
About This Article
This article is from the book:
This article can be found in the category: