Accounts payable includes money a company owes it vendors for services and products that it has purchased in the normal course of business and anticipates paying back in the short term.
For example, the company may purchase inventory from a manufacturer or may buy office supplies from a local supply retail shop.
The terms accounts payable and trade payables are often used interchangeably. However, technically, trade payables generally refer to vendors from which a company buys business supplies and direct materials included in inventory. Accounts payable include all other short-term vendors.
On the flip side of sales discounts, many vendors selling on credit give a purchase discount to customers who pay their balance due early. For example, the terms of the purchase may call for full payment in 30 days but offer a discount of 2 percent if the customer pays the bill within 10 days. Your intermediate accounting textbook refers to this type of arrangement as 2/10, n/30.
The following walks you through the debiting and crediting for $3,000 of inventory purchased on account with discount terms of 2/10, n/30, and the subsequent payment.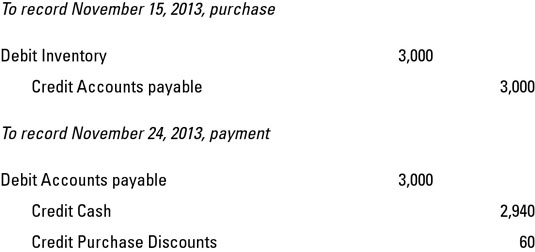 Per GAAP, accounts payable (A/P) is always assumed to be a current liability. However, a transaction originally entered as A/P could eventually be reclassified as a long-term debt.
This situation may arise if the company can't pay the vendor and the vendor agrees to reclassify the short-term A/P to a long-term note.
About This Article
This article is from the book:
This article can be found in the category: