E-cigarettes are often described as having come to market in a wave of either three or four generations. There is not a bright line demarcating one generation from the next, but technological advances give you an idea of where the field has gone and where it's headed. In general, over time, the devices have become more powerful, have more adjustable settings, and some now even track a user's vaping behavior. The following figure provides illustrations of the four generations of vaping devices.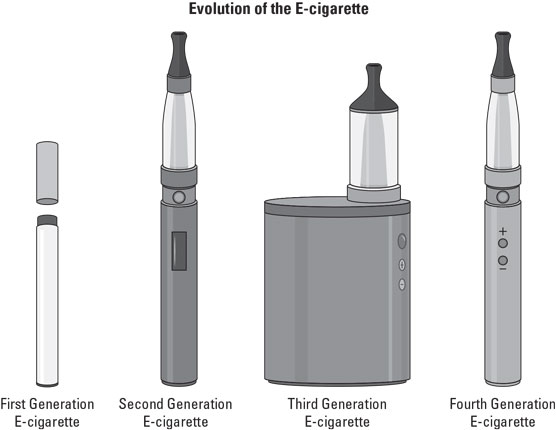 Four generations of e-cigarettes.
The first generation
The first generation of e-cigarettes were quite basic and consisted of a battery, an atomizer, and a cartridge of e-liquid. They're often referred to as cig-a-likes. They generally look much like a regular, combustible cigarette. They're also small and easy to conceal. The experience of vaping with a cig-a-like is similar to smoking a regular cigarette and involves inhaling into the mouth first and then into the lungs.

Most of the first generation of e-cigarettes are not rechargeable or refillable. They're fairly cheap and extremely easy to use. Gas stations and drugstores often carry them. They're activated simply by inhaling, which turns the battery on and usually an LED lights up the end of the stick.

Later iterations of first-generation e-cigarettes include options for recharging the batteries and replacing the cartridges. Certain models have a button that you have to press in order to inhale. Some of these e-cigarettes come with a portable battery charger that is about the size of a package of regular cigarettes.

We talked informally to a number of vape shop customers who told us that they found first-generation e-cigarettes not very helpful when they were trying to quit regular smoking. They said these devices left them unsatisfied, still craving a regular cigarette. They claimed that later generations of e-cigarettes were considerably more helpful because later-generation devices delivered a higher amount of vape and nicotine. Obviously, these discussions can't be considered a scientific study, but they're interesting observations.
The second generation
The next generation of e-cigarettes is a bit more technologically advanced. They have more power and typically have on/off buttons. They usually look like pens or laser pointers.

Generally, batteries can be recharged and sometimes replaced. They have a cartridge called a clearomizer that's refillable with e-liquid (see the "Atomizers" section, earlier in this chapter). Most second-generation devices have an important safety device in the form of a chip that turns off the device to prevent overheating.
The third generation
The third-generation vaping devices are also sometimes called advanced personal vaporizers. These devices come in lots of different styles and don't look anything like traditional cigarettes. They tend to be much bigger than the older-generation products. They have more power and can heat the e-liquid to a higher temperature than older models, which may alter the toxicity profile of the vapor produced. Third-generation devices are rechargeable and refillable.

The power section of third-generation devices are called mods. Mods come in two major types:
Mechanical: These devices don't have a circuit board to control temperature or power. They're simple devices, but they're more dangerous than regulated mods because they run directly off the battery. The production of vapor declines over time as the battery discharges.
Enthusiasts sometimes like to make their own devices, but that can lead to a bad outcome if someone doesn't have advanced knowledge.
Regulated: These devices have a chip that controls temperature and power; they include safety features such as automatic shutoff. Some of these devices allow the chip software to be updated. They don't resemble combustible cigarettes or pens. There is usually a small screen that provides information about power.
The fourth generation
Technological advances continually find their way into each new generation of e-cigarettes. The newest e-cigarettes are even more powerful and have more bells and whistles than those that came before. There are more options, allowing even finer adjustments in temperature and power. Fourth-generation e-cigarettes also have airflow slots, which allow adjustments to the flow of the vapor.

These devices are usually used by experienced vapers, some of whom participate in competitions involving blowing smoke into various shapes and sizes. Third- and fourth-generation devices are used in these competitions, which are referred to as cloud chasing.

For new advanced devices, the cable that comes with the device is for attaching a device to a computer to download updates. A computer's USB port should not be used for recharging; instead, a standalone charger is preferable. If something goes wrong, you could lose not only a vaping device but a computer as well.
Pod systems
Pod systems are the newest wave of vaping devices. Pods are somewhat unique vaping devices and are not easily categorized. Some pods look strikingly like computer USB flash drives; others look like pens or cosmetic products. There's no assembly, and there are no adjustable buttons or switches. However, some devices have a single power button, whereas others are activated solely by taking a drag. Pods are easily recharged with the USB charger they come with. See the following figure for an idea of what some of these systems look like.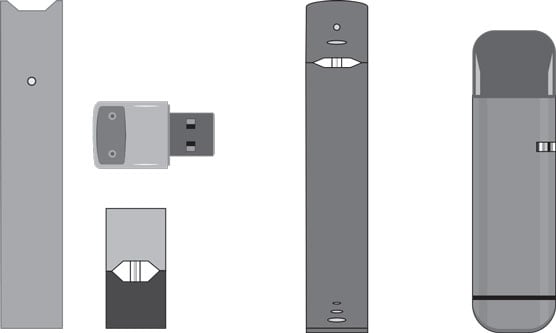 Examples of pod system vaping devices.
The devices were designed to be low hassle and easy to operate. They're small and discrete, lightweight, easy to carry, and produce a minimal cloud of vapor. Pod designers are trying to mimic the experience of smoking combustible cigarettes as closely as possible to make the transition away from regular cigarettes easier. The nicotine in a pod system is absorbed quickly, like that of a combustible cigarette.
Juul, one of the first pod system devices, was designed by a startup company which created several e-cigarettes prior to their Juul product. The founders, Adam Bowen and James Monsees, were former smokers and they ostensibly hoped to target the one billion smokers worldwide, most of whom want to quit. The Juul was launched in 2015 and in a few years, the product captured a substantial majority of the e-cigarette market.
Although the original market was allegedly for adults wanting to quit combustible tobacco, pod systems quickly became wildly popular with teenagers.
About This Article
This article is from the book:
This article can be found in the category: