To help you avoid getting burned out with eggs for breakfast when you are following the keto diet plan, you should try a variety of carb-replacement recipes. This avocado toast recipe is so good, you may even forget you're on keto. You can find carb replacements for keto-friendly pancakes, toast, waffles, and shakes — items you may have written off entirely and assumed you'd seen the last of on this Earth.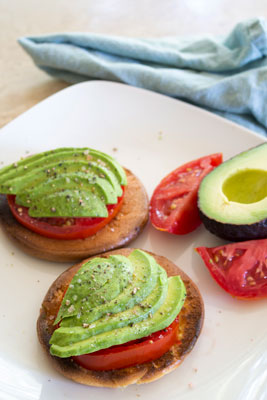 Photograph courtesy of Tasteaholics, Inc.
Keto has the power to change your life, but that shouldn't require you to give up your life. Start off each day right with a low-carb keto breakfast recipe that tastes strikingly similar to the original recipe, is healthier, and will fuel you for much longer than other, high-carb breakfast options.
Avocado Cloud Toast
Prep time: 10 minutes

Cook time: 30 minutes

Yield: 2 servings
Ingredients
2 large eggs, separated
1/4 teaspoon garlic powder
Pinch cream of tartar
1 ounce cream cheese, cubed
1/2 cup mayonnaise
2 teaspoons fresh lemon juice
1 large avocado
4 slices fresh tomato
Salt, to taste
Fresh cracked pepper, to taste
Directions
Preheat the oven to 300 degrees and line a baking sheet with parchment paper.
In a medium bowl, beat the egg whites and cream of tartar with a hand mixer on medium speed until stiff peaks form, about 30 seconds.
In a separate bowl, beat together the cream cheese, egg yolk and garlic powder until pale in color and well combined.
Gently fold the egg whites into the cream cheese mixture.
Spoon the mixture onto the baking sheet in 4-inch circles, spacing them 1 to 2 inches apart.
Bake for 20 to 30 minutes until lightly golden brown. Keep an eye on the buns as they bake. Then remove from the oven and cool completely.
In a small bowl, whisk together the mayonnaise and fresh lemon juice.
Open and pit the avocado; then cut it into quarters and slice thin.
Toast the buns and spread with the mayonnaise mixture.
Top each bun with 1 slice of tomato and 1 quarter of the sliced avocado.
Season with salt and pepper before serving.
Per serving: Calories 665 (From Fat 592); Fat 66g (Saturated 13g); Cholesterol 225mg; Sodium 767mg; Carbohydrate 12g (Dietary Fiber 7g); Net Carbohydrate 5g; Protein 10g.
About This Article
This article is from the book:
This article can be found in the category: