Appetizers like Crispy Baked Onion Rings are some of the most amazing things in the world, especially if you're a foodie, and they fit exceedingly well into your keto foods. Think about it: They're literally recipes that are designed to be so delicious that their entire purpose is to make you want to eat more food!

Appetizers are served at the beginning of the meal when your hunger is highest, your stomach is emptiest, and you're just ready to get going on a meal you've waited so long for. This requires the highest levels of satisfaction, and keto appetizers deliver — and they deliver well.

Using smaller dishes like appetizers as keto diet snacks is a critical aspect of the keto approach. It can be challenging to get all your calories in if you're relying exclusively on full meals — fat is so filling that you'll find your portions decrease and you eat less as a result (remember that each gram of fat contains more than twice the energy of a gram of carbs).

Eating less while you're on a diet focused around weight loss doesn't seem like it would be a problem, but remember that you can eat too little. The goal of weight loss is to eat enough to keep your metabolism high, but not so much that your body isn't digging into its fat stores and burning off that excess weight.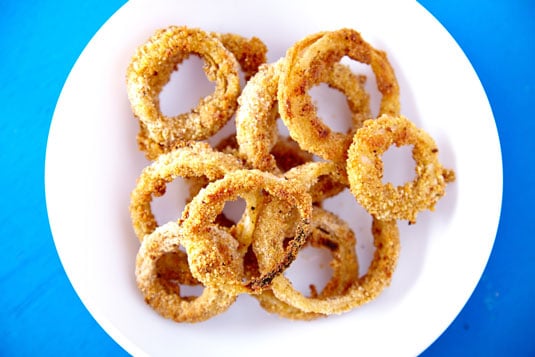 ©By Olexiy Bayev/Shutterstock.com
Snacks offer a great way to make minor adjustments to your macros and caloric intake as you're planning out your meals. When you create your meal list for the week and check it against your macros and find yourself a few hundred calories short, don't add another meal (which can bump your calories up to the point where you're no longer losing weight). Instead, just add a snack or an appetizer like Crispy Baked Onion Rings.
Crispy Baked Onion Rings
Prep time: 5 minutes

Cook time: 20 minutes

Yield: 4 servings
Ingredients
1 large yellow onion
1 cup almond flour
1/2 cup grated parmesan cheese
1 teaspoon garlic powder
1 teaspoon paprika
1/4 teaspoon salt
1 large egg, whisked well
Directions
Preheat the oven to 400 degrees and line a baking sheet with parchment.
Slice the onion into rings about 1/4-inch thick.
In a bowl, combine the almond flour, parmesan cheese, garlic powder, paprika, and salt.
In a shallow dish, whisk the egg and then dip the onion rings into it.
Dredge the onion rings in the almond flour mixture; then place on the baking sheet.
Spray with cooking spray and bake for 15 to 20 minutes, until crisp and browned. Flip them halfway through, if needed
Per serving:
Calories 240 (From Fat 164); Fat 18g (Saturated 3g); Cholesterol 55mg; Sodium 328mg; Carbohydrate 11g (Dietary Fiber 3g); Net Carbohydrate 8g; Protein 12g.
About This Article
This article is from the book:
This article can be found in the category: