Many people are accustomed to having a sweet treat sometime during the day, and often it's a dessert at the end of a meal. A meal plan that offers more variety will make it easier to include the key DASH (Dietary Approaches to Stop Hypertension) nutrients. The DASH diet (Dietary Approaches to Stop Hypertension diet) allows two to five servings of fats and sweets, depending on a person's calorie requirements. Fruits and vegetables are the foundation of the DASH diet because of the nutritional contributions. Saving your fruit serving (or some form of it) for your treat may provide you the motivation to stick with your plan.

Eating with the seasons provides the best and most flavorful choices. Find out what's in season where you live, and opt for those fruits and vegetables. You'll get variety throughout the year as what's in seasons changes.

The recipes in this article use a minimum amount of sweeteners and an interesting use of fruit.
Wine-Poached Pears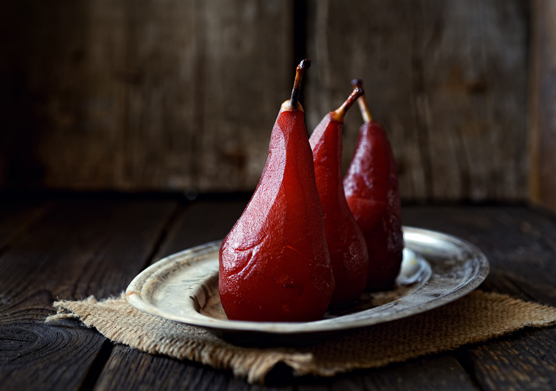 © vengerof / Shutterstock.com
Prep time: 5 minutes
Cook time: 35 minutes
Yield: 4 servings
Ingredients
2 cups dry red wine (such as Cabernet, Pinot Noir, or Merlot)

5 tablespoons sugar

1/2 cup orange juice

1 to 2 tablespoons orange zest

1 cinnamon stick

2 whole cloves

4 firm, ripe pears, free of blemishes, peeled, stems intact

Vanilla Greek yogurt (optional)

Toasted almond slices (optional)

Fresh mint (optional)
Directions
In a 4-quart saucepan, combine the wine, sugar, orange juice, orange zest, cinnamon stick, and cloves. Stir until the sugar dissolves.
Add the pears and bring the liquid to a boil. Cover and simmer 15 to 20 minutes, turning every 5 minutes until the pears are tender and uniform in color.
Transfer the pears to a dish and allow them to cool. Remove the cinnamon and cloves from the liquid and continue to simmer the liquid until it's thickened and reduced by half, about 15 to 20 more minutes.
When ready to serve, either warm or at room temperature, drizzle the pears with a few tablespoons of the warm syrup. Garnish with a dollop of Greek yogurt, almond slices, and fresh mint, if desired.
Per serving:
Calories 278 (From Fat 2); Fat 0g (Saturated 0g); Cholesterol 0mg; Sodium 7mg; Carbohydrate 50g (Dietary Fiber 6g); Protein 1g.
Bosc pears are ideal because they keep their shape when cooked. Use ripe pears — the harder ones won't soften up even with cooking. Pears are ripe when they yield to pressure but are still firm.
Add 1/2 teaspoon ground cardamom with the wine mixture for an extra warm, elegant finish. Any leftover pears are great chopped in a crisp salad with blue cheese, toasted walnuts, and vinaigrette made with the sauce blended with extra-virgin olive oil.
Strawberries with Peppered Balsamic Drizzle
Prep time: 1 hour 5 minutes

Yield: 4 servings
Ingredients
2 cups fresh strawberries, washed and cut in half

1 tablespoon balsamic vinegar

1 tablespoon brown sugar

Pinch freshly and finely ground black pepper

4 ounces vanilla Greek yogurt

Fresh mint, for garnish
Directions
In a bowl, combine the strawberries, balsamic vinegar, sugar, and pepper. Gently stir to be sure the berries are coated. Cover and set aside at room temperature for 1 hour; then refrigerate until ready to serve.
Divide the strawberries evenly into 4 bowls and top with a dollop of yogurt. Garnish with a sprig of fresh mint, and serve.
Per serving:
Calories 65 (From Fat 2); Fat 0g (Saturated 0g); Cholesterol 0mg; Sodium 15mg; Carbohydrate 0g (Dietary Fiber 2g); Protein 3g.
The recipe will require less sugar if you use more expensive vinegar. Aged Italian balsamic is a great choice. You can also use store-bought balsamic glaze.
Try flavored balsamic vinegars like lemon or chocolate! You can substitute ice cream in place of the yogurt. If you're in a really decadent mood, serve the strawberries and ice cream over grilled pound cake or angel food cake. You can also use the strawberries as a topping for waffles or a filling for crêpes. Of course, these would-be special treats, outside of your normal DASH routine.
Vanilla Chia Seed Pudding with Toppings
Prep Time: 5 minutes plus 4 hours for refrigerating

Yield: 10 servings
Ingredients
1 cup vanilla Greek yogurt

2 cups reduced-fat 2 percent milk

1/2 cup chia seeds

1-1/2 tablespoons maple syrup

1/2 teaspoon vanilla extract

Pinch salt
Directions
In a large bowl, whisk together the yogurt, milk, chia seeds, maple syrup, vanilla, and salt until blended.
Cover and refrigerate 3 to 4 hours or overnight. When ready to serve, whisk again if needed, to smooth out any clumps that may have formed.
Spoon into dessert cups and top with your favorite toppings (see the Tip below).
Per serving: Calories 92 (From Fat 32); Fat 4g (Saturated 1g); Cholesterol 4mg; Sodium 49mg; Carbohydrate 10g (Dietary Fiber 3g); Protein 5g.

Use whatever toppings you love most. Some ideas include fresh or thawed berries, fresh or thawed peaches mixed with peach preserves and pinch of cardamom, sliced bananas and strawberries with chocolate syrup, low-sugar canned pie filling, a dollop of pumpkin pie filling, or caramel sauce with toasted walnuts.

Leftover pudding can be stored in an air-tight container in the refrigerator until ready to serve. It will last about 4 to 5 days in the refrigerator.

Chia seeds are an easy way to get omega-3 fatty acids, which are important for heart health. A single 1-ounce serving of chia seeds contains 5 grams of omega-3s. When the chia seeds get wet, they turn into a kind of gel — this is soluble fiber, also good for a healthy digestive system.

If you're craving chocolate, add 3 tablespoons of cocoa powder to the original recipe and increase the maple syrup to 3 to 5 tablespoons.
Mango Banana Soft Serve
Prep time: 10 minutes plus 4 hours

Yield: 6 servings
Ingredients
1 large ripe banana

One 16-ounce package frozen mango chunks

1 to 2 tablespoons sugar

1-1/2 tablespoons lime juice

1-1/2 tablespoons canned light coconut milk

Mint leaves, for garnish
Directions
Peel the banana, cut it in half, place in a resealable freezer bag, and freeze until solid, at least 4 hours.
In a large bowl, combine the mango and sugar and let stand for 5 minutes. (If you prefer a little more tang, skip the sugar.)
Place the mango, banana, lime juice, and coconut milk in a high-speed blender and pulse for 3 to 4 minutes using the tamper to scrape down the sides until the mixture is thick and smooth.
Spoon the soft serve into bowls, and serve immediately for a softer consistency or freeze until ready to serve. Garnish with mint leaves if desired.
Per serving: Calories 85 (From Fat 8); Fat 1g (Saturated 1g); Cholesterol 0mg; Sodium 3mg; Carbohydrate 21g (Dietary Fiber 2g); Protein 1g.

Already cut-up frozen fruit is the best trick for making a frozen treat. If you've got fresh fruit, freeze it on a large baking sheet; then make your own resealable bags after it has frozen.

If you decide to freeze all or a portion of the recipe, pour it into an airtight container. When ready to serve, defrost at room temperature for about 10 minutes or in the microwave for 20 to 30 seconds to make it easier to scoop. You can store this soft serve in the freezer up to 2 weeks.

Substitute pineapple for the mango or any combination of fruit that you enjoy. Add sweetened or unsweetened shredded coconut for a taste of the tropics. Don't have unsweetened coconut milk? Add the same amount of Greek yogurt or skip it all together.
About This Article
This article can be found in the category: