One way to get dinner on the table without breaking a sweat is to make a one-dish meal. Every ingredient goes into one pan or oven dish. You can create your own one-dish meals—like this DASH Diet (Dietary Approaches to Stop Hypertension diet) recipe for Caribbean Chicken in a foil pouch—with a little imagination and whatever ingredients you have on hand.
How to make a foil pouch
Using a foil pouch is a great way to cook a meal, whether you purchase foil bags or make aluminum-foil pouches yourself at home. Meats and poultry stay moist, and vegetables cook quickly using this method. This easy cooking technique is a great way to get the children involved because they can help assemble the pouches.

Here's how to create and cook a foil-pouch meal:
Using either heavy-duty foil or double-layered standard foil, cut a 12- to 18-inch square of foil for each pouch. Basically, the pouches should be big enough to allow air space to surround the food.
Spray the foil with cooking spray to keep food from sticking to it.
Place meat on the center of the foil square, followed by high-moisture vegetables such as tomatoes and onions to keep the meat moist.
Taking opposite ends, fold up each side so the edges meet at the top, then fold the top over two or three times until it almost meets the food, and finally fold in each open side until the pouch is well sealed.

Always seal the foil by folding the ends together so no steam will escape.

Place your pouches on a grill plate and cook them for 15 minutes or place them on a baking sheet and cook them in a 375-degree oven for 20 to 25 minutes.
Meat, generally, is cooked to a safe temperature after 20 to 25 minutes, seafood 8 to 10 minutes, and vegetables 5 to 8 minutes. Vegetables, such as carrots and potatoes, take a longer time to cook, 20 to 30 minutes unless you cut them into smaller pieces.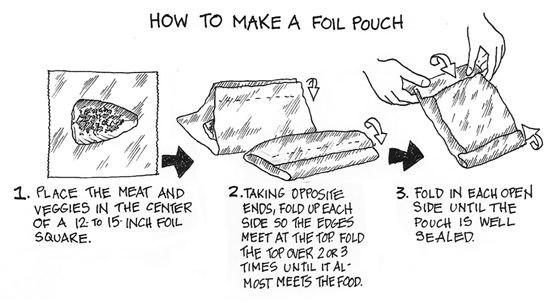 Illustration by Elizabeth Kurtzman
It's easy to create a foil pouch for cooking.
Caribbean Chicken Foil Pouches
Preparation time: 10 minutes

Cook time: 20 minutes

Yield: 2 servings
Ingredients
Two 4-ounce boneless, skinless chicken breast halves

1 cup diced pineapple, canned or fresh

1/2 small red onion, sliced

6 multicolored sweet bell peppers, sliced into rings

1/2 cup low-sodium barbecue sauce
Directions
Preheat a gas grill to high. Place two 12-x-18-inch sheets of heavy-duty aluminum foil, shiny side down, on a work station.
Place one chicken breast half in the center of each piece of foil.
In a medium bowl, combine the pineapple, onion, peppers, and barbecue sauce. Divide the mixture between the two pieces of chicken.
Bring the opposite edges of the foil together. Double-fold the foil at the top. Crimp the edges of the pouch on the sides in a tight seal to allow the steam to cook the chicken and vegetables while preserving the juices.
Place the pouches on the preheated grill, close the grill cover, and cook for 12 to 15 minutes. When done, open each pouch slightly to allow the steam to escape.
Per serving:
Calories 248 (From Fat 23); Fat 3g (Saturated 1g); Cholesterol 54mg; Sodium 185mg; Carbohydrate 37g (Dietary Fiber 3g); Protein 19g.
Choose small chicken breasts or use chicken tenders for a portion-controlled substitute. One serving is 2 or 3 chicken tenders. Double the foil if you don't have heavy-duty foil to prevent any leakage.
You can also bake the foil pouches for 18 to 20 minutes in an oven preheated to 425 degrees F. For a more accurate method of ensuring doneness, use an instant-read thermometer to register 165 degrees F.
Foil pouches can be prepped ahead of time and stored in the refrigerator until it's time to grill. They're a hit for dinner, at a campout, or for a quick snack. Eating them out of the foil makes for easy cleanup!
Top the chicken with basil pesto, cherry tomatoes, and fresh mozzarella for an Italian flavor. Or add bell pepper and onion slices, black beans, and salsa for a Mexican flair. Or try snap peas, carrot strips, and succulent shrimp with sesame ginger dressing. Involve the whole family and get creative!
About This Article
This article can be found in the category: