The Moderation plan provides a steady and significant rate of weight loss. This plan focuses on making realistic, healthy changes to your dietary habits that you can stick with for life. The Moderation plan provides a balance of healthy carbohydrates, lean proteins, and belly-fighting fats that keep you feeling full and satisfied while losing pounds and trimming off body fat.
The basics of the Belly Fat Diet Moderation plan
The Moderation plan contains two levels:
Level 1: This level is designed to last for two weeks. It helps to banish belly-fat-storing foods from your meal plan while helping you introduce foods that increase metabolism and promote fat loss in the abdomen.

Level 2: After completing your first two weeks of Level 1, you transition to Level 2. At this level, your servings of healthy carbohydrates increase slightly, helping you to maintain your energy level and increase variety in your meal plan. These additional healthy carbohydrates also provide you with an increased amount of filling fiber. As your fiber intake gradually increases, your portions of lean protein decrease just slightly.
Here are a few guidelines to keep in mind when following the Moderation plan:
Pay attention to your plan levels. Level 1 is designed to last for only two weeks. At the end of these two weeks, you move into Level 2. You can stay in Level 2 of the Moderation plan until you meet your weight loss goals.

Eat your nonstarchy veggies. Nonstarchy vegetables are unlimited in both Level 1 and Level 2; however, you need to consume at least four servings per day.

Take notice of the differing starchy vegetable requirements in Levels 1 and 2. Starchy vegetables are considered a separate category in Level 1 to ensure you're taking in enough nutrients, fiber, and healthy carbohydrates. In Level 2, starchy vegetables are included in the starch group and are optional.

Select your proteins judiciously. When choosing protein options, make sure to select mainly lean proteins. If you select medium/high-fat proteins, each ounce that you eat counts as one protein and one fat serving.

Get the right kind of fats. Aim to choose your daily fat servings from belly-blasting choices like monounsaturated fats and omega-3 fatty acids.

Stay hydrated. Make sure to drink at least 64 ounces of water daily to stay hydrated and decrease belly bloat.
Who should opt for the Moderation plan?
The Moderation plan is perfect for almost everyone. This plan provides a great balance of healthy nutrients that help you feel satisfied while shedding those unwanted pounds. This plan is designed to promote a slow, steady rate of weight loss, which not only helps you get the weight (and belly!) off, but also keep it off for good.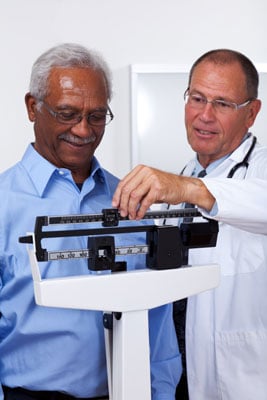 Credit: iStockphoto.com/Gene Chutka 2011
This plan is perfect for
Individuals looking for steady weight loss results.

Individuals with moderate to high levels of physical activity.

Individuals with moderate to tall stature.
Individuals with medical conditions, including diabetes, should consult their personal physician or dietitian to determine whether the Moderation plan is appropriate for them. Individuals with inconsistent blood sugar readings may be best suited for the upcoming Gradual-Change plan.
About This Article
This article is from the book:
This article can be found in the category: