This pepper steak with vegetables recipe is ready in less than 30 minutes (10 minutes of prep time and 17 minutes of cooking time). The following recipe makes 2 servings. You can make your own steak seasoning to give it a special flare.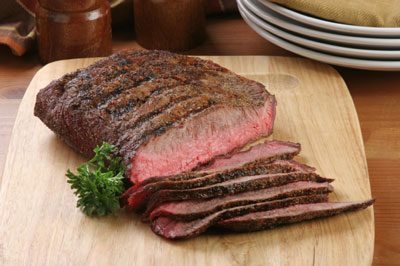 Credit: ©iStockphoto.com/Joel Albrizio 2009
1 tablespoon olive oil
1 cup sliced mushrooms
1 medium sweet onion, sliced
One 8-ounce flank steak
Steak seasoning (see the following recipe to make your own)
4 cups chopped kale
1 teaspoon minced garlic
1/4 cup low-sodium vegetable broth
Set your oven to broil, and heat the olive oil in a large sauté pan over medium heat.

Add the mushrooms and onions to the pan, and sauté for 5 to 7 minutes, or until tender. Remove from the pan and keep warm.

Place the steak on a broiler pan, and season the top of it with half the Steak Seasoning. Place the steak in the oven near the broiler for 5 minutes.

Remove the steak from the oven, flip it, add the remaining seasoning on top, and place back in the oven for 3 to 5 minutes, or until it reaches desired doneness.

While the steak is broiling, add the kale, garlic, and vegetable broth to the sauté pan used to cook the mushrooms and onions. Cover, and allow to simmer for 5 minutes.

Remove the lid on the kale and cook over medium heat until most of the liquid has evaporated.

After the steak is done, arrange the cooked kale evenly on two separate plates. Top with half of the cooked steak. Top the steak with the cooked mushrooms and onions.
Steak Seasoning
1 tablespoon black pepper
1 teaspoon sea salt
1 tablespoon crushed red pepper
1 tablespoon onion flakes
1 teaspoon garlic powder
1/2 teaspoon ground cumin
1/2 teaspoon cayenne pepper
2 teaspoons paprika
In a small bowl, mix together the black pepper, salt, red pepper, onion flakes, garlic powder, cumin, cayenne pepper, and paprika.
Meal plan servings: 2 vegetables, 4 ounces protein, 1 fat.
Per serving: Calories 366 (From Fat 160); Fat 18g (Saturated 5g); Cholesterol 54mg; Sodium 1,409mg; Carbohydrate 28g; Dietary Fiber 7g; Protein 30g.
About This Article
This article is from the book:
This article can be found in the category: