This vegetarian chili only takes five minutes of prep time, but then it cooks for 60 minutes. The following recipe makes 6 servings of chili; you can adjust the recipe to feed more or less.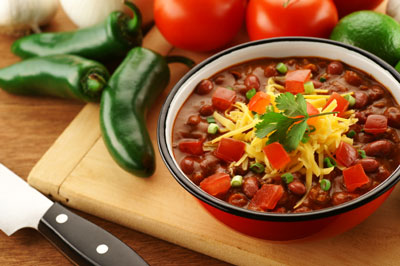 Credit: ©iStockphoto.com/TheCrimsonMonkey 2011
2 tablespoons olive oil
3 garlic cloves, finely chopped
1 green bell pepper, chopped
1 red bell pepper, chopped
1 medium green onion, finely chopped
3 large celery ribs, chopped
One 28-ounce can no-salt-added diced tomatoes
Chili seasoning (see the following recipe)
4 cups water
2 cups red kidney beans, cooked and drained (or one 16-ounce can, rinsed and drained)
2 cups cannellini beans, cooked and drained (or one 16-ounce can, rinsed and drained)
1 cup black beans, cooked and drained (or one 8-ounce can, rinsed and drained)
1 jalapeño, chopped
In a large stockpot, add olive oil over medium heat. Add the garlic, bell peppers, onion, and celery, and cook until the vegetables are softened, about 8 to 10 minutes.

Add the tomatoes, chili seasoning, and 4 cups of water and stir. Allow to simmer over medium heat for 20 minutes.

Stir in the kidney beans, cannellini beans, black beans, and the jalapeño (seed the jalapeño if you want less heat to the chili), and allow to simmer for an additional 30 minutes.
Chili Seasoning
1 tablespoon chili powder
1 teaspoon turmeric
2 teaspoons black pepper
1 tablespoon crushed red pepper flakes
1 teaspoon garlic powder
1 teaspoon onion powder
2 teaspoons ground cumin
1 teaspoon salt
1 teaspoon paprika
1 teaspoon dried oregano
In a small bowl, combine the chili powder, turmeric, black pepper, red pepper flakes, garlic powder, onion powder, cumin, salt, paprika, and oregano.
Meal plan servings: 1.5 starches, 1.5 ounces protein, 1.5 vegetables, 1 fat.
Per serving: Calories 302 (From Fat 55); Fat 6g (Saturated 1g); Cholesterol 0mg; Sodium 488mg; Carbohydrate 50g; Dietary Fiber 15g; Protein 16g.
About This Article
This article is from the book:
This article can be found in the category: