A chicken breast stuffed with Swiss cheese and lean ham, Chicken Cordon Bleu looks difficult to prepare, but it's really not once you master the rolling technique. This healthier version of Chicken Cordon Bleu takes 10 minutes to prepare and 30 minutes to cook. It yields four servings.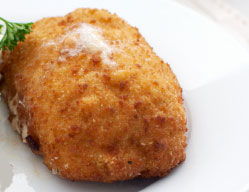 Credit: ©iStockphoto.com/razmarinka 2012
Nonstick cooking spray
1/2 cup whole-wheat breadcrumbs
2 egg whites, beaten
Four 4-ounce skinless, boneless chicken breasts, pounded to 1/4-inch thick
4 ounces lowfat, low-sodium, thinly sliced ham
2 ounces part-skim, low-sodium Swiss cheese
Preheat the oven to 400 degrees. Spray a baking sheet with nonstick cooking spray.

Place the whole-wheat breadcrumbs in a large bowl or shallow dish and the beaten eggs in a separate bowl or shallow dish.

Dip each chicken breast in the beaten egg, and then dip them in the breadcrumbs to evenly coat. Place the chicken on the prepared baking sheet.

Place 1 ounce of ham and 1/2 ounce of Swiss cheese on one end of each chicken breast.

Carefully roll the chicken breasts until the ham and cheese are in the middle with the chicken wrapped completely around the outside. Secure with a toothpick if needed.

Bake for 30 minutes, or until the chicken reaches an internal temperature of 165 degrees.
Meal plan servings: 4 ounces protein.
Per serving: Calories 228 (From Fat 66); Fat 7g (Saturated 3g); Cholesterol 88mg; Sodium 404mg; Carbohydrate 3g; Dietary Fiber 0g; Protein 36g.
About This Article
This article is from the book:
This article can be found in the category: