Dialectical behavior therapy (DBT) is a type of cognitive behavioral therapy that works on changing negative thinking patterns and unhelpful behaviors, and pushes for healthier behavioral changes. With DBT, you have multiple ways of dealing with some of life's most challenging psychological problems. These include strategies that focus on changing behaviors, as well as those that will help you succeed when you can't change difficult situations.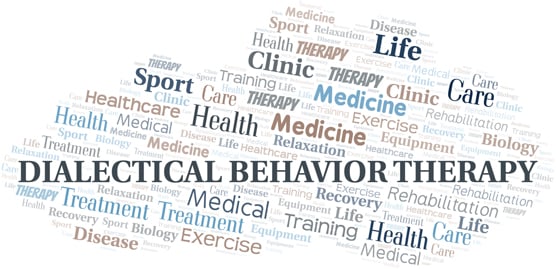 © Sharaf Maksumov / Shutterstock.com
What to expect from DBT
If you have ever been in therapy, then you're likely to experience DBT as very different from what you've previously experienced. If you've never been in therapy before, then DBT will likely be different from how you imagine therapy to be. You'll discover how to do the following:
Understand, change, and even accept painful emotions.
Practice healthy skills to manage strong emotions and dangerous or impulsive behaviors.
Make your relationships more fulfilling and balanced.
Care more about yourself and become less judgmental.
Become more skilled in making positive changes in your life without always needing to rely on others.
The components of DBT
Although in most therapeutic relationship there is one patient and one therapist, when you attend DBT sessions, you work with a group of therapists and a group of other patients. This is because your therapist belongs to group of therapists known as a consultation team. So, whenever your therapist is stuck and is not clear as what to do, they will go to their team and ask for help.
Typically, you'll be with other people who have similar struggles to your own, and you'll learn many skills in a group setting with fellow patients. You may do the following as part of your therapy:
Attend regular individual therapy once per week.
Attend regular group sessions in which you learn DBT skills with other people, just like being in a classroom.
Call your therapist whenever you need them to coach you through difficult situations.
Keep in mind that your therapist won't try to figure out what to do on their own, but will rely on help from other DBT therapists when they meet in their own weekly consultation team.
Emotion regulation skills in DBT
DBT works best for people who have difficulty controlling strong, and at times painful, emotions. It's often these emotions that lead to unhealthy behaviors. In DBT you find out how to do the following:
Use more descriptive language in labeling your emotions. This is important because the clearer you are as to what you're experiencing, the more likely you are to be able to deal with the emotions.
Recognize that emotions can be very useful, that they have a purpose, and that they can be managed.
Behave more effectively when strong emotions lead you down a path to more dangerous behaviors.
The states of mind in DBT
The practice of mindfulness is central to DBT. It's a practice in paying careful attention to thoughts, feelings, behaviors, and urges. By learning mindfulness, you're learning to pay attention to your experience, and by doing this, you become more skilled in managing your life. DBT recognizes three states of mind:
Deep in all of us is wise mind, the representation of our truest self, one that knows how to take care of ourselves, a state of mind that integrates information from our emotional and rational. A goal of DBT is for people to use skills so that they can see, experience, and then act out of wise mind.
Logical or rational mind is the state of mind that we use when we need to use pure logic, such as when we're doing math problems, following a manufacturer's instructions when putting together a piece of furniture, or following the rules of a board game. It is often the cool state of mind that we use when dealing with empirical facts. People who tend to live primarily in rational mind can struggle because by missing essential emotional clues and experiences, they can be seen as cold and aloof and then be rejected or distanced by others.
Emotional mind is the state of mind that most people who come to DBT find themselves struggling with. It's the state of mind that leads to the most dangerous of behaviors, that causes disruptions in relationships, that leads people to question their sense of self, and that leads to distortions in thinking. DBT works at developing your ability to reduce the impact of emotion mind while preserving the benefits of emotion mind, such as creativity and passion.
About This Article
This article is from the book:
This article can be found in the category:
This article is part of the collection(s):