There's more to successfully passing the CCSP exam than reading a test-prep book. Here are some tips to help you prepare for the exam — from the start of your journey until test day.
Brush up on the prerequisites
Cloud Computing and Information Security are two topics that involve a great deal of knowledge from different fields within Information Technology. It stands to reason, then, that mastering the field of Cloud Security requires knowledge about lots of technical (and even nontechnical) topics.

Before studying for the CCSP exam, you should make sure you have a grasp of the fundamental prerequisites.

In addition, you should brush up on networking (TCP/IP, routing, switching, etc.) and consider exploring the fundamentals of some of the bigger cloud providers (like Amazon Web Services, Google Cloud Platform, and Microsoft Azure).
Register for the exam
It may sound trivial, but registering for the CCSP exam is actually one of the best things you can do to prepare for the exam. By selecting and committing to an exam date early on, you give yourself a fixed target to keep in mind as you study. Having this date marked on your calendar as soon as possible helps prevent procrastination and also supports you in establishing a realistic study plan and goals.

When registering for the exam, make sure that you first assess how much of the exam material you know and how much you need to learn. Consider your obligations between now and the potential exam day and make sure that the date you pick is realistic for your schedule.

In addition to giving you strong motivation (like $599 worth!) to study hard, registering for the exam early is a good idea to ensure that you get the date and time that works best for you. While Pearson VUE generally has multiple test centers and several time slots to choose from, availability can vary from city to city and based on the time of year.

Once you're sure that you want to take the CCSP, go online to find your nearest test center and get registered.
Create a study plan
Create a study plan and commit to sticking to it. Depending on your knowledge level and amount of professional experience with the CCSP domains, I usually recommend between a 60- and 90-day study plan; anything shorter is likely to be too aggressive, while anything greater than 90 days often tends to lead to less intensive studying than required.

When creating your study plan, be sure to take into account your work schedule, holidays, travel plans, and anything else that may get in the way of intensive studying. The most important factor of a good study plan is that it is realistic — otherwise, you're setting yourself up for failure.

How granular you get with your study plan is up to you and depends on your need for more or fewer milestones. In general, I recommend breaking study plans up into weekly objectives, but some people prefer daily targets to more regularly hold themselves accountable. Whatever you choose, make sure to allocate enough time to get through all exam material before your exam date. For some, enough time may mean two hours of studying per day, while it's perfectly normal for CCSP candidates to spend four to six hours per day studying.
Find a study buddy
Having someone to study with can make the task of preparing for the exam much easier. Maybe you know someone who's already studying for the CCSP, or perhaps you have friends or colleagues who would benefit from the exam. If you're able to pair up for some of your study sessions, you should do it.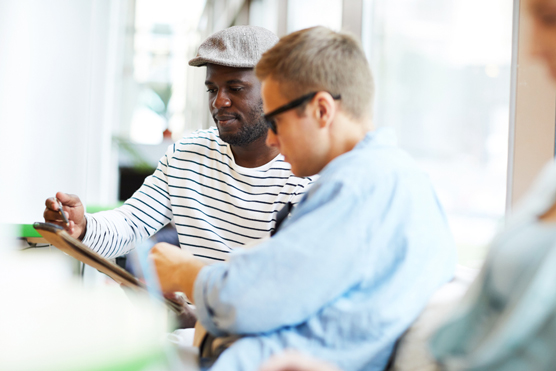 © Pressmaster / Shutterstock.com
If a traditional study partner isn't available, finding an accountability partner is a solid alternative. The objective here is to have someone you trust to check in during your CCSP journey and another ear to vent to when the going gets tough.
Take practice exams
One of the best ways to prepare for the CCSP exam is to practice with questions and exams that have similar questions. While no practice exams completely mirror the CCSP exam, several resources are available for you to practice and assess your CCSP readiness.

Stay clear of so-called exam dumps or brain dumps, which are actual CCSP exam questions that have been posted on the Internet. Not only does this method violate (ISC)2 terms, but these dumps are often either out of date or just plain wrong. Stick to trusted sources for your practice questions and exams.
Get hands-on
Experience really is the best teacher. To qualify for the CCSP cybersecurity certification, you must pass the exam and have at least five years of cumulative paid work experience in information technology, of which three years must be in information security and one year in one or more of the six domains of the (ISC)2 CCSP Common Body of Knowledge (CBK). Aside from being a requirement to get certified, this hands-on experience is the best way to gain practical, real-life experience that translates to the concepts on the exam.

Getting started with cloud environments is simple and requires little more than an Internet connection and a credit card. Try setting up your own cloud environment and exploring the security features they offer. You may be surprised how quickly concepts stick when you see them in action.
Attend a CCSP training seminar
Depending on your learning style, you may benefit from taking an official (ISC)2 CCSP Training Seminar or Bootcamp. These trainings are instructor-led and offered in-person and online. In-person options are five-day courses that cover all six domains within the CCSP exam, while the online training allows more flexible scheduling. These seminars are very rigorous and give you the option to ask questions from a CCSP trainer in real-time. You can find training schedules, costs, and other information in the Education & Training section.
Plan your exam strategy
It's a good idea to give some thought to how you'll approach the exam on your big day. You have three hours to answer 125 questions, which comes out to just under 90 seconds per question. You'll know the answer to many questions in a fraction of that time, but you should plan ahead for how you'll approach questions that you don't immediately know the answers.

One strategy is to answer all the easier questions and flag the harder ones for review and answer at the end. The drawback to this approach is you can be left with quite a few challenging questions to answer in a relatively short period of time.

Another approach is to use the process of elimination to narrow things down to the two most probable answers; if you can get the toughest questions down to 50/50 chances, you're likely in good shape.

Aside from knowing when to skip questions and when to make educated guesses, you should have a strategy for taking breaks. If you don't build breaks into your exam strategy, you may forget to take them when the heat is on.
Get some rest and relaxation
I've seen people still studying for certification exams as they're walking into the examination center. While it's good to double- or triple- check your knowledge, at some point you either know the information or you don't.

As a general rule, I recommend using the day before the test as your cutoff point and setting your study materials aside 24 hours before the exam. Find something you enjoy doing that doesn't involve reading technical reference materials or cramming for an exam. Catch up on shows you've missed while studying, go out for a bike ride, or hang out with friends and family that probably feel neglected by now! Whatever you do, remain confident in the study plan you created and followed, and find as many ways to relax as possible.
About This Article
This article is from the book:
This article can be found in the category: