When dealing with aromatic compounds, you often need to predict the acidities and the basicities of double bond–containing rings, including aromatic rings. For example, you may need to determine which one of two double bond–containing rings is more acidic, such as the molecules shown here.

Cyclopentadiene and cycloheptatriene—which is more acidic?
As with any acid-base reaction in which you need to compare acidity, you should look to see which acid has the more stable conjugate base.
Stronger acids have more stable conjugate bases.
Looking at the conjugate bases of both molecules (see the next figure), you see that both compounds have rings that are entirely conjugated, but one has six pi electrons (cyclopentadienyl anion), while the other has eight pi electrons (cycloheptatrienyl anion). Thus, the conjugate base with six pi electrons is aromatic and should be more stable than the ring with eight pi electrons, which cannot be aromatic. Based on this analysis, cyclopentadiene must be more acidic than cycloheptatriene.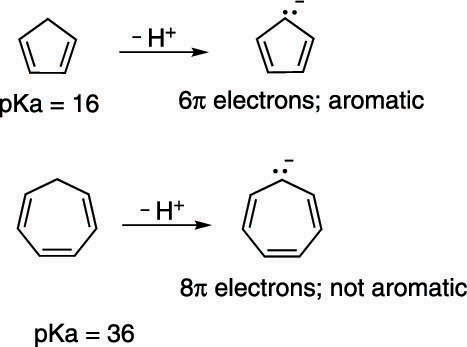 Comparing acidities of rings.
Another common question type is to compare or predict the basicity of nitrogen atoms in aromatic compounds. For example, can you predict which nitrogen is more basic in the aromatic molecule imidazole, shown here?

Comparing the basicities of the nitrogens in imidazole.
To determine the strength of a base, you look at the stability of the conjugate acid. Protonating the bottom nitrogen in the imidazole disrupts the aromaticity of the ring, because that nitrogen lone pair is part of the pi system. (Upon protonation, the lone pair is tied up in a bond to hydrogen and can no longer contribute to the aromaticity.) Protonating the top nitrogen doesn't disrupt the pi system (or the aromaticity) of imidazole because the lone pair is situated in an sp2 hybridized orbital and is not part of the pi system. (The next figure shows the orbital drawings of imidazole.)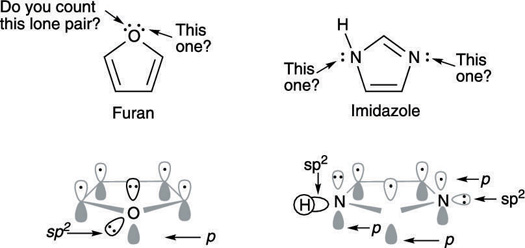 Counting pi electrons on heteroatoms.
Therefore, the top nitrogen is much more basic than the bottom nitrogen, because the top nitrogen is much happier with an added hydrogen ion than the bottom nitrogen is. The general feature of these problems is that nitrogens whose lone pairs are not involved in the pi system are more basic than nitrogens with lone pairs in the pi system.
About This Article
This article is from the book:
This article can be found in the category: