You can locate carbonyl groups, alkenes, alkynes, and aromatics in the IR (infrared) spectrum, based on their shapes and relative locations. For one thing, all of these functional groups appear to the right of the C-H absorptions, which always occur between 2,800 cm–1 to 3,000 cm–1 in the IR spectrum, and to the left of the fingerprint region (below 1,500 cm–1).
Carbonyl groups are very easy to spot in the IR spectrum. They consist of an intense, thin absorption at about 1,700 cm–1 that looks like a finger pointing downward. Conjugated carbonyls (carbonyl groups adjacent to double bonds) have a somewhat lower frequency of vibration than ketones (these conjugated carbonyls often have absorptions below 1,700 cm–1). Ester carbonyls have a somewhat higher frequency of vibration than ketones.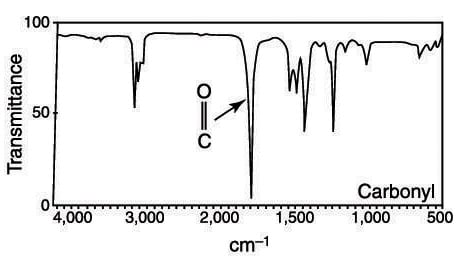 A carbonyl group in the IR spectrum.
A carboxylic acid has a very fat carbonyl stretch and an alcohol absorption that's even fatter than a typical alcohol stretch; this alcohol stretch from the carboxylic acid often expands into the region of the C-H stretches.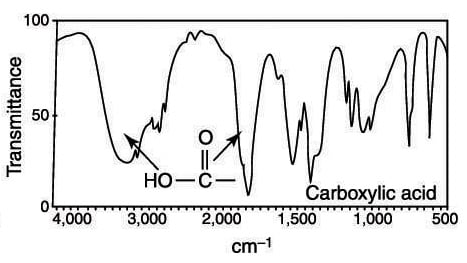 A carboxylic acid in the IR spectrum.
Alkene (C=C) stretches appear around 1,660 cm–1, and are of either weak or medium intensity. If you're unsure whether a small blip in that region of the spectrum represents an alkene, you can look for the unsaturated hydrogen stretches (C=C-H) above 3,000 cm–1. Typically, these are of medium intensity. Drawing a line down the spectrum at 3,000 cm–1 is often a good idea. Any stretches slightly higher than that frequency are a good indication of having an alkene (or an aromatic ring).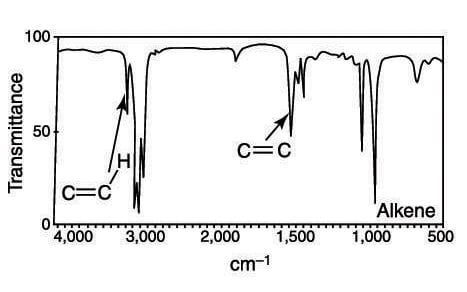 An alkene in the IR spectrum.
Alkynes (carbon-carbon triple bonds) have absorptions between 2,100 and 2,250 cm–1, and are of medium intensity. A terminal alkyne (one at the end of a chain) is easy to spot because of the high-intensity alkynyl C-H stretch that comes at around 3,300 cm–1.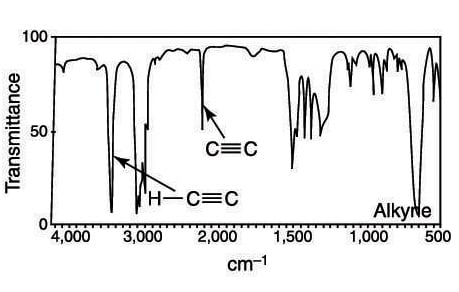 An alkyne in the IR spectrum.
Aromatic ring absorptions, on the other hand, can be tough to spot sometimes. They consist of a small series of bumps between 1,650 cm–1 and 2,000 cm–1. The number of bumps (absorptions) changes depending on how the benzene ring is substituted.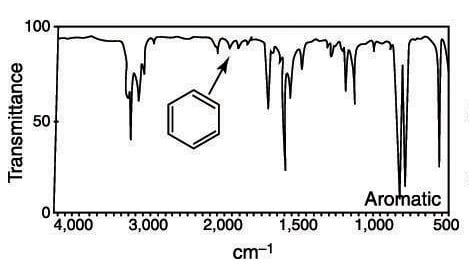 An aromatic ring in the IR spectrum.
About This Article
This article is from the book:
This article can be found in the category: