You can use colored gels and filters to achieve certain effects in your digital film. There are different colors of light, which is measured in kelvin. This determines how cold or how warm the color of light is. Daylight is in the middle of the scale. If your shot is cold or too blue in color, then you can set your camera's white balance higher to make the shot look warmer and more natural.

If you're shooting indoors using the lights in your house, your shots may look orange or red, and lowering the white balance setting on your camera will make your shot look more natural. Most cameras have an automatic white balance setting, which measures the color of the light in the room and changes the white balance setting automatically.

You can set your white balance manually, however, because sometimes the camera gets it wrong. To find out how to adjust the white balance on your camera, have a look at the camera's instructions.

You can get different types of filters for film lights that can change the color and mood of a shot. These filter gels are specifically designed for use with studio lights, so they can withstand high temperatures. Some homemade options may not cope with high temperatures as well and could be a fire risk. Colored filter gel sheets can be bought from camera stores for around $5 per sheet, or you can save money by buying them in variety packs. Some lights come with colored filters.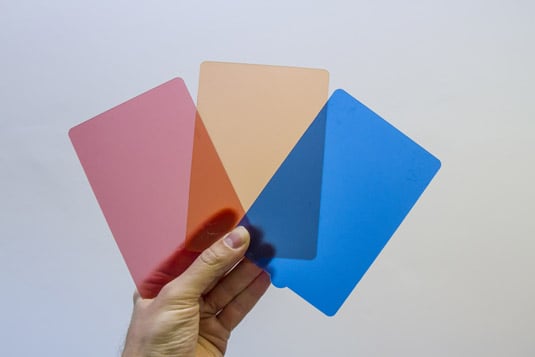 Colored filters are handy tools to have when shooting.

If you want to create a moonlight effect for a nighttime shot, for example, you can use a blue filter or you could lower the white balance on your camera to create a more blue and cold feel. If you want to create a warmer more sunny effect, on the other hand, you could use an orange or yellow filter over your light or increase the white balance setting on your camera.

Here are shots of an actor with and without a blue filter. The blue filter throws a blue light that makes the shot look cold.

Making your shots look cold can add a special effect to your film.

Most lights used for film can be quite harsh and can create strong shadows around the subject or character. To reduce these shadows, use diffusion filter paper (also called a scrim), which, when placed over your lights, spreads the light over a scene. This helps reduce shadows and create a more natural‐looking light. It also softens the light on your actors' skin.

Here is a shot of an actor with and without diffusion paper. Diffusion paper designed for studio lights can be bought from camera stores for around $5 per sheet.

Diffusion lights are a good inexpensive option.

Light doesn't always have to be used on a subject. You can use lights to light the background of a scene instead, which adds depth to a shot. You could also add a colored gel to the background light to throw some color on the background.

Any light you add to a scene needs to have a reason. For example, adding a blue filtered light onto one side of an actor's face would look odd to viewers unless there was a good reason for it to be there — such as, say, to represent the moonlight shining through the window onto the actor.
About This Article
This article is from the book:
This article can be found in the category: