Even pop musicians need pianists. Arguably, every song on the radio is a popular song because few radio stations play songs that listeners don't like. Country, rock, rap, Latin, and many other styles of music are popular with one audience or another.
But most people know the term pop to be the category for Top 40 songs and superstar ballads by such artists as Beyoncé, Justin Timberlake, Prince, and a multitude of others.
Pop music can be rhythmic, romantic, nostalgic, funky, sad, and about 1,000 other adjectives. Here, you concentrate on the one style of pop music perfectly suited to the piano: the slow and smooth-sounding pop ballad.
Popular picks
To play a pop ballad, you need a small arsenal of musical ornamentations, including the following:
Right-hand intervals

Chord arpeggios

Damper pedal

Dimmer switch (essential for setting the right mood)
Topping the charts
To add a little pop romance to any song, take a simple melody and add the ever-so-sweet sixth below each right-hand melodic note. The new melodic line should look like this. For some reason unknown to many a trusted and frustrated musicologist, the sixth adds an element of romance to a melody.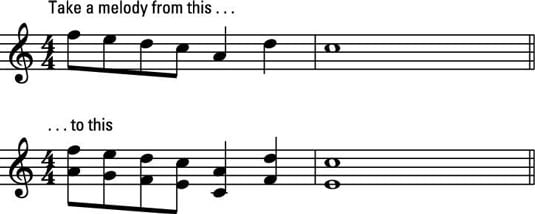 This trick of adding the sixth may look difficult, but it's not. All you do is find the sixth below the first melody note and freeze your hand in that position. Your pinkie always plays the top note and your thumb always plays the bottom interval note. As you play up and down the melody, your hand lands on the correct interval every time.
Watch this demonstration of a nifty pop strategy played on the piano in Chapter 17, Video Clip 4.
About This Article
This article is from the book:
This article can be found in the category: