When you play the blues on your harmonica, you use short sequences of notes called licks and riffs as building blocks for longer musical statements. Both riffs and licks usually emphasize the notes of the chord being played in the background. Blues musicians often emphasize the notes of the home chord (the I chord), even when another chord is being played. Blues tends to stick close to home in this way.
Riffs often help define the signature sound of a tune, and you usually repeat them several times in a verse of a song. Examples include a catchy rhythmic bass line that immediately identifies a tune before you hear the melody or a repeated melodic line played by melody instruments behind a singer.
Licks tend to be shorter than riffs, and you can play them anywhere within a song and combine them with other licks in different sequences at will. Often a solo by a guitarist or harmonica player is just a showy, well-crafted series of licks.
Have a look at five of the most common riffs that most blues musicians know: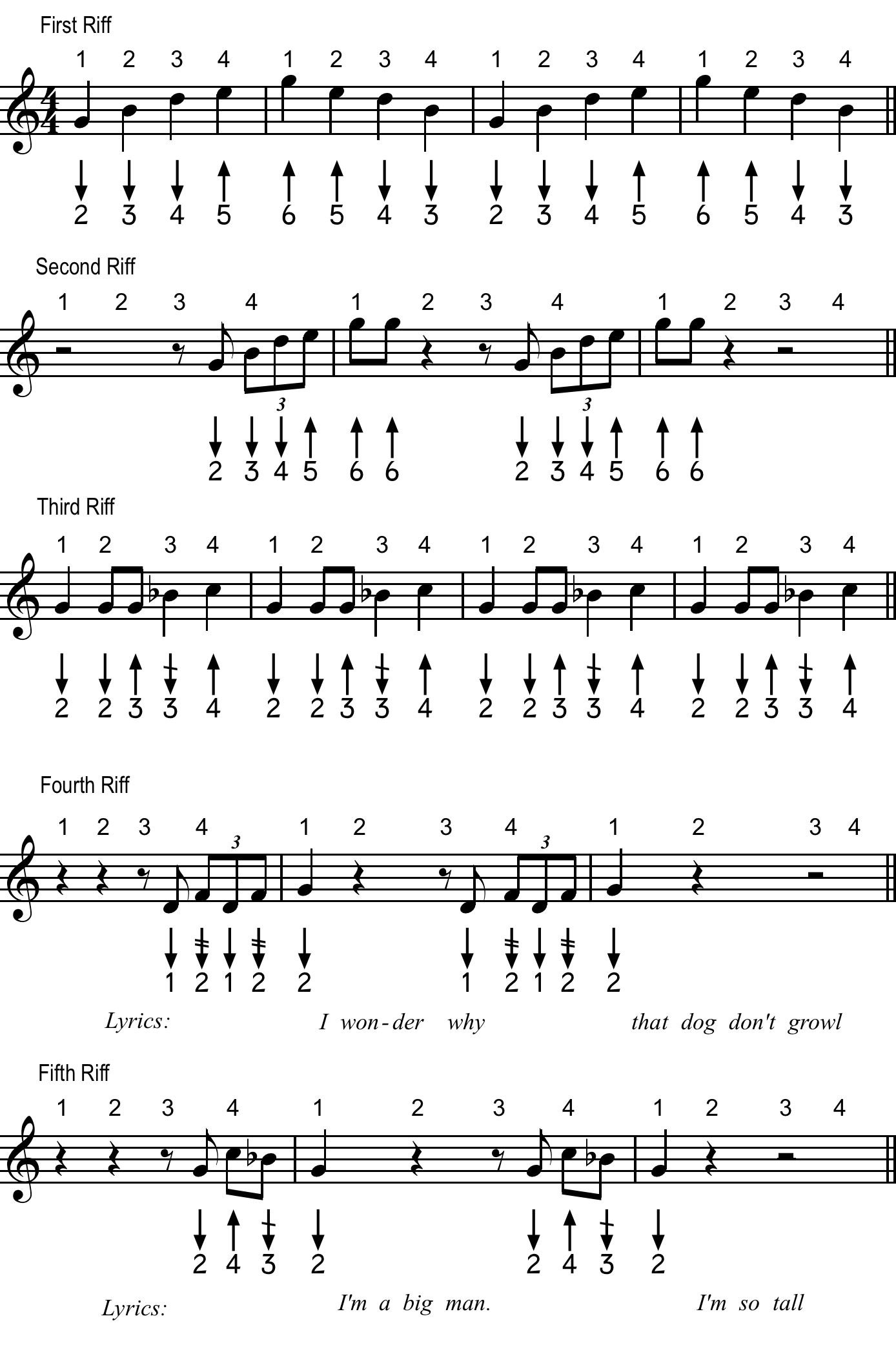 The first riff is a common bass line that's also often played by melody instruments. It uses the home note as both the lowest note (Draw 2) and the highest note (Blow 6) and places both home notes on the strong first beat.

The second riff is a common swing-era, big-band riff that has also been used in harmonica instrumentals such as Snooky Pryor's "Boogie" and, in a slightly altered version, Little Walter's "Juke." Like the first riff, it begins and ends on the song's home note, rising to place the final home note on the first beat of the bar.

John Lee Hooker often used the third riff, as did the band Canned Heat, notably on the song "On the Road Again," featuring the harmonica of Alan "Blind Owl" Wilson. Sonny Boy Williamson II also used this riff for the instrumental backing to his song "Help Me."

The fourth riff is often played behind a singer, who sings between each riff. Muddy Waters' "Hoochie Coochie Man," featuring Little Walter on harmonica, is probably the most famous of many songs to use this riff.

The fifth riff also punctuates statements by a singer. Bo Diddley used this riff most famously in "I'm a Man," with Billy Boy Arnold on harmonica.
About This Article
This article is from the book:
This article can be found in the category: