Second position — playing the harmonica in the key of the draw chord, with Draw 2 as the home note — works well for many folk tunes but also for a large portion of the southern gospel repertoire. The following tunes lie well in second position. Grab a harp and try them out.
"Since I Laid my Burden Down"
"Since I Laid my Burden Down," an African-American spiritual, was the basis for the well-known country gospel tune "Will the Circle Be Unbroken?" This tune, which you can hear in Chapter 14, Audio Track 1404, is widely known and loved, and it isn't difficult to play. When you play this song in second position, you can express the feeling of it by bending draw notes in Holes 2, 3, and 4.

One note in this tune requires you to bend Draw 3 down two semitones. If you're having trouble getting that bent note, just bend Draw 3 in an expressive way without trying to hit the note.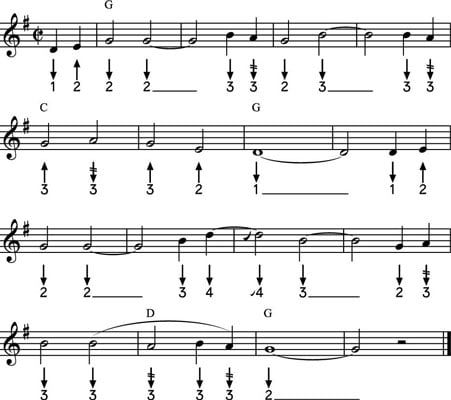 "Cluck Old Hen"
First written down in the 1880s, "Cluck Old Hen" is both a song and an instrumental tune. It exists in many versions, and here it's been adapted for second-position harmonica. It's fairly short, but to play it you need a good command of the draw bends in Holes 2 and 4.

Here, the tune is shown with some fancy split intervals that require tongue blocking. You can ignore all that stuff and just play the melody, which is the top line of tab. Later you can add the tongue embellishments to gussy up the tune. Check it out in Chapter 14, Audio Track 1405.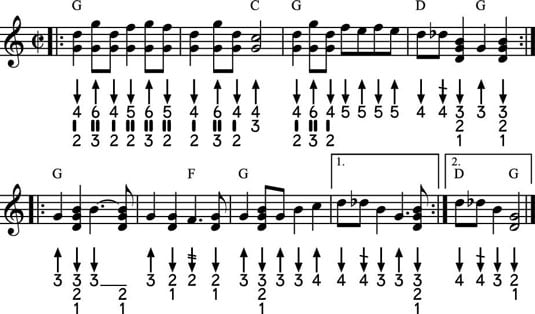 "Aura Lea" in second position
"Aura Lea", found in Chapter 14, Audio Track 1406, sounds warm and expressive in second position in the low register — if you master the shallow bend in Draw 2 and also play the middle bend in Draw 3 not only accurately, but also move back and forth between that bend and Blow 2. These are worthy challenges.

As for making this version sound expressive, try channeling your inner Elvis — he'll definitely be in the building when you get the hang of playing this tune.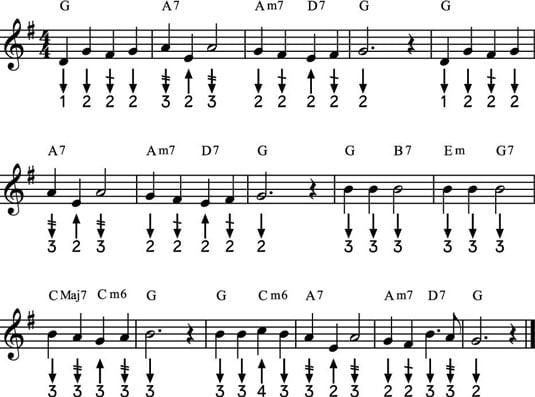 "This Train (Is Bound for Glory)"
"This Train", which you can hear in Chapter 14, Audio Track 1407, is a gospel favorite and has been recorded by a wide variety of artists, including Sister Rosetta Tharpe, Woody Guthrie, Johnny Cash, Mumford and Sons, and many more. It's said to have inspired Willie Dixon to write "My Babe," which was a big hit for blues harmonica great Little Walter. On YouTube, you can find a great harmonica version by the late Terry McMillan.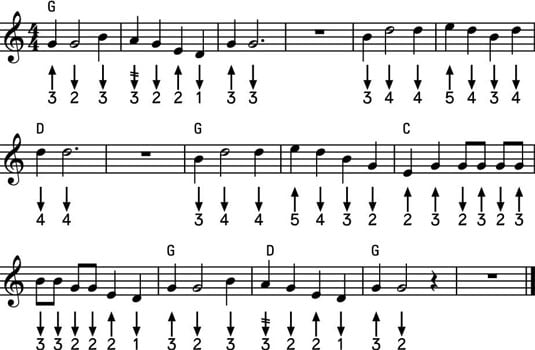 This song is shown in two ways: once with a single-note melody, and once with added chords that you play either with tongue blocking or by widening your mouth opening to include the added notes. Sometimes the melody note is buried in the middle of a chord, but after you have the melody in your head, you can always hear it.
In the second, chordal version of "This Train," found in Chapter 14, Audio Track 1408, fills are included. "This Train" is a tune where the melody often leaves some time at the end of a phrase. In that space between phrases, an instrument can play a fill — a little bit of added melody or rhythm — that both fills in the time and makes the rendition more interesting.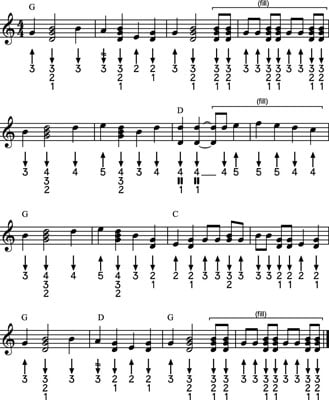 In this version, the first fill adds a little bit of train rhythm, while the second fill adds some melody that leads back to the first note of the third phrase. The third phrase doesn't leave any room for a fill, while in the fourth and final phrase, the same fill is used as in the first phrase.

You play that last fill if you're going on to play another verse, but you leave it out at the end of the song.
About This Article
This article is from the book:
This article can be found in the category: