First position — playing a harmonica in its labeled key —works well for many folk tunes. When you play in first position, your home note is Blow 4. Your home chord is formed by any combination of blow notes.
Many of these tunes are old folk and country favorites — you'll probably meet others who know how to play them on guitar. They aren't too difficult to play, so grab a harp and get started.
"Buffalo Gals"
This song first appeared in 1844 as "Lubly Fan" (that is, Lovely Fanny, the girl that the singer is inviting to "come out tonight and dance by the light of the moon"). However, traveling performers often wooed audiences by replacing Fanny's name with a reference to the name of the town where they were performing that night.
The song must have really caught on in Buffalo, New York, as "Buffalo Gals" stuck as the tune's permanent title. Listen in Chapter 14, Audio Track 1401 to this song that has remained in the American folk repertoire ever since and makes a nice first-position harmonica tune.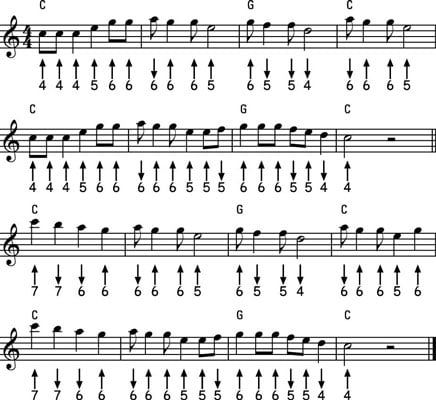 "Wildwood Flower"
Originally titled "I'll Twine 'Mid the Ringlets," "Wildwood Flower", which you can hear in Chapter 14, Audio Track 1402, dates to 1860. Revived by the Carter Family in the 1930s, it has remained popular ever since, both as a song and as an instrumental tune.
Be careful about the leaps from Blow 4 up to Blow 6, as Blow 6 begins a new phrase; you need to play it cleanly and distinctly. If you can bend the high blow notes, try bending Blow 8 a little when you play it, just for effect.
This tune is slightly changed from the first edition. Note the added time at the ends of the phrases in the first part. This is to accommodate the picking pattern that guitarists like to use when they accompany this tune.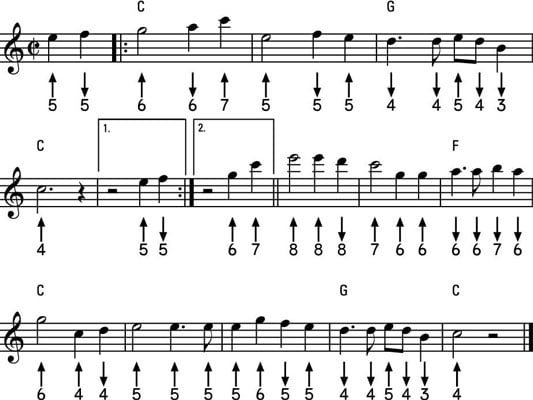 "La Cucaracha"
The English word cockroach comes from the Spanish word cucaracha, and the Spanish song by that name originally described a cockroach trying to walk along at a regular pace but with one of its six legs missing. Over time, many humorous verses have been added, especially in Mexico.
Even without words, this song makes an excellent harmonica tune in first position, as it gets you using the two main chords that are built into the harmonica. It's also a great tune for adding tongue-blocking techniques such as slaps and pulls. Yet even without tongue elaborations, it's a fun tune to play.
The great blues harmonica player Walter Horton recorded at least one excellent version of "La Cucaracha," with all sorts of tongue-blocking elaborations. Check it out in Chapter 14, Audio Track 1403.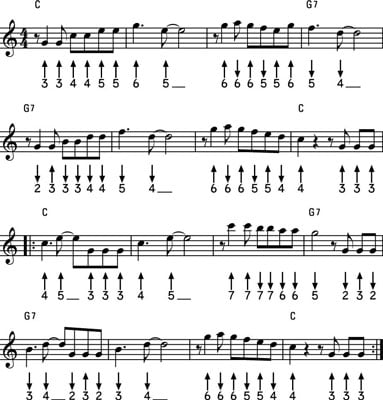 About This Article
This article is from the book:
This article can be found in the category: