Tuners is the common contemporary term for those six little mechanisms mounted at your guitar's headstock that are responsible for tuning the strings, which were often called machine heads or tuning gears in the old days. In one sense, their job is to efficiently bring your guitar strings up to tension and keep them there.
As with everything to which a guitar string is attached, however, they also have some implications for your tone.
Regardless of what you hear about the sound of different tuners, their ability to function well at the job of tuning your strings should be your first concern. Cheap tuners may technically work, but they can be less precise than tuners of better quality, and also may slip a little, resulting in frequent out-of-tuneness, which certainly gets frustrating.
In the late '60s, many players developed the theory that heavier tuners contributed to better sustain and resonance, and therefore they swapped out the relatively lightweight original Kluson-made tuners on their guitars — on '50s and '60s Gibson and Fender models in particular — for heavier die-cast tuners, usually made by Grover or Schaller.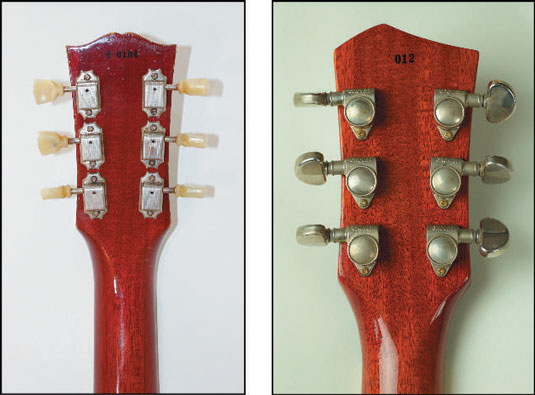 Credit: Photograph by Dave Hunter
This was probably even more of a craze among Les Paul players, with artists like Jimmy Page, Jeff Beck, Paul Kossoff, and others looking for that fat, thick, sustaining tone from their guitars and trying everything possible to maximize it.
Many players still believe that tuners with added weight improve a guitar's resonance, but a lighter headstock actually does the trick, so in truth, who knows? If your tuners work well and have no functional issues, there is probably no tone-based reason to change them.
Over the past couple of decades, many players who use vibrato units on their guitars have become fond of locking tuners. These types, available from many different parts manufacturers, hold your strings firmly in place in the post holes, preventing slippage during considerable vibrato usage. This, in turn, can contribute to greater tuning stability. As a bonus, locking tuners are also usually quicker to restring when string changes roll around.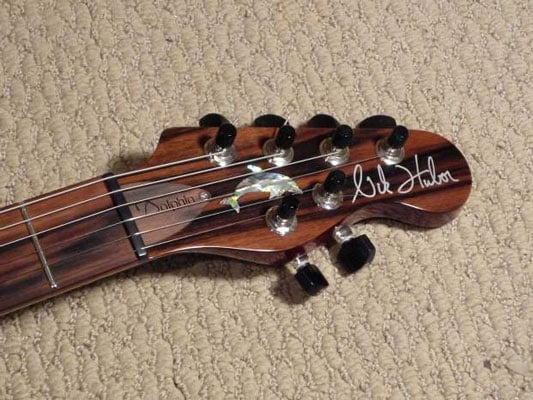 Credit: Photograph by Dave Hunter
About This Article
This article is from the book:
This article can be found in the category: