One of the raging controversies in the bluegrass banjo world over the last several decades is whether it's best to anchor the right hand with both the ring and pinky fingers or whether it's alright to anchor with just the pinky finger.
Most beginning players have trouble keeping the ring finger anchored on the head, especially when playing a note with the middle right-hand finger. This is because the muscles of these two fingers are interdependent, and playing a string with the middle finger often causes the ring finger to move in tandem with it.
The majority of professional players have figured out how to anchor both the right-hand ring and pinky fingers on the banjo head (see Photo a), but several outstanding players anchor just the pinky finger (see Photo b), letting the ring finger move with the middle finger.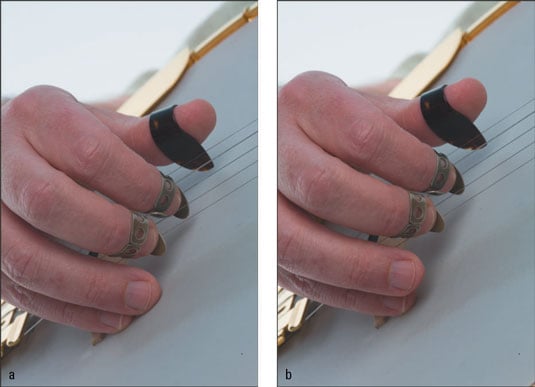 Many beginning students start by learning to anchor both fingers — they do this by deciding to play for a few weeks by using just the ring finger for an anchor. After this finger is trained to stay on the banjo head, having the pinky finger join it is a relatively easy matter. A proper arch to your wrist should really help in training the ring finger to stay on the banjo head.
The bottom line? Try supporting the right hand by using both fingers if you can, but if it feels better to use just the pinky finger for support, go for it! If you stay relaxed and you find that you're getting a good sound, you can play well either way!
About This Article
This article is from the book:
This article can be found in the category: