You take a big step up as a banjo player when you're able to create your own unique solos, using the licks and techniques that you've picked up from other songs to create new music. When playing Scruggs-style bluegrass banjo, for example, you can construct great-sounding solos by finding the song's melody notes and choosing roll patterns that include as many of those melody notes as possible.
Using the familiar melody "You Are My Sunshine" as an example, find the melody notes on your banjo fingerboard in the key of G. It's helpful to sing the song first while playing the chord progression on the banjo using simple strums or roll patterns.
The following tab shows both the melody and the chord progression for this tune: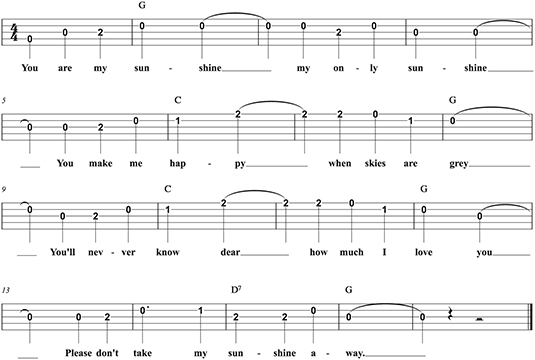 Credit: Tab courtesy of Bill Evans
"You Are My Sunshine" melody and chord progression.
Now, try different roll patterns (such as the alternating thumb, forward-reverse, and forward rolls), changing the specific strings you strike with each roll to match the melody of the song as closely as you can. Don't hesitate to use more than one roll in your solo; banjo players routinely change rolls to more closely match each phrase of a melody. If more than one roll works for a particular section of a song, all the better! Go with the roll that sounds best to you.
The forward roll is the Scruggs-style, right-hand picking pattern that really adds drive to your playing. One way of playing the forward roll is to pick the following right-hand sequence (T = thumb, I = index, M = middle):
T – M – T – I – M – T – I – M
It's not unusual to continue playing a forward roll for longer than one measure, continuing the roll for as long as you need to until it's time to play another melody note.
Check out the following arrangement of "You Are My Sunshine" using all forward rolls. Note that the melody notes are located above each syllable of the lyric. As you play, find these melody notes and play them a bit louder.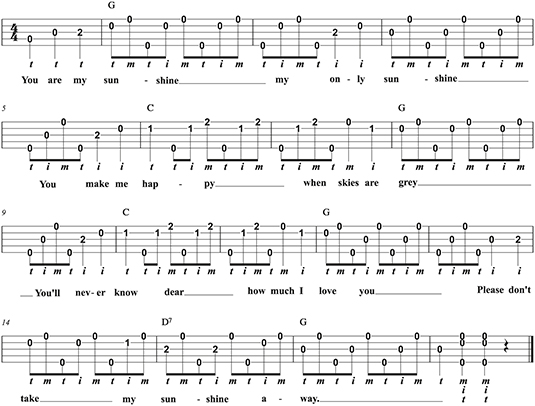 Credit: Tab courtesy of Bill Evans
"You Are My Sunshine" banjo solo using forward rolls.
You can always alter a roll to more closely match the melody. Check out measures 6 and 10 of the tablature to see how the forward roll has been changed to match the melody at each C chord. Also, you can just stop playing the roll and hit the melody note all by itself if that seems like the best solution. Check out measures 3, 5, 7, 9, and 13 for examples.
It's time to get rolling and create some great banjo music of your own!
About This Article
This article is from the book:
This article can be found in the category: