Some of the most exciting moments in bluegrass banjo playing happen when you play solos up the neck. Read here to gain experience with essential up‐the‐neck licks and chord positions that you can use in just about all your upper‐range musical explorations.
Although banjo players are concerned with matching roll patterns and licks to melodies for down‐the‐neck solos, interchangeable licks are much more frequently employed when playing solos up the neck. The licks you find here are designed for G, C, and D chords, but you can transpose these licks to other places on your banjo fingerboard to use for other chords that you'll encounter.
Basic up‐the‐neck G‐lick position
One the biggest initial challenges for new players is getting used to an up‐the‐neck G position that is used in backup and is also an integral part of tunes like "Cumberland Gap" and "Sally Goodin'."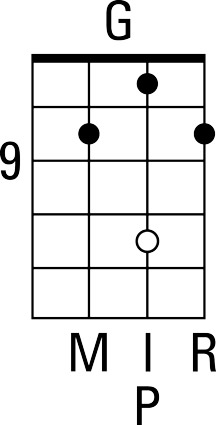 Up‐the‐neck G‐lick‐position chord diagram.
The basic position requires you to use your middle, index, and ring fingers on the eighth and ninth frets, which is easy enough. However, the tough part in playing the licks associated with this position is touching down with the pinky finger on the 11th fret while holding down the other three fretting fingers.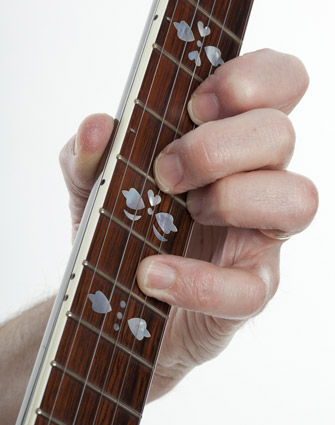 Credit: Photograph by Anne Hamersky
Using the pinky finger with the up‐the‐neck G‐lick position.
Try a second‐string variation of the lick roll to play this up‐the‐neck G fill‐in lick.

Up‐the‐neck G fill‐in lick.
The Foggy Mountain bend lick
Another essential G lick that generates a lot of attention as well as smiles from other musicians and listeners is the iconic up‐the‐neck tenth‐fret, second‐string choke lick that's heard in a wide variety of up‐the‐neck playing. This lick is complete with pre‐bend and choke‐and‐release techniques.

Up‐the‐neck G lick using bends.
Essential up‐the‐neck C and D licks
These licks are based around the same F‐shape movable chord position.

Up‐the‐neck C lick.
Note the nice blues tinge offered in the second measure of the D lick.

Up‐the‐neck D lick.
Putting the licks together
If you put these licks together, you'll hear an effective up‐the‐neck solo that contains elements of "Foggy Mountain Breakdown," "Lonesome Road Blues," and other up‐the‐neck bluegrass banjo classics. Enjoy!

Creating an up‐the‐neck solo from G, C, and D licks.
There is more than one way to build a solo up-the-neck.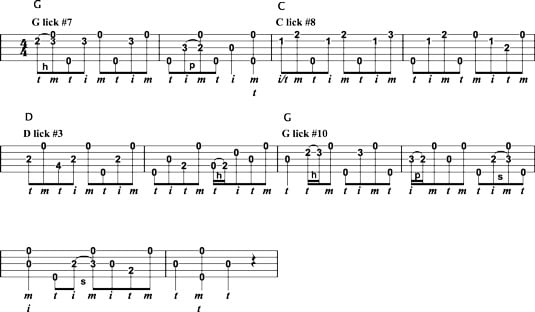 Using licks to build a solo, version 2.
Feel free to put your own spin on things to make a solo your own.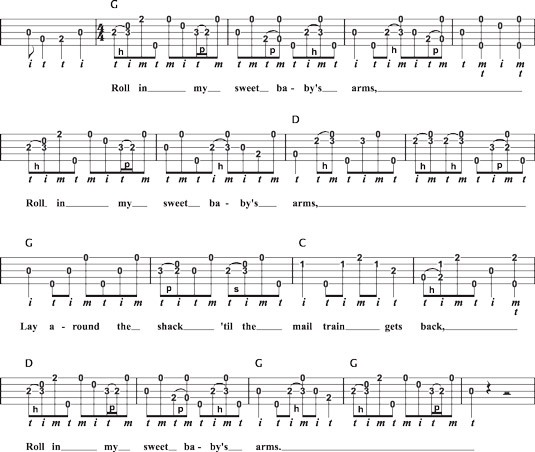 "Roll in My Sweet Baby's Arms," building a solo using licks.
About This Article
This article is from the book:
This article can be found in the category: