EndNote is a multiplatform software tool that helps you manage the process of writing and preparing research papers. You can be much more focused on the actual writing of the paper if you let EndNote do the heavy lifting for you. EndNote will manage PDF and other research files, automatically compiling key information from your files for easy reference and citation building.

In addition to using EndNote on your smartphone, tablet, or desktop, you also have access to the EndNote website, where you can connect with your University library system to search for millions of research papers and journal articles.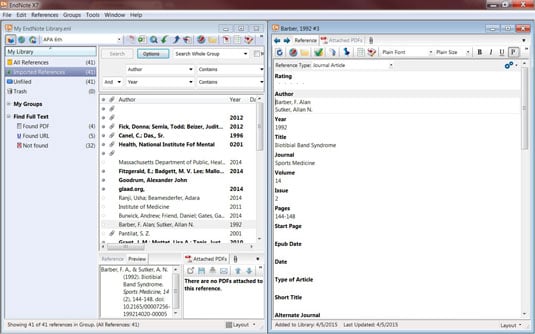 EndNote is available with a 30-day free trial, so you can try it before you buy it. And if you're a student, chances are you can buy it for a wicked discount.
Point-and-shoot citations in EndNote
The star feature of EndNote is the plug-in for Microsoft Word. The tools in the EndNote plug-in help you build and insert citations while you write your paper, so you're not stuck with hunting down and cleaning up all those critical citation and bibliography details at the last minute.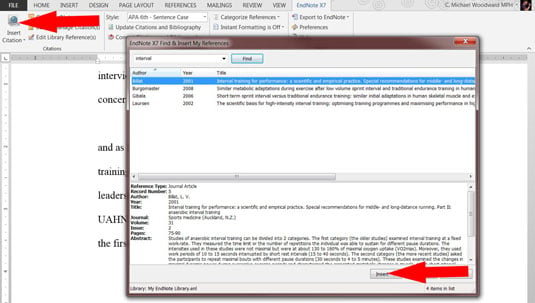 From Word, you just put the cursor where you want to place the citation and then click on Insert Citation on the EndNote toolbar. Next, tell EndNote what you want to cite and using what citation style, click on Insert, and voila! Your citation appears next to the text, exactly the way you need it to look — assuming your source records are complete, of course.
EndNote will do the same thing for the figure and table references in your document — automatically number and cite your figures, illustrations, tables, and other numbered elements.
The even better news is that it automatically builds a bibliography at the end of the document as you work, formatted according to the style you have selected in Word's EndNote toolbar.

EndNote does a lot for you, but ultimately you're still the one responsible for the details. Each time you add a new source, be sure to take the time right then and there to fill in any missing details in the record that EndNote didn't pick up from the file. That way, you won't be stuck having to hunt down those nit-picky details two hours before your paper is due.
One-step research connections through EndNote
Why leave Word, go to your browser, and fiddle around with the clunky campus interface to get to those massive research libraries like PubMed? You can search your university library resources directly from EndNote.

EndNote's Online Search feature provides the same type of library search tools you're used before, but you don't have to leave EndNote to do your search. Just log in using your school credentials, and you're all set.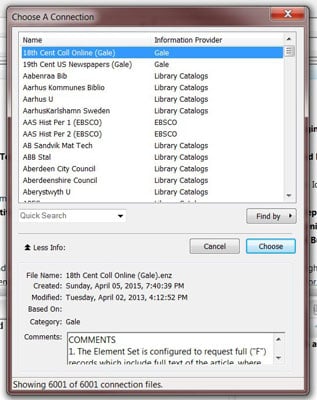 EndNote website tools and features
As if all that good stuff was not enough, EndNote.com includes some really helpful online tools that are worth checking out, especially if you anticipate using EndNote for the long haul.

First of all, of course you have access to your full library of research papers and other documents that you have collected and saved. You can create new records in your library manually or by importing them, and view, edit, or delete records or attachments to records.

You can even delete attachments easily without otherwise affecting the library record. This is very handy if your collection becomes so unwieldy that it affects your browser speed or your available space is running low.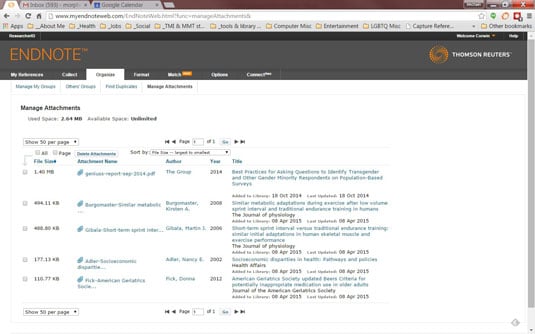 Source: endnote.com
Using Groups, you can sort your research into topical folders and optionally share them with cohorts or co-workers.
The Format tab helps you automate the process of formatting your paper or portions thereof. (It's also where you find the plug-in for Word.)
Match is kinda cool: plug in the title and abstract for your manuscript, and EndNote will suggest some journals to which you might want to submit your article for publishing. The suggestions are based on an analysis of the abstract content. No promises on the actual publishing, though — it's just a referral for you to check out if you're interested.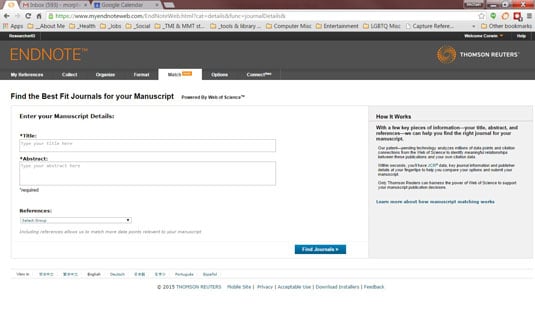 Source: endnote.com
Options, as you might suspect, is the catch-all spot for account preferences and controls, such as changing your password, editing your profile, or changing the default language.
Finally, Connect is EndNote's venture into social media and crowd-sourcing research. It's still under development so it's not particularly active at the moment, but that could change as soon as it officially launches.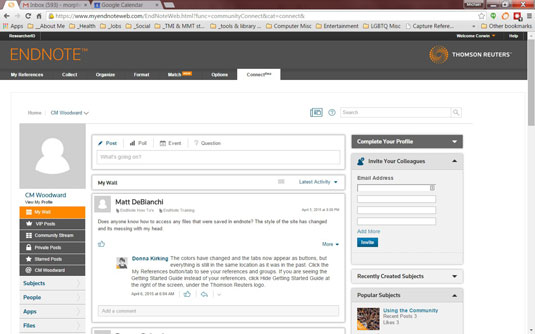 Source: endnote.com
About This Article
This article can be found in the category: