The real fun of learning Portuguese comes when you listen to some live Brazilians talking. Even if you can't find any Brazilians or other Portuguese-speaking people near you, there are plenty of other options for immersing yourself in their language.
Go to Brazil!
The absolute best way to learn Portuguese, or any foreign language, is to spend time in a country where the people speak the language. Brazil is a particularly great place to learn the language because locals are unbelievably friendly. They also don't speak English very fluently, so you'll be practically immersed in Portuguese.
Travel to Brazil can be a little pricey. But when you're there, things are generally three or four times cheaper than they are in North America or Europe. If you're interested in exploring several regions of Brazil (and hearing a few different accents within the country), look into buying a Brazil Air Pass. It allows you to make up to five one-way flights within Brazil for about US$560.
Read the news in Portuguese
If you enjoy reading, consider browsing the day's top news online in Portuguese. First read the story on an English-language newspaper site to get the facts. Then log on to a Brazilian newspaper's website and read the same story in Portuguese. It'll be easier to understand because you'll already know the context and most of the details.
The biggest newspapers in Brazil are
You should also check out BBC Brazil.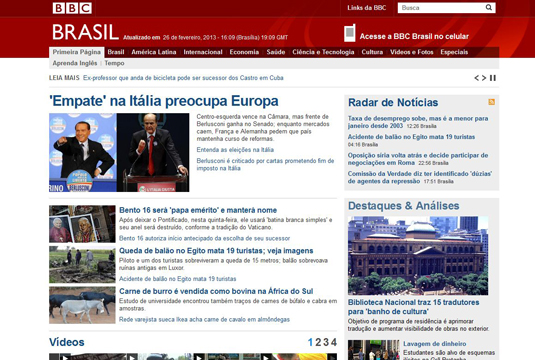 Check out Brazilian websites
To research any topic in Brazilian Portuguese, try going to Google Brazil. Below the Search box, you can select one of three options: a web (the Web), páginas em português (Portuguese-language websites), or páginas do Brasil (Brazilian web pages). You can try entering search terms on Brazilian Google in either Portuguese or English. Sometimes an English-language site comes up. Ignore it, and find one in Portuguese instead.
Of course, you can skip search engines and go directly to the source. Here are some of Brazil's most popular sites and stores where you can find out about Brazilian culture and pick up a few new words, too:
Listen to Brazilian music
Brazil has many musical genres. The most famous ones are bossa nova, slow, lyrical music from the 1960s; música popular brasileira (MPB), which is mostly acoustic guitar and singing; pagode, which is fun and has a light beat; samba, call-and-response music with a medium beat; chorinho, the precursor to samba; and axé, ultra-fast music typical of Carnival in Salvador.
Here are some popular Brazilian artists:
Gilberto Gil (MPB)

Marisa Monte (MPB)

Jorge Ben Jor (MPB/funk)

Tim Maia (funk)

Gal Costa (bossa nova)

Zeca Pagodinho (samba)

Ivete Sangalo (axé)

Revelação (pagode)

Marcelo D2 (rap)

DJ Patife (electronic)
Watch a Brazilian movie
Watching a Brazilian movie is another great way to learn about Brazilian culture and pick up some new words. The movie should have English subtitles; that allows your ear to absorb the new sounds as you read the translation in English.
Here are nine famous Brazilian movies you should check out:
Deus É Brasileiro/God is Brazilian (2003)

Carandirú/Carandiru (2003)

Cidade de Deus/City of God (2002)

Ônibus 174/Bus 174 (2002)

Eu, Tu, Eles/Me, You, Them (2000)

Central do Brasil/Central Station (1998)

Pixote (1981)

Bye Bye Brazil (1979)

Orfeu Negro/Black Orpheus (1959)
About This Article
This article is from the book:
This article can be found in the category: