In case you were wondering, yes, Deaf people attend movies. To serve the Deaf population, some theaters have an OC (open captioning) Night on newly released movies.
Communicating during a movie is common among signers. They converse about everything — the movie plot, an actor, even the lack of salt on the popcorn. This table presents some signs to help you enjoy the show.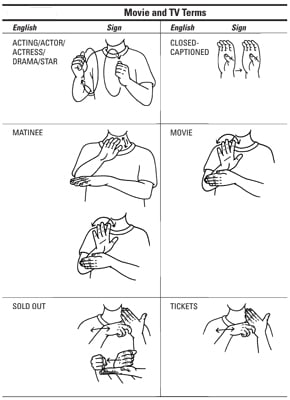 Are you feeling a bit like Bond, James Bond — or are you more in the mood for bonding in a romantic way? This table shows you signs that indicate various types of movies.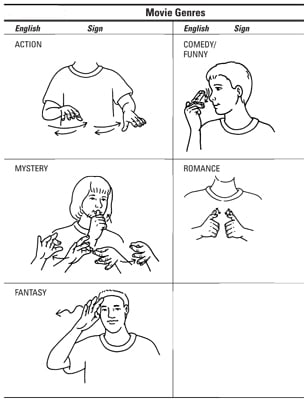 Here are some signed movie-related sentences:
English: The movie sold out.

Sign: MOVIE — SOLD OUT

English: If the movie is open-captioned, I'll go.

Sign: IF MOVIE O-C — ME GO

English: The matinee was a comedy.

Sign: AFTERNOON MOVIE — FUNNY

English: We went to see the new mystery.

Sign: FINISH — NEW MYSTERY — SEE US

English: There's captioning Saturday at the movie.

Sign: SATURDAY MOVIE — O-C
About This Article
This article can be found in the category: