Black American history is a cornerstone of American history. Major events in America's timeline have been impacted by Black Americans. This cheat sheet includes a brief overview of some of the great institutions that preserve that history, the words to the most popular part of the Black National Anthem, and a list of some important dates in Black American history.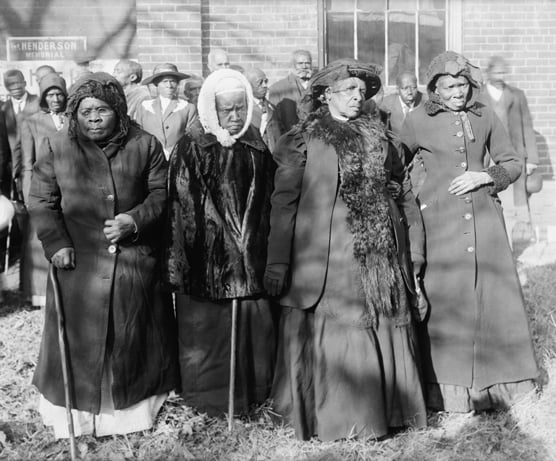 © Everett Collection / Shutterstock.com
A convention of ex-slaves in Washington, D.C., 1916.
Black American Cultural Institutions
The Smithsonian's National Museum of African American History and Culture (NMAAHC) in Washington, D.C., is a nationally recognized treasure. But it isn't the only museum in the nation showcasing Black history and culture. Whether you desire a general overview of the culture, feel like marveling at a few wax miracles, or want to embrace the African Diaspora, there's a facility somewhere in the United States that caters to your interests. These suggestions can get you started.
| | | | |
| --- | --- | --- | --- |
| Institution | Location | Features | Contact Information |
| African American Museum in Philadelphia | Philadelphia, Pennsylvania | Displays and interprets the life and work of African Americans | 701 Arch Street, Philadelphia, PA 19106; www.aampmuseum.org |
| National Museum of African American Music | Nashville, Tennessee | Chronicles African American and Black music history | 510 Broadway, Nashville, TN 37203; www.nmaam.org |
| Buffalo Soldiers National Museum | Houston, Texas | Black military history and wartime memorabilia | 1834 Southmore Blvd., Houston, TX 77004; www.buffalosoldiermuseum.com |
| California African American Museum | Los Angeles, California | Historical and art exhibits | 600 State Drive, Exposition Park, Los Angeles, CA 90037; www.caamuseum.org |
| Negro Leagues Baseball Museum | Kansas City, Missouri | Memorabilia, multimedia, and film exhibits | 1616 East 18th Street, Kansas City, MO 64108; www.nlbm.com |
| National Center of Afro-American Artists | Boston, Massachusetts | Art exhibits featuring artists of African descent from around the world | 300 Walnut Avenue, Boston, MA 02119; www.ncaaa.org |
| National Civil Rights Museum | Memphis, Tennessee | Site of Martin Luther King's assassination, historical displays | 450 Mulberry Street, Memphis, TN 38103; www.civilrightsmuseum.org |
| The National Great Blacks In Wax Museum | Baltimore, Maryland | Wax displays of historical events and people | 1601-03 East North Avenue, Baltimore, MD 21213; www.greatblacksinwax.org |
| National Underground Railroad Freedom Center | Cincinnati, Ohio | Historical exhibits and interactive displays | 50 East Freedom Way, Cincinnati, OH 45202; www.freedomcenter.org |
| Museum of the African Diaspora | San Francisco, California | Historical exhibits and multimedia displays | 685 Mission Street (at Third), San Francisco, CA 94105; www.moadsf.org |
Lift Every Voice and Sing
Following is the most popular part of the Black National Anthem, written by James Weldon Johnson and first performed as a poem in 1900. It was later set to music by his brother, John Rosamond Johnson:
Lift every voice and sing
'Til earth and heaven ring
Ring with the harmonies of Liberty
Let our rejoicing rise
High as the listening skies
Let it resound loud as the rolling sea
Sing a song full of the faith that the dark past has taught us
Sing a song full of the hope that the present has brought us
Facing the rising sun of our new day begun
Let us march on 'til victory is won
Important Dates in Black American History
Here are some important dates in Black American History:
1619: The first Africans arrive in Jamestown, Virginia, a settlement associated with the origins of the United States of America.
1662: Virginia law establishes that a mother's status determines a child's freedom.
1789: U.S. Constitution designates Black Americans as not being full individuals with its Three-Fifths Clause.
1803: The Louisiana Purchase increases the size of the United States, opening up arguments over admitting slave and free states.
1810: The busiest period of the Underground Railroad begins.
1820: Congress approves the Missouri Compromise, admitting Missouri to the Union as a slave state and Maine as a free state.
1831: Nat Turner leads a slave rebellion in Virginia.
1850: The Compromise of 1850, which includes the Fugitive Slave Act (requiring the return of runaways to slavery), passes Congress.
1857: Dred Scott decision designates enslaved people as property, not citizens.
1861: The Civil War starts.
1863: Abraham Lincoln issues the Emancipation Proclamation.
1865 April: The Civil War ends, Abraham Lincoln is assassinated, and the Freedmen's Bureau is established.
1865 December: Congress ratifies the Thirteenth Amendment, abolishing slavery.
1866: Radical Reconstruction begins.
1868: Congress ratifies the Fourteenth Amendment, making Black Americans full citizens.
1870: Congress ratifies the Fifteenth Amendment, which prohibits preventing any U.S. citizen from voting based on race, color, or previous slave status and gives Black men the right to vote.
1877: Reconstruction ends.
1895: Booker T. Washington gives his Atlanta Compromise Speech.
1896: In Plessy v. Ferguson, the Supreme Court sanctions the "separate but equal" doctrine of Jim Crow.
1903: W.E.B. Du Bois publishes The Souls of Black Folk.
1914: The period known as the Great Migration begins.
1915: Booker T. Washington dies.
1916: Marcus Garvey brings his Universal Negro Improvement Association to the United States.
1919: Red Summer, where a number of white terrorist acts and racial riots take place throughout the country over several months, erupts.
1926: Carter G. Woodson begins Negro History Week, which becomes Black History Month in 1976.
1936: Jesse Owens wins four gold medals at the Olympics in Berlin, Germany hosted by Adolf Hitler.
1941: President Franklin Delano Roosevelt bans racial discrimination in government employment, defense industries, and training programs.
1947: Jackie Robinson breaks Major League Baseball's color barrier.
1948: President Harry S. Truman desegregates the military.
1954: Brown v. Board of Education decision rules that "separate is unequal," legally ending school segregation.
1955 August: 14-year-old Emmett Till is murdered.
1955 December: The Montgomery Bus Boycott begins.
1957: A white mob prevents nine Black students from integrating Central High School in Little Rock, Arkansas. Eisenhower later sends in federal troops to escort the students.
1960: Student sit-ins begin in Greensboro, North Carolina, to integrate eating facilities.
1963 May: Medgar Evers is murdered.
1963 August: Martin Luther King Jr. delivers his "I Have a Dream" speech.
1963 September: Four Black girls are killed in a Birmingham church bombing.
1964: Congress passes the Civil Rights Act of 1964. Three civil rights workers are found dead in Mississippi during Freedom Summer.
1965 February: Malcolm X is assassinated.
1965 March: King leads Selma to Montgomery marches, including the March 7 one over the Edmund Pettus Bridge later known as "Bloody Sunday" for the brutality the peaceful protesters faced.
1965 August: Congress passes the Voting Rights Act of 1965.
1967: Thurgood Marshall becomes the first Black Supreme Court Justice.
1968: Reverend Dr. Martin Luther King Jr. is assassinated in Memphis on April 4.
1972: Shirley Chisholm runs for President of the United States.
1973: Maynard Jackson, Coleman Young, and Tom Bradley are elected first Black mayors of Atlanta, Detroit, and Los Angeles.
1974: Hank Aaron breaks Babe Ruth's homerun record.
1977: Alex Haley's Roots miniseries airs on ABC.
1983: Harold Washington, W. Wilson Goode, and Harvey Gantt are elected the first Black mayors of Chicago, Philadelphia, and Charlotte.
1984: Rev. Jesse Jackson runs for President of the United States.
1984 April: Georgetown's John Thompson becomes the first Black coach to win the NCAA Men's Basketball Championship.
1984 September: The Cosby Show premieres on NBC.
1986: First observance of Dr. King's birthday as a federal holiday.
1988: Washington Redskins' Doug Williams becomes the first Black quarterback to win the Super Bowl.
1989 November: David Dinkins is elected the first Black mayor of New York City; L. Douglas Wilder becomes the first Black American elected governor with his win in Virginia.
1990: Ralph Abernathy dies.
1992 April: Los Angeles Riots (Uprising) erupt in wake of acquittal of the four white officers who brutally beat Rodney King.
1992 November: Illinois Democrat Carol Mosely Braun becomes the first Black woman elected to the U.S. Senate.
1993: Toni Morrison becomes the first Black writer to win the Nobel Prize for Literature.
1995: The Million Man March, organized by Minister Louis Farrakhan of the Nation of Islam, takes place in the nation's capital
1997: Tiger Woods becomes the youngest and first Black golfer to win the Masters Tournament in Augusta, Georgia.
2001: Colin Powell becomes the first Black Secretary of State.
2002: Halle Berry becomes the first Black woman to win the Oscar for Best Actress.
2005 January: Condoleezza Rice becomes the first Black woman Secretary of State.
2005 August: Hurricane Katrina strikes New Orleans.
2005 October: Rosa Parks dies.
2006 January: Coretta Scott King dies.
2006 November: Ground is broken on the National Mall for a Reverend Dr. Martin Luther King, Jr. Memorial.
2008 November: Illinois U.S. Senator Barack Obama is elected the nation's first Black president.
2012 February: George Zimmerman fatally shoots 17-year-old Trayvon Martin.
2012 November: President Obama is re-elected.
2013 June: Black Lives Matter officially founded by activists Alicia Garza, Patrisse Cullors, and Opal Tometi following George Zimmerman's acquittal for fatally shooting Trayvon Martin.
2014 July: An illegal chokehold by NYC police kills unarmed Eric Garner.
2014 August: Riots and uprising sprout in Ferguson, Missouri in aftermath of police officer Darrien Wilson fatally shooting unarmed 18-year-old Michael Brown.
2014 November: Cleveland police fatally shoot 12-year-old Tamir Rice.
2015 April/May: Baltimore riots and uprising break out in the aftermath of 25-year-old Freddie Gray being harmed in police custody and dying.
2015 June: A white supremacist fatally shoots nine members of Charleston's Emanuel AME Church during bible study.
2015 July: Sandra Bland is found hanging in her Texas jail cell after being arrested in the aftermath of a traffic stop.
2016 July: Police fatally shoot Philando Castile near St. Paul, Minnesota, and Alton Sterling in Baton Rouge, Louisiana.
2016 August: NFL quarterback Colin Kaepernick begins kneeling during the National Anthem.
2016 November: Donald J. Trump is elected president.
2018 August: Stacey Abrams runs for governor of Georgia and loses in a December runoff amid allegations of voter suppression by her Republican opponent overseeing the election.
2018 November: Ayanna Pressley becomes the first Black woman elected to Congress from Massachusetts.
2020 March: Civil rights leader Rev. Joseph Lowery dies.
2020 May: George Floyd's police killing by Minneapolis police officer Derek Chauvin captured on video sparks national and global protests despite global COVID-19 pandemic.
2020 July: Civil rights leaders and friends Congressman John Lewis and Rev. C.T. Vivian die.
2020 August: National attention is directed toward the Louisville police's March killing of Breonna Taylor in her home.
2020 November: Joseph R. Biden defeats Donald Trump in the presidential election, making former California senator Kamala Harris the nation's first Black woman and first person of Indian Asian descent to be elected vice president.
2021: Rev. Raphael Warnock becomes the first Black Senator elected from Georgia in a critical January 5 runoff where he and other elected senator Jon Ossoff deliver a balance of power to Democrats in D.C. in victories attributed to the efforts of Stacey Abrams. Despite the Capitol Riots on January 6 by Trump supporters and alleged white supremacists, Biden and Harris are sworn in as president and vice president on January 20.
About This Article
This article is from the book:
This article can be found in the category: