Slouching was never considered a fashion must until the fashion world declared it sexy. You can draw your fashion figure in a superb looking slouch, and no one will tell you to straighten up that figure!
Use the S curve as you draw a fashion figure leaning back.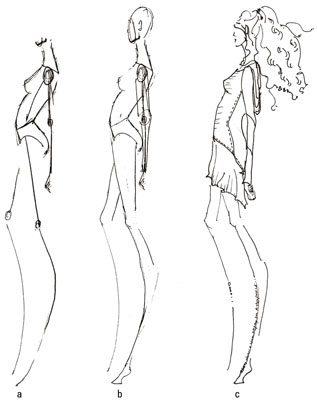 Draw a torso from the side, using the S shape to create the curve of the back.
Sketch the figure's left arm hanging straight down and her left leg straight down with her right leg stepping slightly forward.
Add a dress that drapes down the front and back to show off her fierce side view!
Draw a fashion figure in the classic teen slouch.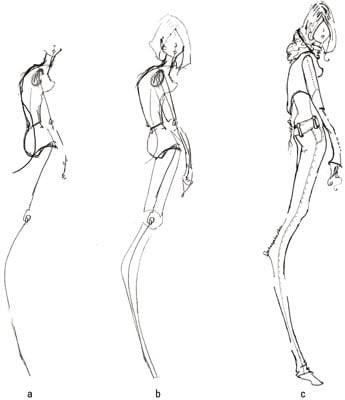 Draw a side torso, curving the upper half forward for slouchy shoulders. Curve the bottom forward to create an S shape down the back.
Add in the right arm coming forward and draping down the body. The right leg curves away from the body at the calf and comes back to align with the head.
Add a top and tight pants to show off the slouch!
Draw some long, loose legs.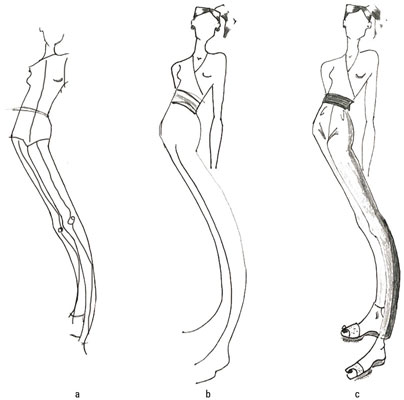 Quickly sketch a female fashion figure in a three-quarter view. Map out long legs that don't bend but rather curve away from the body and then back to align with head. Remember to angle the torso to keep your figure looking balanced.
Use long curves to draw in long, relaxed legs. Add clothing details, keeping the legs thin!
Draw languid-looking arms.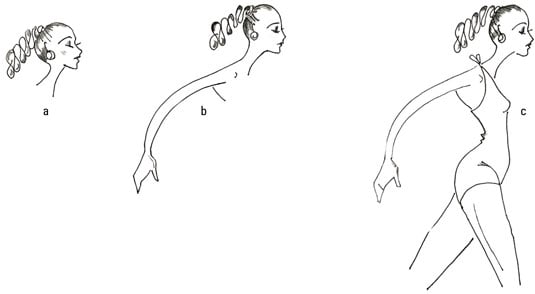 Draw a fashion figure's head and neck in profile. Draw a curved arm without elbows for that fluid movement. Arms reach mid-thigh in a fashion figure.
Add the S curve for the back shape of the torso and show one leg moving forward and one back. The forward movement emphasizes the fluid look of the arms, and the dancer-style leotard allows you to see the body.
About This Article
This article is from the book:
This article can be found in the category: