You need to know how to draw age-appropriate dresses for young girls and preteens. Wearing a party dress makes a little girl feel like a fairy or a princess or, well, a fairy princess. You may not be able to get your girls out of party dresses — girls may even opt to wear them over a pair of jeans with high-tops!
Start with all the basic shapes for a puffy party dress.

Using triangles, squares, and circles can help you create the puffiest dresses on the planet. Start with the triangle bottom to give it a princess look and have some real fun creating a dream come true.
Draw a square. Add a large triangle beneath the square with one of the points centered on the bottom line of the square. Attach two circles at the top corners of the square.
What do you have? An instant cartoon-like dress that works surprisingly well for a young girl's party dress. You can take the cartoon-like dress and use it as a fashion foundation tool.
Draw a puffy party dress.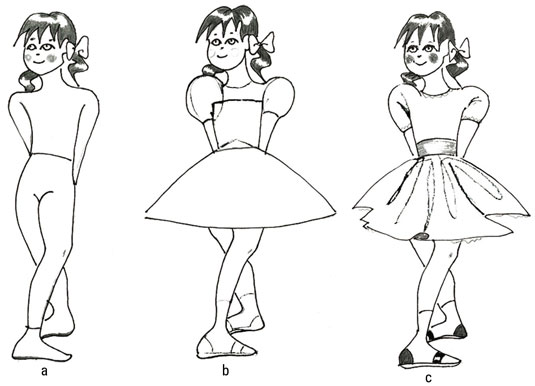 Draw a fashion figure of a little girl. Sketch the cartoon-like dress over her, using a square for the top, a triangle for the bottom, and circles for the puffy sleeves. The bottom of the party dress hits a little above the knees.
Soften the dress and sleeves with folds. Draw a curved neckline. Add some details, like a sash at the waist or some tulle peeking out from beneath the skirt. When shading dress folds, use the side of a pencil.
Add a touch of glitter to the party dress.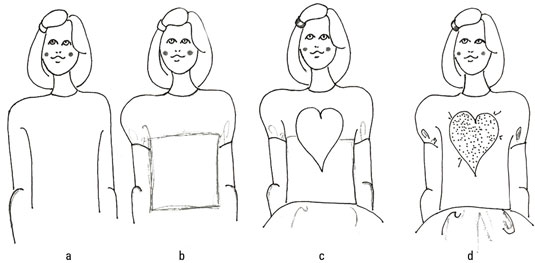 For a little girl, glitter is the stuff dreams are made of. You can draw party dresses that are designed with glitter appliqués for the little ones.
Draw the top half of a girl fashion figure. Sketch in a square for the top of the dress. The top of the square should fall where the arms meet the body (the underarms). The bottom of the square falls at the waist.
Draw a heart for the appliqué on the front of the dress. The top half of the heart goes above the top of the square, and the other half of the heart falls within the square. This placement ensures that the appliqué isn't too high or too low on the torso.
Use stippling (a bunch of random dots) for a glitter effect.
Draw a tween in a simple party dress featuring spaghetti straps.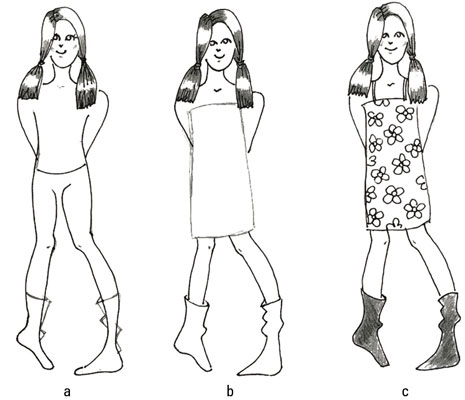 Draw a fashion figure of a tween. Map out a rectangle for the shape of the dress. A rectangle creates a streamlined look for girls who desire a simple dress (some actually do!).
Add spaghetti straps — and don't forget some splashy flowers! Drawing a floral pattern makes for a younger, less sophisticated look. Fabrics that shimmer also appeal to tweens.
About This Article
This article is from the book:
This article can be found in the category: