Uploading Images from Your Computer to Your WordPress Blog
Uploading Images from Your Computer to Your WordPress Blog
Adding images and photos to your WordPress blog posts can really dress up content. By using images and photos, you give your content a dimension that you can't express in plain text. Through visual imagery, you can call attention to your post and add depth to it.
To add an image from your own hard drive, follow these steps:
2

Click the Upload Files tab at the top and then click the Select Files button.

A dialog box, from which you can select an image (or multiple images) from your hard drive, opens.
3

Select your image(s) and then click Open.

The image is uploaded from your computer to your web server, and the Insert Media window displays your uploaded image selected and ready for editing.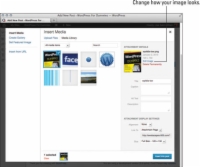 4

Edit the details for the image(s) under the Attachment Details section of the Insert Media window.

The Attachment Details section provides you with several image options.

WordPress automatically creates small- and medium-sized versions of the original images you upload through the built-in image uploader. A thumbnail is a smaller version of the original file. You can edit the size of the thumbnail by clicking the Settings link and then clicking the Media menu link.

In the Image Sizes section of the Media Settings page, designate your desired height and width of the small and medium thumbnail images generated by WordPress.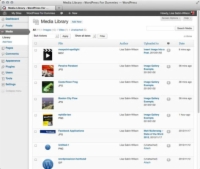 5

Click the Edit Image link to edit the appearance of the image.

The Edit Media page opens (see Figure 3-3) and options are represented by icons shown above the image.
6

Click the Update button on the Edit Media page when you're done editing the image.

Return to the post you would like to insert the image into by clicking the All Posts link on the Posts menu and then clicking the title of the post you need.
7

Click the Add Media button. Click the Media Library tab in the Insert Media Window.

This loads all the images you've ever uploaded to your site.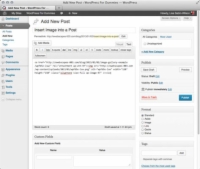 8

Select the image you would like to use by clicking it once. Click the Insert into Post button.

The Add an Image window closes, and the Add New Post page (or the Add New Page page, if you're writing a page) reappears. WordPress has inserted the HTML to display the image in your post; you can continue editing your post, save it, or publish it.

To see the actual image, and not the code, click the Visual tab just above the Post text box.