Installing and Configuring the WordPress.com Stats Plugin
Installing and Configuring the WordPress.com Stats Plugin
The WordPress.com Stats plugin provides fairly comprehensive statistics about your website traffic, such as the number of visits, where your visitors are coming from and what content they are viewing on your website. These stats are delivered in a condensed format, which makes it easy to review general visitors' data for different parts of your WordPress site. Installing and activating the plugin are normal procedures, but you do have to do a little configuration once that is accomplished:
To install and activate the plugin, and then get it up and running, follow these steps:
2

On the Install Plugins page, enter the keywords WordPress.com Stats.

Although you don't need to know the maker of the plug in to to search for and find it, WordPress.com Stats was created by Automattic.
3

Click the Install Now link.

This installs the WordPress.com Stats plugin.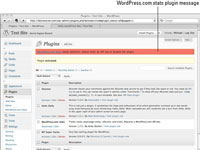 4

Click the Activate Plugin link on the Installing Plugin page.

This activates the plugin on your site and takes you to the Plugins page in your Dashboard. Note the message at the top of the page saying that the WordPress.com Stats needs your attention.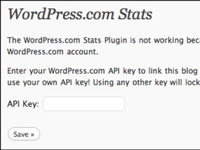 5

Click the WordPress.com Stats link within the status message.

This loads the WordPress.Com Stats page.
6

Enter your WordPress.com API key in the API key text box.

If you don't have an API key, you need to sign up for a WordPress.com account. Create your account and then click the Edit My Profile link in the menu to visit your Profile page in the WordPress.com Dashboard. On the profile page, click the API Key and Other Personal Settings link, which loads the Personal Settings page. Copy your API key from the top of that page and paste it in the API key text box in your WordPress Dashboard and be sure to click the Save button.